文化使者,或是异己?: 论孔复礼《华人在他乡:中国近现代海外移民史》中的移民视角与历史思维
Cultural Communicator, or Other: A Discussion on the Perspective of Migrants and Historical thinking of Philip Kuhn's Chinese among Others: Emigration in Modern Times
Siao-wun Lu

Nanyang Technological University, Singapore
Keywords:
海外华人, 移民, 中国现代史, 他者, 认同
Abstract
孔复礼的史学思想导入人类学的范畴,并且改变以往纵向历史的叙述,将历史分解成各个不同区域横向对比。《华人在他乡:中国近现代海外移民史》这部著作中展现了他的洞察力与清晰的思维能力,其中有数个突破性的书写。首先,他将中国移民与国际历史链接在一起,使得移民研究不只是单线叙事模式,还有外在因素影响了不同面向的"选择",将移民推向人类学的范畴。第二,勾勒出"他者"的形象,通过丰富的叙述和范例,展现移民和世界各自站立的不同角度。第三、在历史沉闷的述说之外,他开辟了一条从社会心理要素、生命经验做出立体化解读的道路,让我们看到一个有血肉的"移民的历史"。
Abstract
Philip Alden Kuhn(1933-2016)bring anthropological approaches into narrations of historical thoughts, diversifies the scope of historical studies. Chinese among Others: Emigration in Modern Times (2009) demonstrated his profound insights and critical thoughts bringing breakthrough to the academic field. Firstly, he linked the discussions of China history to international history, alternating migrant researches from a single narrative mode towards the field of anthropology. Secondly, outlining the images of "Other", through a variety of discourses, displaying the different perspectives of migrants in the world. Thirdly, in the historical narrations, he incorporated social psychological elements and personal experiences of individuals, allowing readers to see a more man-conscious migrant history.
Keywords: Overseas Chinese, Migrants, History of Modern China, Others, Identity
Downloads
Download data is not yet available.
References
【征引文献】

一、 中文文献

孔复礼著、李明欢译,《华人在他乡:中国近现代海外移民史》,台北:商务出版社,2019。

龚咏梅,《"脱胎换骨"的近代中国——孔飞力与他的中国近代史研究》,上海:华东师范大学博士论文,2004。

二、 英文文献

E.G.Ravenstein, "The Laws of Migration", Journal of the Statistical Society of London, Vol.
48, No. 2 (Jun., 1885), pp. 167-235.

Ien Ang, On Not Speaking Chinese: Living between Asia and the West, London and New York: Routledge, 2001.

Philip A. Kuhn, Rebellion and Its Enemies in Late Imperial China: Militarization and Social Structure, 1796-1864 , Cambridge, MA: Harvard University Press, 1970.

Philip A. Kuhn, Soulstealers: The Chinese Sorcery Scare of 1768, Cambridge, MA: Harvard University Press,1990.

Robin Cohen, Global Diaspora: An Introduction, New York: Routledge, 2008.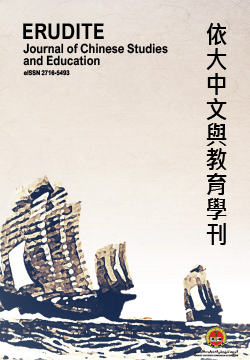 How to Cite
Lu, S.- wun. (2020). 文化使者,或是异己?: 论孔复礼《华人在他乡:中国近现代海外移民史》中的移民视角与历史思维. ERUDITE: Journal of Chinese Studies and Education, 1(1), 153-163. Retrieved from https://ejournal.upsi.edu.my/index.php/ERUDITE/article/view/3646