华语语系哲学作为世界哲学:方法论刍议 *
Sinophone Philosophy as a Part of World Philosophy: A Preliminary Discussion
Tsuyoshi ISHII

The University of Tokyo, Japan
Keywords:
华语语系哲学, 汉语哲学, 世界哲学, 雅斯贝尔斯, 空海
Abstract
本文倡议的"华语语系哲学"应该是一个比较陌生的概念。它既然与中国哲学区分开来,自有其不同的愿景。和其他的华语语系研究一样,它注重华语语系内部以及其边界各不相同的声音。华语语系哲学要以汉字书面语言系统为共性的基础,关照以声音为代表的每一个个体生命之单独性以及身体性。华语语系哲学不但要对跨文化的比较提供一个维度,更要对在互为他者的两个异乡人相邂逅时的伦理以及由此显现出来的真理加以特别的关注。为此,华语语系哲学把研究对象从中国哲学的范围扩张到广大华语语系世界,在着眼于华语语系随风而动、内外相交的流动性和他者性特点,联结不同的语言,并要避免单纯比较进而陷入相对主义。这样的哲学实践,应该并入世界哲学运动的一部分。日本学者近年来开始提倡创造世界哲学,呼吁要同等对待地球上不同地区的各种哲学,把哲学话语从古希腊以来的单一起源话语传统解放出来,从而改变我们对世界的认识方式以及哲学本身的话语方式。华语语系哲学要响应这个呼吁,在侧重流动性和转化性的基础上,从哲学的原生态出发要建立新的哲学话语。本文以公元9世纪日本的哲学家空海《声字实相义》为例,试图给未来开展的华语语系哲学运动提出一个方法论视角。
Abstract
To date, the term "Sinophone philosophy" seems not so common. To say "Sinophone" instead of "Chinese", indicates some unique prospect that would not be shared with Chinese philosophy. Much like other Sinophone studies, Sinophone philosophy considers the abundant differences between speech sounds emerging within the Sinophone sphere or on its periphery. It stands on a shared writing system –– Chinese characters, or kanji –– to embrace each individual voice that represents one's physical existence. It aims not only at a trans-cultural comparison of regional philosophies, but it also engages with the ethics of trans-cultural encounters, in so far as it emerged from and remains embedded in a trans-cultural and trans-lingual context. In practical terms, Sinophone philosophy could be a part of the movement to engage with world philosophy, which has been advocated by some philosophers in Japan. They argue that in order to liberate philosophy from a Eurocentric view rooted in the ancient Greek tradition, contemporary philosophy should transform itself to provide an equal footing for different philosophical traditions in the world. By developing a world philosophy, they seek to transform our way of seeing the world. In this paper, I will argue that Sinophone philosophy can support the world philosophy movement, such that it could broaden its scope to reclaim individual philosophical endeavor in Jaspers' sense of the term philosophizing. In particular, the paper considers a text written by Kūkai, the ninth-century Japanese philosopher and Buddhist monk, to indicate a possible methodology of Sinophone philosophy.
Keywords: Sinophone philosophy, Chinese philosophy, world philosophy, Jaspers, Kūka
Downloads
Download data is not yet available.
References
一、汉语文献 Chinese Sources

王德威、高嘉谦、胡金伦编,《华夷风:华语语系文学读本》,台北:联经出版事业股份有限公司,2016。
石井刚,《齐物的哲学:章太炎与中国现代思想的东亚经验》,上海:华东师范大学出版社,2016。
何乏笔,〈跨文化动态中的当代汉语哲学〉,《思想》第9期《中国哲学:危机与出路》,台北:联经出版事业股份有限公司,2008。
陈少明,〈中国哲学:通向世界的地方知识〉,《哲学研究》2019年第4期。
杨立华,《一本与生生》,北京:生活•读书•新知三联书店,2018。
高嘉谦,《遗民、疆界与现代性:汉诗的南方离散与抒情(1895-1945)》,台北:联经出版事业股份有限公司,2016。

二、日语文献 Japanese Sources

ハンナ・アレント《暗い时 代の人々》,阿部齐译,东京:筑摩书房,2005。
千叶真,《アーレントと现代 自由の政治とその展望》,东京:岩波书店,1996。
伊藤邦武、山内志朗、中岛隆博、纳富信留主编,《世界哲学史1》,东京:筑摩书房,2020。
伊藤邦武、山内志朗、中岛隆博、纳富信留主编,《世界哲学史3》,东京:筑摩书房,2020。
カール・ヤスパース《ヤスパース专集9 历史の起源と目标》,重田英世译,东京:理想社,1964。
小林康夫、中岛隆博,《日本を解き放つ》,东京:东京大学出版会,2019。
空海,《声字实相义》,祖风宣扬会编《弘法大师全集》第二卷,东京:吉川弘文馆,1911。
宮坂宥胜监修,《空海コレクション 2》,东京:筑摩书房,2004。
竹村牧男《空海の哲学》,东京:讲谈社,2020。
王德威,《华夷の変—华语语系研究の新しいビジョン--》,滨田麻矢译,爱知大学国际问题研究所编《グローバルな视野とローカルの思考—个性とのバランスを考える--》,名古屋:株式会社あるむ,2020。


三、英语文献 English Sources

Benjamin, Walter, "The Task of the Translator", Illuminations: Essays and Reflections, ed. Hannah Arendt (New York: Schocken Books, 1968)

Shie, Shu-mei, Tsai, Chien-Hsin, Bernards, Brian, ed., Sinophone Studies: A Critical Reader (New York: Columbia University Press, 2013)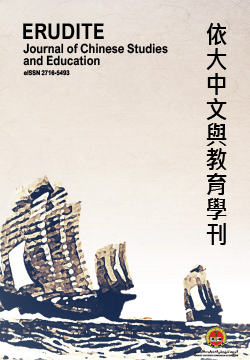 How to Cite
ISHII, T. (2020). 华语语系哲学作为世界哲学:方法论刍议 *. ERUDITE: Journal of Chinese Studies and Education, 1(1), 12-32. Retrieved from https://ejournal.upsi.edu.my/index.php/ERUDITE/article/view/3766