数字人文与电影形式研究: 从《数字人文与电影研究:吉加·维尔托夫作品的可视化》谈起
Digital Humanities and Cinematic Form Research: A Review on Digital Humanities and Film Studies: Visualising Dziga Vertov's Work
Chen Tao

Renmin University of China, CHINA
Keywords:
数字人文, 计量电影学, 维尔托夫, 可视化, 电影形式
Abstract
近年来,数字人文方法不断介入传统的电影研究,而《数字人文与电影研究:吉加·维尔托夫作品的可视化》则是其中最具突破性的著作之一。它采用形式主义分析方法及在计算机辅助下的定量研究工具,对苏联纪录电影先驱吉加·维尔托夫的电影的形式进行了可视化"远读"。该著作对于镜头长度、镜头种类、运动类型与图像的视觉特征、蒙太奇表现、图像信息和镜头构图的关系等方面都予以呈现和剖析,并结合社会历史语境得出了重要而有益的结论,从而令我们更为深入地明晰了20世纪二三十年代苏联的档案政策和政治文化。以该书为契机,我们也能够思考和探索数字人文方法在研究其他导演、类型和流派的电影形式与风格方面的新方法与新路径。
In recent years, digital humanities have been constantly involved in traditional cinematic research, and Digital Humanities and Film Studies: Visualising Dziga Vertov's Work is one of the most breakthrough works. It uses the method of formalism and the tool of computer-aided quantitative research to make a visualized "distant reading" to the film form of DzigaVertov, the pioneer of Soviet Documentary. This work presents and analyzes shot lengths, lens types, motion types, visual characteristics of images, montages, the relationship between image information and lens composition, and draws important and useful conclusions in combination with social and historical context, so as to clarify the Soviet Union's archival policy and political culture in the 1920s and 1930s. From the book, we can also explore new methods and new paths of digital humanities in the study of film forms and styles of other directors, genres and schools.
Keywords: Digital Humanities, Quantitative Cinema Studies, DzigaVertov, Visualization, Cinematic Form
Downloads
Download data is not yet available.
References
【征引文献】
一、中文文献
安妮·伯迪克等,《数字人文:改变知识创新与分享的游戏规则》,马林青、韩若画译,北京:中国人民大学出版社,2018。
李道新,《数字人文、影人年谱与电影研究新路径》,《电影艺术》第4期(2020年),页27-35。
陈刚,《计量电影学与费穆电影结构的可视化路径》,《电影艺术》第4期(2020年),页45-52。
高淑敏,《软件控制电影与电影的软件化:"数据库电影"再研究》,《北京电影学院学报》第3期(2020年)。
二、英文文献
Butler, Jeremy. "Statistical Analysis of Television Style: What can Numbers Tell Us about TV Editing," Cinema Journal, 2014, pp. 25-44.
Heftberger, Adelheid. Digital Humanities and Film Studies: Visualising Dziga Vertov's Work, Cham, Switzerland: Springer Nature Switzerland AG, 2018.
Manovich, Lev. The Language of New Media, Cambridge: The MIT Press, 2002.
O' Brien, Charles. Film Analysis and Statistics: A Field Report of Santiago Hidalgo, Technology and Film Scholarship, Amsterdam: Amsterdam University Press, 2018.
Ross, Michael, Manfred Grauer, and Bernd Freisleben. eds. Digital Tools in Media Studies, New York: Columbia University Press, 2009.
Sargent, Winthrop. "The Photoplaywright: Scenes and Leaders," The Moving Pictures World, 1912, vol. 12, pp. 531-548.
Salt, Barry. "Statistical Style Analysis of Motion Pictures," Film Quarterly, 1974, 28(1), pp. 13-22.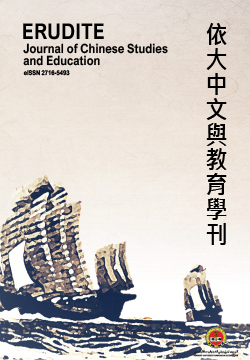 How to Cite
Tao, C. (2021). 数字人文与电影形式研究: 从《数字人文与电影研究:吉加·维尔托夫作品的可视化》谈起. ERUDITE: Journal of Chinese Studies and Education, 2(1), 19-27. https://doi.org/10.37134/erudite.vol2.1.2.2021
Copyright (c) 2021 Chen Tao
This work is licensed under a Creative Commons Attribution-NonCommercial-ShareAlike 4.0 International License.