文学守门人的志业——读范铭如的《书评职人》
The Vocation of being a Literary Gatekeeper: A Critical Review on Fan Ming-ju's The Book Reviewer
Xi Zhe Tan

Nanyang Technological University of Singapore, SINGAPORE
Keywords:
书评, 台湾文学, 地方感, 小写历史, 地景
Abstract
范铭如写书评能抵抗人情的压力,在立场上坚持客观和纯粹,擅于切中作品隐微之处。本文分三个层面解读她的书评:一、从话语权的视角看她点评作品的叙事结构及台湾的空间政治;二、文学借记忆重构城市图像,地方书写的主体意识;三、点拨不同年代的文学现象,可看出她对市场的忧虑,但却恒保对台湾文学的赤诚。
Fan Ming-ju can resist the pressure from human relations and remain purely objective in her book review while at the same time excelling in catching the subtleties in the literary works. This paper interprets and analyzes her book review from three areas. The paper first looks at how Fan Ming-ju examines the narrative structure of literary works and Taiwan's spatial politics from the perspective of the discourse power. Next, it focuses on how literature reconstructs urban images by extracting from memory and the subject consciousness binded in local writing. Finally, through her analysis of the literary phenomena of different eras, she has an unwavering devotion to Taiwanese literature.
Keywords: Book review, Taiwanese literature, Sense of Place, history, Landscape
Downloads
Download data is not yet available.
References
段义孚(Yi-Fu Tuan),潘桂成译《经验透视中的空间和地方》,台北:国立编译馆,1988。
范铭如《书评职人》,台北:联合文学,2019。
迈克‧克朗(Mike Crang),王志弘、余佳玲、方淑惠译《文化地理学》,台北:巨流,2004。
Harvey, David. Spaces of Capital Towards a Critical Geography, (New York: Routledge, 2001), p.100.
Jennifer E. Cross, "What is Sense of Place?" paper presented at the 12th Headwaters Conference, Western State College, November 2-4, 2001.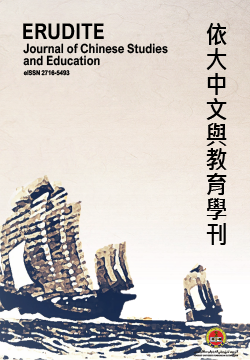 How to Cite
Tan, X. Z. (2021). 文学守门人的志业——读范铭如的《书评职人》. ERUDITE: Journal of Chinese Studies and Education, 2(2), 27-34. https://doi.org/10.37134/erudite.vol2.2.3.2021
Copyright (c) 2021 Xi Zhe Tan
This work is licensed under a Creative Commons Attribution-NonCommercial-ShareAlike 4.0 International License.