Tukang Sabak dalam budaya dan upacara Nyabak Masyarakat Iban di Sarawak: Satu Penelitian awal
Gregory Kiyai @ Keai

Universiti Malaysia Sarawak, Kota Samarahan, Sarawak, MALAYSIA
Keywords:
Adat, Budaya, Iban, Nyabak
Abstract
Pegangan hidup berbudaya telah menyebabkan manusia mempercayai akan wujudnya alam lain selepas kehidupan. Bagi masyarakat Iban di Sarawak mereka percaya akan alam kematian selepas kehidupan yang disebut sebagai alam Sebayan. Alam Sebayan diceritakan secara turun temurun oleh generasi Iban secara lisan dan banyak mempengaruhi dalam cerita dongeng Iban dan budaya ketara dan tidak ketara masyarakat Iban. Dalam budaya Iban terdapat pelbagai adat dan pantang larang yang telah ditetapkan oleh pencipta yang dipanggil sebagai Petara dalam menjaga keseimbangan hubungan dunia kosmologi Iban. Dalam adat kematian Iban, satu upacara khas iaitu upacara Nyabak harus dilakukan dengan mengupah khidmat Tukang Sabak. Tukang Sabak memainkan peranan penting bagi menghantar roh si mati ke tempat yang sepatutnya dengan lancar. Penyelidikan ini membincangkan terhadap budaya Nyabak dan peranan Tukang Sabak dalam adat kematian masyarakat Iban di Sarawak.
Downloads
Download data is not yet available.
References
Jensen. E. (1974). The Iban and Their Religion (Oxford Monographs on Social Anthropology.) xii,. Oxford: Clarendon Press'
Motomitsu Uchibori. (1973). THE LEAVING OF THIS TRANSIENT WORLD: A Study of Iban Eschatology and Mortuary Practices, Department of Anthropology Research School of Pacific Studies Australian National University Canberra.
O. Chemaline. (2013). Folklor Suku Kaum Iban: Distinktif, Ekstensif, Unik dan Tersendiri: Sang Budiman (Sebuah Festchrift Bagi menghormati Khidmat Profesor Emeritus Abdullah Hassan Di Fakulti Bahasa, Universiti Pendidikan Sultan Idris sedasawarsa,2001-2011), PTS AKADEMIA: Selangor.
Sather, Clifford. (1994). "Introduction", in: Benedict Sandin, Sources of Iban traditional history. Sarawak: Sarawak Museum. [Special Monograph 7, Sarawak Museum Journal.]
S. Clifford. (2012). Recaling the Dead, revering the Ancestors: Multiple Forms of Ancestorship in Saribas Iban Society. Ancestors in Borneo Studies: Death, Transformation, and Social Immortality. NIAS-Nordic Institue of Asian Studies, No.50.
Sather, Clifford. (2012). "Recalling the dead, revering the ancestors; Multiple forms of ancestorship in Saribas Iban society", in: Pascal Couderc and Kenneth Sillander (eds), Ancestors in Borneo societies; Death, transformation, and social immortality, Copenhagen: NIAS Press.
T. Noria. (2004). Tembikar dalam Budaya Iban di Sarawak.Koata Samarahan: UNIMAS Publisher.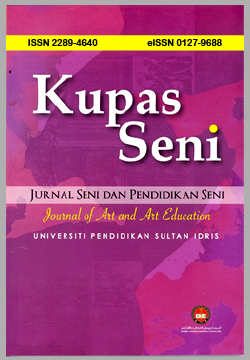 How to Cite
Kiyai @ Keai, G. (2019). Tukang Sabak dalam budaya dan upacara Nyabak Masyarakat Iban di Sarawak: Satu Penelitian awal. KUPAS SENI, 7, 120-125. https://doi.org/10.37134/kupasseni.vol7.14.2019
Copyright (c) 2019 Gregory Kiyai @ Keai
This work is licensed under a Creative Commons Attribution-NonCommercial-ShareAlike 4.0 International License.