Tinjauan awal 52 Steel Rod Sculpture di Bandar Raya George Town, Pulau Pinang: Tipologi idea dan tema asas
A Preliminary study of 52 Steel Rod Sculptures in the City of George Town, Penang: Typology of ideas and basic themes
Norshahidan Mohamad

School of The Arts, Universiti Sains Malaysia, Pulau Pinang, MALAYSIA

Safrizal Shahir

School of The Arts, Universiti Sains Malaysia, Pulau Pinang, MALAYSIA

Noor Hafizah Rosli

School of The Arts, Universiti Sains Malaysia, Pulau Pinang, MALAYSIA
Keywords:
Steel rod sculpture, George Town, UNESCO
Abstract
Tulisan ini merupakan satu tinjauan awal terhadap penghasilan 52 steel rod sculpture dalam konteks  perkembangan seni awam di bandar raya George Town, Pulau Pinang. Penciptaannya tidak hanya menonjolkan aspek keindahan formalistik dan ekspresi bentuk seni pembuatannya tetapi, di samping itu turut memaparkan idea serta tema keunikan identiti yang tersendiri. Berdasarkan tinjauan terhadap steel rod sculpture, idea dan tema keunikan identiti di bandar raya George Town dapat dihayati menerusi paparan jelas kandungan imej-imej visual di samping interpretasi tersirat latar penceritaan. Terdapat beberapa aspek kecenderungan idea dan tema penting yang menjadi asas penghasilan steel rod sculpture antaranya aspek perekonomian, paparan keunikan pakaian tradisional, elemen bahasa dan tulisan, nilai kemasyarakatan dan kekeluargaan, keunikan reka bentuk bangunan bersejarah, kepelbagaian agama dan kepercayaan, kisah ketokohan, dan akhir sekali keistimewaan bentuk sambutan perayaan masyarakat tempatan. Kesemua paparan idea dan tema keunikan ini dikemukakan sebagai satu refleksi kepada keistimewaan penjenamaan nilai sejarah, warisan dan budaya di bandar raya George Town sebagai identiti Tapak Warisan Dunia UNESCO.
Downloads
Download data is not yet available.
References
Braun, V., & Clarke, V. (2013). Successful qualitative research: A practical guide for beginners. London: Sage.
Chang, S.F. (2014). Street art sparkle as a new economic driver in penang. 1st International Conference on Creative Media, Design & Technology (REKA), 25-27 November, P.Pinang, Malaysia. Dimuat turun daripada http://www.reka.usm.my/images/FULL_PAPER_002.pdf
Christina Chin. (2010, 2 April). Witty Heritage Markers. The Star. Dimuat turun daripada https://www.thestar.com.my/travel/malaysia/2010/04/02/witty-heritage-markers.
Haryani Mohamad. (2016). Marking George Town. 24th General Conference of ICOM-Museum and Cultural Landscapes, 3-9 July, Milan, Italy. Dimuat turun daripada http://network.icom.museum/fileadmin/user_upload/minisites/icamt/ICAMT-YEARS/2011_2020/2016/2016_Milan/2016_Milan_3_papers/03_Haryany_Mohamad.pdf
Ngiom, L.T. (2011). Penang Transitions-Marking George Town and Rifle Range Renewal Competitions (pp: 36–37). Malaysia: Pertubuhan Arkitek Malaysia (PAM).
Penang Global Tourism. (2019). Culture & Heritage: Heritage Zone. Dimuat turun daripada https://mypenang.gov.my/culture-heritage/street-art/
Rosli Zakaria. (2011). Katalog Pameran Jaga. Kuala Lumpur: BSLN.
Seyedehelham Sadatiseyedmahalleh., Suraiyati Rahman., & Aldrin Abdullah. (2015). Analyzing street art to present the heritage of George Town, Malaysia. International Journal of Multicultural and Multireligious Understanding, 2(4), 24-25. Dimuat turun daripada https://doi.org/10.18415/ijmmu.v2i4.17
Sam Muhizam Mustafa. (2009). Public art in the federal territory of Putrajaya: Question of value and role. Wacana Seni, Journal of Art Discourse, jilid 8. Penang: USM.
T C Chang. (2008). Art and soul: Powerful and powerless art in Singapore, environment and planning A. 40, 1921-1943. Dimuat turun daripada https://doi.org/10.1068/a39240
Timothy Tye. (2003-2020). Marking George Town steel rod sculpture. Dimuat turun daripada https://www.penang-traveltips.com/steel-rod-sculptures.htm
UNESCO World Heritage Centre. (2012). Melaka and George Town: Historic cities of the straits of Malacca. Dimuat turun daripada http://whc.UNESCO.org/en/list/1223,2012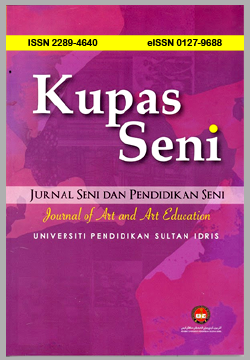 How to Cite
Mohamad, N., Shahir, S., & Rosli, N. H. (2020). Tinjauan awal 52 Steel Rod Sculpture di Bandar Raya George Town, Pulau Pinang: Tipologi idea dan tema asas. KUPAS SENI, 8(1), 20-34. https://doi.org/10.37134/kupasseni.vol8.1.3.2020
Copyright (c) 2020 Norshahidan Mohamad, Safrizal Shahir, Noor Hafizah Rosli
This work is licensed under a Creative Commons Attribution-NonCommercial-ShareAlike 4.0 International License.