The Characteristics of Selakan Island Earthenware in the Production of Lapohan
Pencirian Earthenware Pulau Selakan dalam Penghasilan Produk Lapohan
Mohammad Puad Bebit

Akademi Seni Dan Teknologi Kreatif, Universiti Malaysia Sabah, MALAYSIA

Normah Awang Besar @ Rafee

Fakulti Perhutanan Tropika, Universiti Malaysia Sabah, MALAYSIA

Salmie Jemon

Fakulti Sains Sosial dan Kemanusiaan, Universiti Malaysia Sabah, Jalan UMS, Kota Kinabalu, Sabah, MALAYSIA

Trihanawati Supriyono

Fakulti Sains Sosial dan Kemanusiaan, Universiti Malaysia Sabah, Jalan UMS, Kota Kinabalu, Sabah, MALAYSIA
Keywords:
characteristics, earthenware clay, Lapohan
Abstract
Malaysia's traditional ceramic industry has been declining in terms of both its existence and its operational status. Since the Lapohan ceramic industry in Selakan Island is the only one of its kind still operating in Sabah, this study was carried out to investigate the uniqueness and quality of the earthenware clay found on this island. This paper describes the characteristics and nature of the Lapohan clay product's soil shrinkage level and soil content (the Lapohan was produced by mixing sand and seawater). Technical aspects of ceramics are discussed, as are the laboratory test results. The laboratory test reveals the percentage of moisture in the soil, as well as the organic and natural mineral content. The findings were also compared to those of an earthenware ceramic sample that had been burned at 1200°C. This paper concludes that the island community demonstrates creativity by producing high-quality traditional-made ceramic products using only natural resources from their surroundings.
Downloads
Download data is not yet available.
References
Abdul Halim Nasir. (1977). Sejarah Perak siri pertama: zaman pra-sejarah hingga zaman kedatangan pengaruh orang luar. Jabatan Muzium.
Agatha, A. (2016). Traditional wisdom in land use and resource management among the Lugbara of Uganda: a historical perspective. Sage Open, 6(3), 1-13, doi: 10.1177/2158244016664562.
Alman, J. H. (1960). Dusun Pottery (Tuaran Area). Sarawak Museum Journal, 9(15/16), 565-82.
Am Abdul Aziz Ameenah. (2009). Kajian Dan Penghasilan Penapis Seramik Bagi Proses Tuangan Aloi Aluminium. Project Report. UTeM, Melaka, Malaysia.
Anbarasu, M., & Sathyamoorthy, N. K. (2020). Types of Earthenwares and its Uses. International Journal of Arts, Science and Humanities, 8(2)., pp. 107– 112. DOI: https://doi.org/10.34293/sijash.v8i2.3323
Asyaari Muhamad. (1998). Analisis X-Ray fluorescence tembikar tanah dari Perak. Jurnal Arkeologi Malaysia, 11, 1-40.
Asyaari Muhamad. (2010). Seramik purba yang diperdagangkan di Semenanjung Malaysia. Jurnal Antarabangsa Alam dan Tamadun Melayu, 28(1), 3-40.
Awang Hanapi Maidin. (1999). Tembikar Vietnam di Negara Brunai. Muzium Brunai Darussalam: Brunei.
Beebhas, C., Mutsuddy, C., & Ford, R. G. (1995). Ceramic injection molding. Dalam Prosiding Sidang seni (SINI 08) 2008. Kementerian Perpaduan, kebudayaan, Kesenian dan warisan malaysia dan Balai Seni Lukis Negara.
Belud, Sabah. Sabah Society Journal, 31, 1-11.
Bowles, J. E. (1991). Analisa dan desain pondasi, edisi keempat jilid 1. Jakarta: Erlangga.
Brown, R. M. (1977). Legend and reality: early ceramics from South-East Asia. Oxford University Press, USA.
Bushell, S. W., & David, L. (1977). Description Chinese and Porcelain. London.Oxford University Press.
Cerato, A. B., & Lutenegger, A. J. (2006). Shrinkage of clays. In Unsaturated Soils 2006 (pp. 1097-1108).
Craighill, L., & Brown, R. M. (1981). The Ceramics of South-East Asia: Their Dating and Identification. Journal of the American Oriental Society, 101(3).
Gaimster, D. R., & Freestone, I. (Eds.). (1997). Pottery in the Making: World Ceramic Traditions. Trustees of the British Museum.
Graham, B. J., & Howard, P. (Eds.). (2008). The Ashgate research companion to heritage and identity. Ashgate Publishing, Ltd.
Harrisson, B. V. (1986). Pusaka: heirloom jars of Borneo. Oxford University Press, USA.
Karaman, S., Ersahin, S., & Gunal, H. (2006). Firing temperature and firing time influence on mechanical and physical properties of clay bricks. J Sci Ind Res (India) 65:153–159.
Lightwood, A. (2000). Working with Paperclay and other additives. Crowood, United Kingdom.
Southeast Asian Ceramic Society & Oxford University Press.
Suresh Narayanen., & Chia, S. (2014). Traditional Dusun Pottery-Making at Kampung Melangkap Kapa, Kota Belud, Sabah. Sabah Society Journal, 31, 1-11.
Taylor, K. W. (1982). A Brief Summary of Vietnamese History. Dalam Vietnamese Ceramics. Kuala Lumpur: Southeast Asian Ceramic Society & Oxford University Press.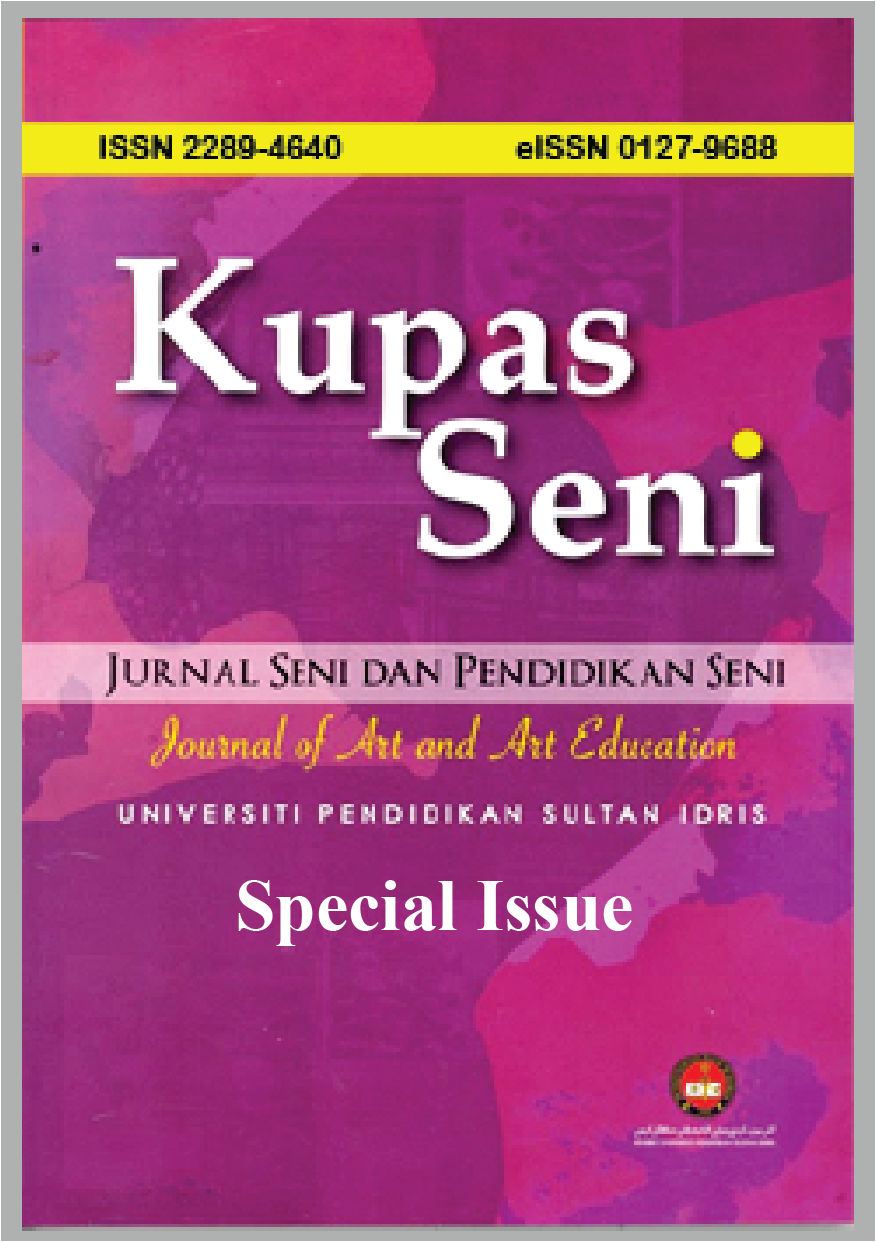 How to Cite
Bebit, M. P., Awang Besar @ Rafee, N., Jemon, S., & Supriyono, T. (2022). The Characteristics of Selakan Island Earthenware in the Production of Lapohan. KUPAS SENI, 10, 104-115. https://doi.org/10.37134/kupasseni.vol10.sp.11.2022
Copyright (c) 2022 Mohammad Puad Bebit, Normah Awang Besar @ Rafee, Salmie Jemon, Trihanawati Supriyono
This work is licensed under a Creative Commons Attribution-NonCommercial-ShareAlike 4.0 International License.