Relativity of Metaphorical Subject with Symbolic Meanings in the Production of Visual Arts
Wan Nurhasyimah Binti Wan Mohd Apandi

Department of Fine Art, Faculty of Art Design, Universiti Teknologi Mara Perak Branch, Perak, MALAYSIA

Nurul Shima Binti Taharuddin

Department of Fine Art, Faculty of Art Design, Universiti Teknologi Mara Perak Branch, Perak, MALAYSIA

Ishak Bin Ramli

Department of Fine Art, Faculty of Art Design, Universiti Teknologi Mara Perak Branch, Perak, MALAYSIA
Keywords:
Metaphor, Symbolic, Visual Arts
Abstract
The use of metaphors in artwork production is a common tool employed by artists in delivering ideas and current issues throughout contemporary arts. Metaphor as a method to explain and visualize a meaning for an artwork in simple and concise form that is visually easy to decipher, as well as a method for symbolized representation. It is an effective tool in proposing an idea in a creative, narrated manner. The use of metaphor as a tool must always be parallel with the choice of subject and meaning intended in order to produce consistent message, for a more critical analysis to be possible. Every artist employing such method should always be concise in its execution and object implementation.
Downloads
Download data is not yet available.
References
Anurendra Jegadeva., Rahel Joseph., A. Latif Mad Nor., K. Jesmail. (2008). Disclosure Ahmad Zakii Anwar, Kuala Lumpur, Galeri Petronas.
Ahmad Rashidi Hasan. (2006). Seni Lukis & Idea. Shah Alam: Pusat Penerbitan Universiti.
Azman Ibrahim. (1999). Jai Drawing With The Mind's Eye, Kuala Lumpur.
Davidson, D. (1978). What Metaphors Mean. Oxford : Oxford University Press.
Ho Kay Tat., & Godfrey, T. (2016). Fragile by Umibaizurah Recent Works 2015-2016, Kuala Lumpur, The Edge Gallerie.
Hamidah Abdul Hamid. (1995). Pengantar Estetik, Kuala Lumpur : Dewan Bahasa dan pustaka.
Richard, I. A. (1936). The philosophy of Rhetoric, Oxford : Oxford University Press.
Kamus Dewan Bahasa Edisi Ketiga. (2000). Kuala Lumpur : Dewan Bahasa dan Pustaka.
Martin. (2010). Ways of Read Purple Writing Essays about Literature Cengage Learning. Pp. 133-134 : ISBN 1428290419.
Muliyadi Mahamood. (2001). Seni Lukis Moden Malaysia era perintis hingga era pluralis (1930 – 1990). Kuala Lumpur : National Mibrary of Malaysia.
Natee Utarit. (2018). Optimism is Ridiculous, Kuala Lumpur, Richard Koh Fine Art Sdn. Bhd.
Noor Mahnun Mohamed. (2012). TAG Exhibition Umubaizurah Mahir @Ismail, Kuala Lumpur, Wei-Ling Gallery.
Andrzej, P. (2014). "The Death of Metaphore". University Linguistic.
The Oxford Companion to The English Language, 2nd Edition (e-book). Oxford University Press. 2018. ISBN 978-0-19-107387-8.
Shakespeare, W. (2000). As you like it, New York : Penguin Books.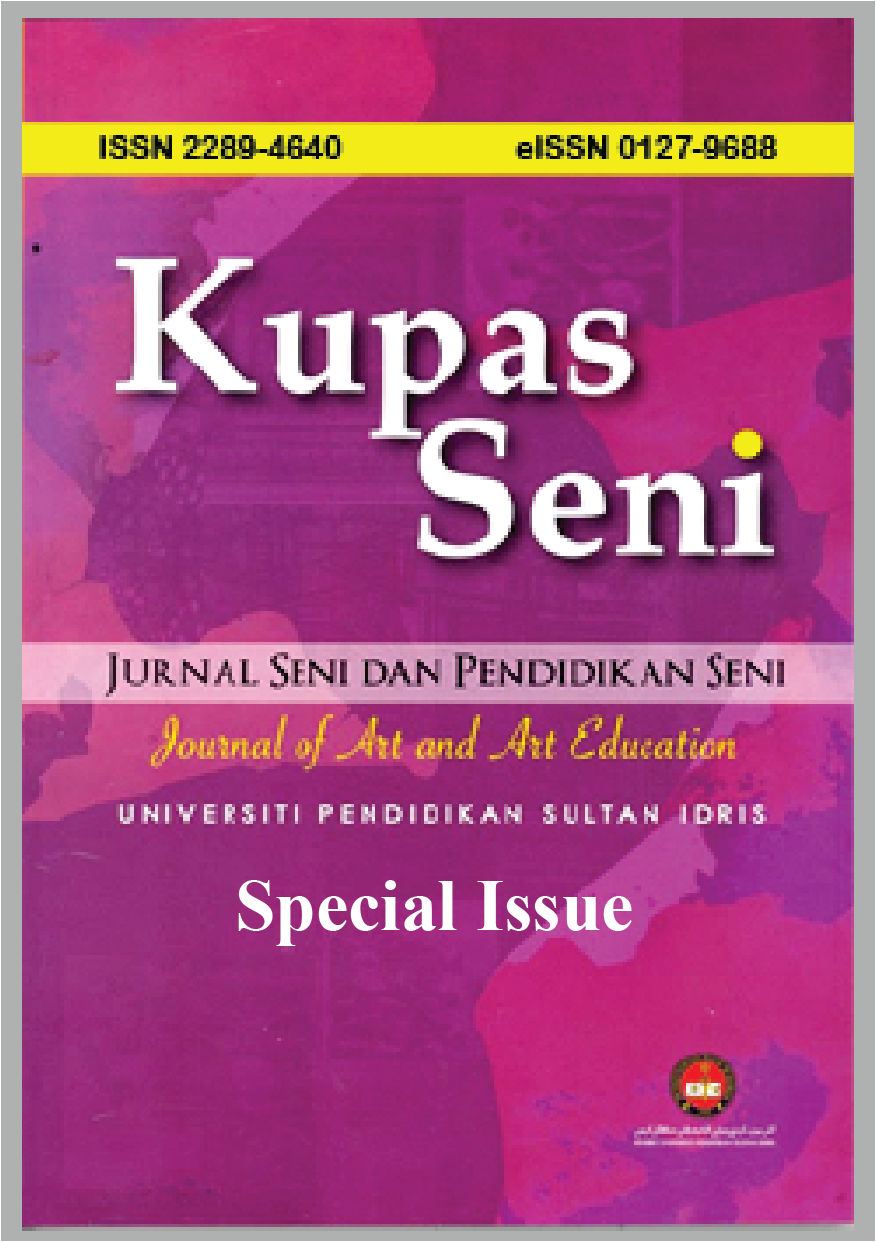 How to Cite
Wan Mohd Apandi, W. N., Taharuddin, N. S., & Ramli, I. (2022). Relativity of Metaphorical Subject with Symbolic Meanings in the Production of Visual Arts. KUPAS SENI, 10, 130-136. https://doi.org/10.37134/kupasseni.vol11.sp.13.2022
Copyright (c) 2022 Wan Nurhasyimah Binti Wan Mohd Apandi, Nurul Shima Binti Taharuddin, Ishak Bin Ramli
This work is licensed under a Creative Commons Attribution-NonCommercial-ShareAlike 4.0 International License.