Aspects of Lifestyle to Stimulate the Success of Badminton Players
Keywords:
Lifestyle, discipline, badminton, appearances & performance
Abstract
Lifestyle is the way of life or interests and orientations of an individual, group, or community. Lifestyle of a badminton player is the style of living that based on time-used, discipline and appearances. Known benefits of having a lifestyle that includes physical exercise, eating a diet high in vegetables and fruit, maintaining a healthy weight and not smoking. The aim of this study is to identify the social category aspects of lifestyle stimulate the success of badminton players. This semi structured mix mode study conducted among 80 badminton players, age between 13 to 18 years. They were selected randomly at several badminton clubs around the State of Selangor. This study utilized qualitative data which is converted to quantitative to understand behaviours of the group of people and make generalizations. The descriptive findings showed 32.5% use their free time in entertainment activities, 27.5% engage in their hobby activities and 23.75% choose to do physical recreational activities. Out of 80 respondents, a total of 35% acknowledging that rules and regulations are important in badminton as well as in life. A total of 32.5% asserted that the strength of discipline adhering to desire plays an important role. Meanwhile, 25% of badminton players' discipline is focused on maintaining performance. There are four elements of appearance, namely confidence, discipline, nationalism and equipment. Out of 53 respondents who said appearance was important, 64.2% were focused on confidence, 17% discipline, 9.4% nationalism and 9.4% equipment. As a conclusion three major aspects of lifestyle to be concerned by badminton players were time-used, discipline and appearance. These three aspects will enhance our badminton players' life style and performance.
Downloads
Download data is not yet available.
References
Adams, B. (1980) The Badminton Story. London: British Broadcasting Corporation.
Bompa, T. O. (1995). From childhood to champion athlete (Vol. 315). West Sedona, AZ: Veritas Publishing.
Chan, K. B. (2012) Chan Kwong Beng Interview [Web log interview]. Retrieved from http://www.badminton-information.com/chan-kwong-beng.html
Dos Santos Paim, A., & Pereira, M. E. (2018). Judging good appearance in personnel selection. Organizações & Sociedade, 25(87), 656-675.
Esposito, K., Pontillo, A., Di Palo, C., Giugliano, G., Masella, M., Marfella, R., & Giugliano, D. (2003). Effect of weight loss and lifestyle changes on vascular inflammatory markers in obese women: a randomized trial. JAMA, 289(14), 1799-1804.
Garcia, M. G., & Subia, G. (2019). High school athletes: Their motivation, study habits, self-discipline and academic performance. International Journal of Physical Education, Sports and Health, 6(1), 86-90.
Harrald, J. R. (2006). Agility and discipline: Critical success factors for disaster response. The annals of the American Academy of political and Social Science, 604(1), 256-272
Krutsevych, T., & Marchenko, O. (2017). Age Differences of Self-esteem of Physical Self at School. Gender Aspects. Physical Education, Sport and Health Culture in Modern Society, (2 (38)), 112-116.
Lindberg, S. M., Grabe, S., & Hyde, J. S. (2007) Gender, pubertal development, and peer sexual harassment predict objectified body consciousness in early adolescence. Journal of Research on Adolescence 17: 723–742.
MacCosham, B., Patry, P., Beswick, C., & Gravelle, F. (2015). Leisure lifestyle and dropout: Exploring the experience of amateur athletes in competitive sport. International Journal of Sport Management, Recreation and Tourism, 20(2), 20-39.
Maleeva, R. (2018) How Rio Olympics Changed PV Sindhu and Kidambi Srikanth's Lives. The Economics Times. https://economictimes.indiatimes.com/magazines/panache/how-rio-olympics-changed-pv-sindhu-and-kidambi-srikanths-lives/articleshow/63278480.cms
Saunders, M., Lewis, P., & Thornhill, A. (2016). Research Methods for Business Students (7th ed.). London, England: Pearson.
Siebel, N. (1964) BAM's New Standing Committee Grows From seven to 17. Straits Times, November 13: 19.
Thorpe, H. & Wheaton, B., 2015. Understanding and responding to the trends of young people: action sports in New Zealand communities. Connections 2015: Sport New Zealand Annual conference. Auckland
Wilson, G (2010). Introduction to exploring exercise science. In G. Wilson (Ed.), Exploring exercise science (pp. 2-10). Boston: McGraw-Hill.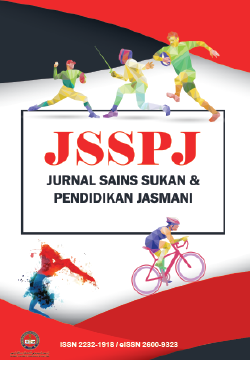 Downloads
How to Cite
Aman, M. S., Nik Rafeddi, N. S. N., Mat Saad, M. I., & Elumalai, G. (2021). Aspects of Lifestyle to Stimulate the Success of Badminton Players. Jurnal Sains Sukan & Pendidikan Jasmani, 10(1), 32–38. https://doi.org/10.37134/jsspj.vol10.1.5.2021