Nutritional Knowledge and Calorie Intake Among University Athlete with Risk of Female Athlete Triad
Keywords:
Female Athlete Triad (FAT), nutritional knowledge, calorie intake
Abstract
Female Athlete Triad (FAT) has always been a concern to competitive female athletes as it affects female athletes in terms of their sport performance and importantly, their overall health. In Malaysia, there is a limited of studies regarding FAT. This cross-sectional study was aim to assess the risk of developing FAT in female university athletes and its relationship with their sport nutritional knowledge and calorie intake. In total of 44 female athletes from public universities in Malaysia completed self-reported questionnaires and diet recall. Almost half of the female athletes (40.9%) were at risk of developing FAT. There was no difference in sport nutritional knowledge between female athletes who are at risk and not at risk of FAT. However, it was observed that those who were at risk consumed significantly lower daily calorie intake than those who were not at risk (p<0.05). Participants who were at risk also sustained significantly higher time-loss injury during the last year (p<0.001). In summary, the results showed that most of the female university athlete were at risk of developing FAT and appropriate intervention is needed in order to reduce the risk of FAT as it will lead to sports injury and impact their sports performance.
Downloads
Download data is not yet available.
References
Cialdella-Kam, L., Guebels, C., Maddalozzo, G., & Manore, M. (2014). Dietary intervention restored menses in female athletes with exercise-associated menstrual dysfunction with limited impact on bone and muscle health. Nutrients, 6(8), 3018-3039.
Condo, D., Lohman, R., Kelly, M., & Carr, A. (2019). Nutritional intake, sports nutrition knowledge and energy availability in female australian rules football players. Nutrients, 11(5), 971.
Gibbs, J. C., Williams, N. I., & De Souza, M. J. (2013). Prevalence of individual and Combined components of the Female ATHLETE Triad. Medicine & Science in Sports & Exercise, 45(5), 985-996.
Melin, A., Tornberg, Å B., Skouby, S., Faber, J., Ritz, C., Sjödin, A., & Sundgot-Borgen, J. (2014). The LEAF questionnaire: A screening tool for the identification of female athletes at risk for the female athlete triad. British Journal of Sports Medicine, 48(7), 540-545.
Mountjoy, M., Sundgot-Borgen, J. K., Burke, L. M., Ackerman, K. E., Blauwet, C., Constantini, N. & Budgett, R. (2018). IOC consensus statement on relative energy deficiency in sport (RED-S): 2018 update. British Journal of Sports Medicine, 52(11), 687-697.
Nattiv, A., Loucks, A. B., Manore, M. M., Sanborn, C. F., Sundgot-Borgen, J., & Warren, M. P. (2007). The female athlete triad. Medicine & Science in Sports & Exercise, 39(10), 1867-1882.
Nikolaidis, P. T., & Theodoropoulou, E. (2014). Relationship between Nutrition Knowledge and Physical Fitness in Semiprofessional Soccer Players. Scientifica, 180353.
Nose-Ogura, S., Yoshino, O., Dohi, M., Kigawa, M., Harada, M., Kawahara, T., & Saito, S. (2018). Low bone mineral density in elite female athletes with a history of secondary amenorrhea in their teens. Clinical Journal of Sport Medicine, 30(3), 245-250.
Quah, Y. V., Poh, B. K., Ng, L. O., & Noor, M. I. (2009). The female athlete triad among elite Malaysian athletes: prevalence and associated factors. Asia Pacific Journal of Clinical Nutrition, 18(2), 200–208.
Ranson, W. A., Patterson, D. C., Colvin, A. C. (2018). Female athlete triad: past, present, and future directions. Annals of Joint, 3(1), 4.
Rauh, M. J., Barrack, M., & Nichols, J. F. (2014). Associations between the female athlete triad and injury among high school runners. The International Journal of Sports Physical Therapy, 9(7), 948-958.
RNI: Recommended nutrient intakes for Malaysia: A report of the technical working group on nutritional guidelines. (2005). Putrajaya: National Coodinating Committee on Food and Nutrition.
Sawai, A., Mathis, B. J., Natsui, H., Zaboronok, A., Mitsuhashi, R., Warashina, Y., Watanabe, K. (2018). Risk of female Athlete Triad development in JAPANESE collegiate athletes is related to SPORT type and competitive level. International Journal of Women's Health,10, 671-687.
Schaal, K., Tiollier, E., Le Meur, Y., Casazza, G., & Hausswirth, C. (2016). Elite synchronized swimmers display decreased energy availability during intensified training. Scandinavian Journal of Medicine & Science in Sports, 27(9), 925-934.
Slater, J., McLay-Cooke, R., Brown, R., & Black, K. (2016). Female recreational exercisers at risk for low energy availability. International Journal of Sport Nutrition and Exercise Metabolism, 26(5), 421-427.
Trakman, G. L., Forsyth, A., Hoye, R. & Belski, R. (2018). Development and validation of a brief general and sports nutrition knowledge questionnaire and assessment of athletes' nutrition knowledge. Journal of the International Society of Sports Nutrition, 15(1), 17.
VanHeest, J. L., Rodgers, C. D., Mahoney, C. E., & De Souza, M. J. (2014). Ovarian suppression impairs sport performance in junior elite female swimmers. Medicine & Science in Sports & Exercise, 46(1), 156-166. doi:10.1249/mss.0b013e3182a32b72
Wasserfurth, P., Palmowski, J. Hahn, A., & Kruger, K. (2020). Reasons for and Consequences of Low Energy Availability in Female and Male Athletes: Social Environment, Adaptations, and Prevention. Sports Medicine – Open, 6(44), 1-14.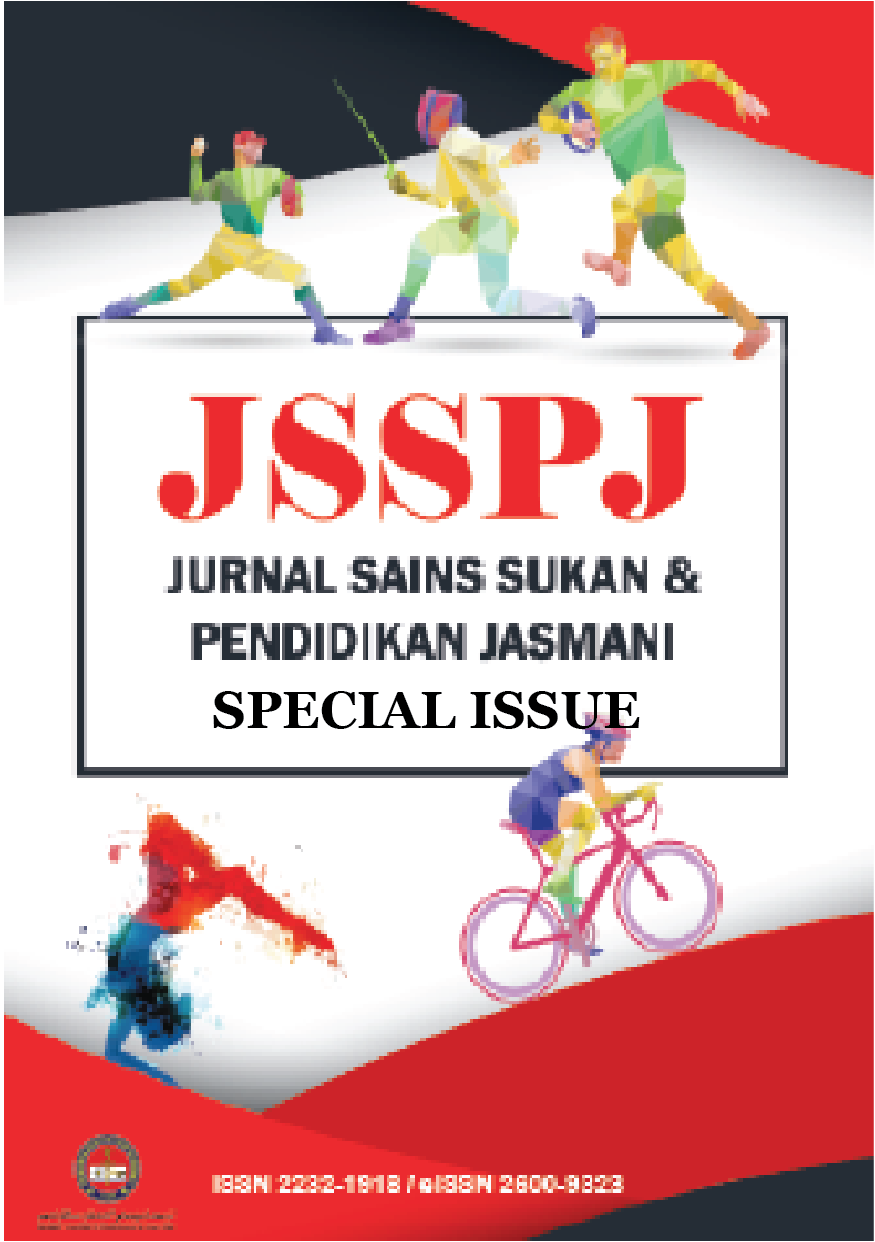 Downloads
How to Cite
Maharam, N., Mohamad Shalan , N. A. A., & Abdullah, N. F. (2022). Nutritional Knowledge and Calorie Intake Among University Athlete with Risk of Female Athlete Triad. Jurnal Sains Sukan & Pendidikan Jasmani, 11, 82–87. https://doi.org/10.37134/jsspj.vol11.sp.10.2022
License
Copyright (c) 2022 Najihah Maharam, Nor Aijratul Asikin Mohamad Shalan , Nurul Fadhilah Abdullah
This work is licensed under a Creative Commons Attribution-NonCommercial-ShareAlike 4.0 International License.