Impact of Financial Literacy Level on Financial Behavior among Higher Education Students: A Case Study in KDA University
Keywords:
Financial Literacy, young adult, financial knowledge, behavior, undergraduate
Abstract
Nowadays, financial literacy is becoming a concern in a society particularly, among youngsters. The biggest issue is, the youngsters are lack of understanding on how to control their finances. This study aims to evaluate the financial literacy level among youngsters based on their knowledge, attitude and behavior. At the same time investigating whether financial literacy, gender and household income have a significant influence on the financial behavior of KDA undergraduate students. Primary data was collected through a questionnaire which consisted of few different sections that measure the financial knowledge, attitude and behavior among KDA students. A total sample size of 186 was collected for this study. Reliability test, regression analysis and Pearson's correlation coefficient were the methods used to analyze the data. The finding concluded that KDA students acquire a medium financial literacy level. Therefore, this study implies that individual, academic authorities, government and NGOs should educate and encourage students to practice good financial management and raise their financial literacy to avoid facing any financial issues in the future.
Downloads
Download data is not yet available.
References
Carpenter, M., Jason, & Moore, M. (2008). Gender and Credit Behavior Among College Students. Implications for Consumer Educator.
Chen, H., & Volpe, R. P. (1998). An analysis of personal financial literacy among college students. Financial Services Review.
Delafrooz, N., & Laily. (2011). Determinants of saving behavior and financial problem among employees in Malaysia. Australian Journal of Basic and Applied Sciences, 222-228.
Dorjana, N., Teuta, L., & Antoneta, P. (2015). The Impact of Family Income on Students Financial Attitude. European Journal of Economics and Business Studies, 83-88.
DOSM. (2019). Household Income & Basic Amenities Survey Report. Department of Statistics Malaysia Official Portal.
Fonseca, R., Mullen, K. J., Zamarro, G., & Zissimopoulos, J. (2012). What explains the gender gap in financial literacy? The role of household decision making. Journal of Consumer Affairs, 90-106.
Kagan, J. (2019). Savings. Investopedia. https://www.investopedia.com/terms/s/savings.asp
Levenson, N. (2014). Spending money wisely; getting the most from school district budgets. The District Management Council (2009), 6-7.
Llewellyn, T. R. (2012). Financial Literacy of College Students and the Need for Compulsory Financial Education (Honors Thesis). Retrieved from digital commons at The College at Brockport. Doi: https://digitalcommons.brockport.edu/honors/1.
Lusardi, A., & Mitchell, O. S. (2011). Financial literacy and retirement planning in the United States. Journal of Pension Economics and Finance. 10 (4).
Mahdzan, N. (2013). The Impact of Financial Literacy on Individual Saving: An Exploratory Studies of the Malaysian Context. Research Gate, 52.
Mottola, G. R. (2013). In our best interest: Women, financial literacy, and credit card behavior. Numeracy, 1-15.
Nandanan, P., & Fernandez, S. P. (2017). A study on the gender differences in the spending attitude and behavior of IT professionals in Urban Bangalore. International Journal of Business and Management Invention, 55-59.
NST. (2020). Financial literacy among youth alarmingly low. New Straits Times.
OECD. (2013). Financial literacy and inclusion: Results of OECD/INFE survey across countries and by gender. OECD Centre.
Robb, C., & Sharpe, D. L. (2009). Effect of personal financial knowledge on college students' credit card behavior. Journal of Financial Counseling and Planning, 26.
Roberts, J. (2000). Consuming in a Consumer Culture: College Students, Materialism, Status Consumption and Compulsive Buying. The Marketing Management Journal.
Sabri, M., & MacDonald, M. (2010). Financial behavior and problems among college students in Malaysia: Research and education implication. Consumer Interests Annual, 54.
Shaari, N. A., Hasan, N. A., Mohamed, R. K., & Sabri, M. A. (2013). Financial Literacy: A Study Among the University Students. Interdisciplinary Journal of Contemporary Research in Business, 279-299.
Thapa, B. S., & Nepal, S. R. (2015). Financial Literacy in Nepal: A Survey Analysis from College Students. NRB Economic Review, 61.
Thomas, B., & Subhashree, P. (2020). Factors that Influence the Financial Literacy among Engineering Students, Procedia Computer Science.
Walczak, D., & Pienkowska-Kamieniecka, S. (2018). Gender Differences in Financial Behaviors. Inzinerine Ekonomika-Engineering Economics, 123-132.
Zikmund, W. (2003). Business Research Methods (7thed.). Thompson South Western, Boston, MA, USA.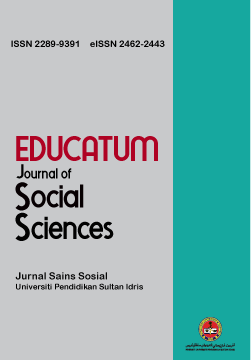 Downloads
How to Cite
Wong, S. K. Y., Misiran, M., Md Yusof, Z., & Supadi, S. S. (2022). Impact of Financial Literacy Level on Financial Behavior among Higher Education Students: A Case Study in KDA University. EDUCATUM Journal of Social Sciences, 8(1), 43–52. https://doi.org/10.37134/ejoss.vol8.1.5.2022