Socio-economic, psychological and environmental factors in the academic performance of elementary pupils of Alfonso Lista District, Ifugao, Philippines
Keywords:
socio-economic, psychological, environmental, academic performance
Abstract
Academic performance is a vital indicator of pupils' achievement and success. Thus, the primary purpose of this study is to determine the pupils-related factors in the academic performance of public elementary pupils of Alfonso Lista District, Ifugao, Philippines. This study used a structured survey questionnaire developed and validated by the researcher and expert master teachers. A total of 150 pupils from the eleven public elementary schools served as the respondents. The frequency count and percentage, the weighted mean, pearson product moment correlation and the f-test using one way ANOVA (Analysis of Variance) were utilized to realize the objectives of the study. Results revealed that factors such as socio-economic, psychological, and environmental may sometimes affect academic performance. The family income, attitude towards school, attendance in school, time location and study habits, quality of classmates and friends, and the learning environment has bearing with the academic performance of pupils. The respondents also perceived that home and learning environment can affect their academic performance. It is then recommended that the administration should consistently endeavor to provide necessary instructional material resources available to teachers and pupils for better teaching-learning performance. Moreover, teachers and parents should exert more effort to create a total environment for pupils that optimizes the ability to learn to increase their academic performance.
Downloads
Download data is not yet available.
References
Adams, A. (2008). Even basic needs of young are not met. TES. Retrieved October 8, 2008, http: // tc.education.pitt.edu/library/self- esteem
Adu, E. O. & Olatundun, S. O. (2007). Teachers' perception of teaching as correlates of students' academic performance in Oyo State Nigeria. Essays in Education 20(1)
Aina, S. I. (2015). School Environment and Satisfaction with Schooling among primary school pupils in Ondo State, Nigeria. Journal of Education and Practice, 6(12), 148-151.
Ajayi, I.A., H.T. Haastrup & F.M. Osalusi (2010) "Learning Environment and Secondary School Effectiveness in Nigeria". Stud Home Comm. Science, 4(3) Pp. 137-142.
Ajidagba, U. A., Abdur-Rafiu, J., & Usman, A. I. (2018). Teachers' Quality and Secondary School Students' Academic Performance in Islamic Studies in Ilorin, Nigeria. KIU Journal of Social Sciences, 4(3), 85-96.
Ajileye, O. B. (2021). Nigerian Parents' and Teachers' Perceptions of Students' Study Habits, Motivation to Learn and Academic Performance (Doctoral dissertation, Trident University International).
Akiri, A. A. (2013). Effects of teachers' effectiveness on students' academic performance in public secondary schools; Delta State-Nigeria. Journal of Educational and social Research, 3(3), 105-105.
Ali, Norhidayah, Jusoff, Kamaruzaman, Ali, Syukriah, Mokhtar, Najah and Salamt, Azni Syafena Andin. (2009). 'The Factors Influencing Students' Performance at Universiti Teknologi MARA Kedah, Malaysia'. Canadian Research & Development Center of Sciences and Cultures: Vol.3 No.4.
Ceka, A., & Murati, R. (2016). The Role of Parents in the Education of Children. Journal of Education and Practice, 7(5), 61-64.
Cephas, Z. K., Kuru, M. J., Bulba, I. B., Chuboh, J. V., & Galadima, A. (2021). Impact of Learning Environment on the Students' Academic Performance in Rural Secondary Schools in Jalingo Local Government Area, Taraba State, Nigeria Melaiye, O. Rufus (PhD); Iorshaer, MJ.
Chindaya, A. (2012). Effects of parental involvement in the Education of Children. Unpublished D. Ed. Thesis, University of South Africa, Pretoria.
Clare, K. (2018). Effects of school environment on secondary school students' academic performance in girl child in Mubende district (Doctoral dissertation, Nkumba University).
Duruji, M. M., Azuh, D. E., & Oviasogie, F. O. (2014). Learning environment and academic performance of secondary school students in external examinations: A study of selected schools in Ota.
Dzever, L. T. (2015). The impact of home environment factors on academic performance of senior secondary school students in Garki Area District, Abuja-Nigeria. Bulgarian Journal of Science and Education Policy, 9(1), 66.
Egunsola, A. O. E. (2014). Influence of home environment on academic performance of secondary school students in agricultural science in Adamawa State Nigeria. Journal of Research & Method in Education, 4(4), 46-53.
Ekanem, T. F. (2004). The school as a substitute home in Q. I. Obinaju (Ed), Theory and Practice in Early childhood Education. Calabar; Nigeria, BON Ltd.
Frazier, L. M. (2002). Deteriorating School Facilities and Student Learning. Eric Digest, Number 82. Retrieved from http://ericae.net/edo/ED356564.htm
Galama, T. J., Morgan, R., & Saavedra, J. E. (2017). Wealthier, happier and more self-sufficient: When anti-poverty programs improve economic and subjective wellbeing at a reduced cost to taxpayers (No. w24090). National Bureau of Economic Research.
Heystek, J., & Emekako, R. (2020). Leadership and motivation for improved academic performance in schools in low socio-economic contexts. International Journal of Educational Management.
Lheonunekwu, S., Nwamuo, C., & Ukpabi, H. (2012). Reflections on teachers' classroom effectiveness and students'academic performance in public senior secondary schools in Abia State. Journal of Qualitative Education, 8(1).
Lyons, J. B. (2001). Do school facilities really impact a child's education? Retrieved from http://www.coe.uga.edu/sdpl/articlesandpapers/lyons.html
Mlambo, V. (2011). An analysis of some factors affecting student academic performance in an introductory biochemistry course at the University of the West Indies. The Caribbean Teaching Scholar, 1(2).
Muasya, J. (2016). Effects of teacher absenteeism on pupils' kcpe performance in public and private primary schools in kitui central sub-county, kenya (Doctoral dissertation, University of Nairobi).
Nuthanap, G. (2007). "Gender analysis of academic achievement among high school students," Thesis submitted to the Department of human development, College of rural home science, Dharward University of Agricultural Sciences.
Philippine Education For All (2015): Implementation and Challenges
Ping, C., Schellings, G., & Beijaard, D. (2018). Teacher educators' professional learning: A literature review. Teaching and teacher education, 75, 93-104.
Singh, S. & Thukral, P. (2010). "Social maturity and academic achievement of high school students, "Canadian Journal on Scientific and Industrial Research, Vol. 1 (1), pp.6-9
Sirin, S. R. (2005). Socioeconomic status and academic achievement: A meta-analytic review of research. Review of educational research, 75(3), 417-453.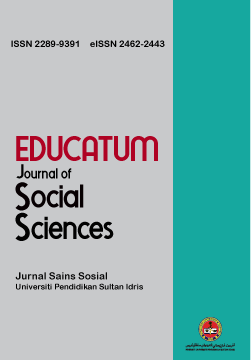 Downloads
How to Cite
Ormilla, R. C. G. (2022). Socio-economic, psychological and environmental factors in the academic performance of elementary pupils of Alfonso Lista District, Ifugao, Philippines. EDUCATUM Journal of Social Sciences, 8(1), 1–12. https://doi.org/10.37134/ejoss.vol8.1.1.2022