"做中学":在斯坦福大学教文图学
Learning by Doing: Experience of Teaching Text and Image Studies Course at Stanford University
Lo-fen I

Nanyang Technological University, Singapore
Keywords:
做中学, 文图学, 斯坦福大学, 汉字, 书法, 绘画
Abstract
"做中学"(Learning by doing)是美国实用主义哲学家约翰·杜威(John Dewey,1859-1952)主张的教育理念,对二十世纪的教育方式具有深远的影响。笔者秉持"做中学"的方式贯彻于教学,效果显著。本文分享笔者在美国斯坦福大学教"文图学"的经验。"文图学"研究图像文本的观看之道,是笔者近年开发的学术方向。本文举了三个教学实例,采取"做中学"的方式,配合课程设计,学生能够自然理解汉字的造字原则、中国绘画图卷的叙事结构,以及细察书画笔法。
Abstract
'Learning by doing,' a pedagogical theory developed by American pragmatist John Dewey (1859-1952), has sent reverberations through educational systems in the 20th century. As a teacher, sticking to the 'Learning by doing' principle has proved to be highly productive in my educational practices. This paper puts emphasis on my experience of teaching 'Text and Image Studies' course at Stanford University. Such a research approach is currently theorised by myself, aiming at exploring the visual perception of texts and images. With detailed course plans, this paper provides three specific teaching cases applying the 'Learning by doing' method to help students effortlessly understand the structural rules of Chinese characters, the narrative forms of scroll paintings, brush strokes in Chinese painting and calligraphy.
Keywords: Learning by doing, Text and Image Studies, Stanford University, Chinese characters, Calligraphy, Paintings
Downloads
Download data is not yet available.
References
【征引文献】
一、 中文论著
衣若芬,《春光秋波:看见文图学》,南京:南京大学出版社,2020。
衣若芬,《南洋风华:艺文.广告.跨界新加坡》,新加坡:八方文化创作室,2016。
衣若芬主編,《東張西望:文圖學與亞洲視界》,新加坡:八方文化創作室,2019。
尚恩.霍尔(Sean Hall)著、吕奕欣译,《这就是符号学!探索日常用品、图像、文本,76个人人都能读懂的符号学概念》,台北:积木文化股份有限公司,2015。
二、 期刊论文
衣若芬,〈文图学:学术升级新视界〉,《当代文坛》2018年第4期,页118-124。
三、报章
衣若芬,〈胡佛塔上〉,新加坡《联合早报》,2018年6月2日。
四、 英文文献
Jay H. Bernstein, "The Data-Information-Knowledge-Wisdom Hierarchy and its Antithesis ", NASKO. 2(2009), pp.68-75.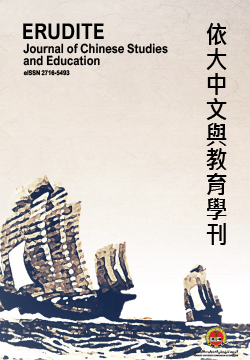 How to Cite
I, L.- fen. (2020). "做中学":在斯坦福大学教文图学. ERUDITE: Journal of Chinese Studies and Education, 1(2), 77-88. https://doi.org/10.37134/erudite.vol1.2.3.2020
Copyright (c) 2020 UPSI Press, Malaysia
This work is licensed under a Creative Commons Attribution-NonCommercial-ShareAlike 4.0 International License.