Assessing The Achievement of Program Educational Objectives: Alumni Surveys
Keywords:
Outcome-Based Education, Programme Educational Objectives, Malaysian Qualification Agency, Key Performance Indicator
Abstract
Outcome-Based Education (OBE) is a learner-centred approach to education that emphasizes what a student should be able to perform in the real world after completing a course or programme. One of the important aspects of Outcome-Based Education is Program Educational Objectives (PEOs). The Programme Educational Objectives are the statements that describe what the graduates are expected to perform and achieve in the three to five years following graduation. Every institution in Malaysia is required to measure the PEOs to comply with the requirements set forth by the Malaysian Qualification Agency (MQA). Each institution has its instruments to evaluate the achievement of PEOs.  Hence, this study used alumni surveys to assess their perceptions of the PEOs for Islamic Banking and Finance programmes offered at Kolej Profesional MARA Bandar Melaka (KPMBM). In this survey, the attributes that make up each statement were identified and evaluated using the Likert scale. This survey was sent to alumni who have met the maturity period for PEOs measurement. The response from a sample of 34 alumni produces favorable results. Its percentage of achievement range from 60% to 88%. Overall, the percentage of achievement has met the indicator either equivalent to or more than 50% as stated in the Key Performance Indicator of Kolej Profesional MARA Bandar Melaka (KPMBM). Thus, the Internal Quality Assurance (IQA) committee of the college will maintain the programme of the study with the stated PEOs. However, it is suggested for the college to conduct on employer survey to ensure continuous programme improvement in the future.
Downloads
Download data is not yet available.
References
Abbadeni, N., Ghoneim, A., & Alghamdi, A. (2013). Program Educational Objectives Definition and Assessment for Accreditation Purposes. International Journal of Engineering Pedagogy (iJEP), 3(3), 33-46.
DeVellis, R. F. (2003). Scale development: Theory and Application (2nd ed. Vol. 26). Sage Publications, Inc.
Hairi, N., Affandi, H. M., & Nasri, N. M. (2019). Identifying instruments to measure programme educational objectives (PEO) achievement in Malaysia. Universal Journal of Educational Research, 7(9A), 135-146.
Makinda, J., Bolong, N., Gungat, L., & Sarman, A. (2011, December). Assessment of program educational objectives using Alumni survey: The UMS experience. In 2011 3rd International Congress on Engineering Education (ICEED) (pp. 14-17). IEEE.
Malaysian Qualifications Framework (MQF) (2017). Retrieved from https://www.mqa.gov.my/pv4/document/mqf/2019/Oct/updated%20MQF%20Ed%202%2024102019.pdf
Nunnally, J. C. (1978). Psychometric theory (2nd ed.). McGraw-Hill Education.
Program Standard Muamalat and Islamic Finance. (2018). Retrieved from
https://www2.mqa.gov.my/QAD/garispanduan/2019/MIF%202nd%20Edition%20-%20untuk%20laman%20web.pdf
Rajak, A., Shrivastava, A. K., Bhardwaj, S., & Tripathi, A. K. (2019). Assessment and attainment of program educational objectives for post graduate courses. International Journal of Modern Education And Computer Science, 11(2), 26-32.
Roscoe, J.T. (1975). Fundamentals Research Statistics for Behavioural Sciences. 2nd. Edition. New York: Holt, Rinehart & Winston.
Weisbrook, C. M., & Schonberg, W. (2011, June). A streamlined approach to developing and assessing program educational objectives and program outcomes. In 2011 ASEE Annual Conference & Exposition (pp. 22-104).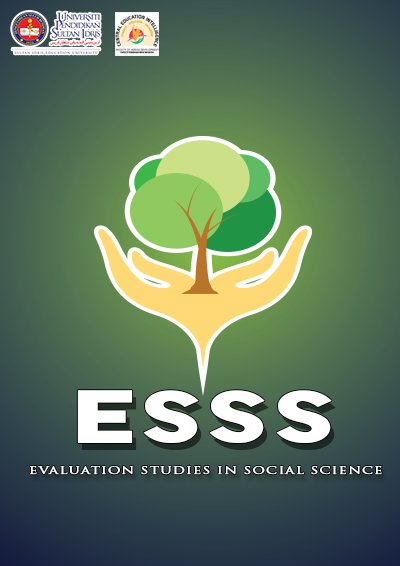 Downloads
How to Cite
Salim, M., Annua, A. N., Mohd Yusoh, N. F., & Zainuddin Tan, N. (2022). Assessing The Achievement of Program Educational Objectives: Alumni Surveys. Evaluation Studies in Social Sciences, 3(2), 35–42. https://doi.org/10.37134/esss.vol3.2.4.2022
License
Copyright (c) 2022 Munirah Salim, Ain Nadia Annua, Nur Faezah Mohd Yusoh, Norashikin Zainuddin Tan
This work is licensed under a Creative Commons Attribution-NonCommercial-ShareAlike 4.0 International License.