Influence of Teaching Experience in Knowledge, Motivation and Implementation of STEM Teaching and Learning
Pengaruh Pengalaman Mengajar dalam Pengetahuan, Motivasi dan Pelaksanaan Pengajaran dan Pembelajaran STEM
Aminah Jerki

Faculty of Psychology and Education, Universiti Malaysia Sabah, Malaysia

Crispina Gregory K Han

Unit For Rural Education Research, Faculty of Psychology and Education, Universiti Malaysia Sabah, Malaysia
Keywords:
Implementation of STEM Teaching and Learning, Knowledge, Motivation, Teaching Experience, Novice Teacher
Abstract
This study was to examine the influence of teaching experience on knowledge, motivation and implementation STEM Teaching and Learning (T&L). A quantitative method with survey design was employed. The sample consisted of 129 respondents selected using proportional stratification sampling approach. Data was collected using Ujian Pencapaian Pengetahuan (UPP), Soal Selidik Aspek Motivasi (SSAM) and Soal Selidik Aspek Pelaksanaan (SSAP). ANOVA found that there were significant differences in knowledge, motivation and implementation of STEM T&L based on teaching experience. Novice teachers were found to surpass the veteran teachers in the knowledge and motivation aspects. However, veteran teachers implementing STEM T&L more frequently than novice teachers. The study concluded that teaching experience was found to influence the teachers' knowledge, motivation and STEM T&L implementation. The research has brought meaningful implications for teachers, school administrator and policy makers.
Downloads
Download data is not yet available.
References
Abdul Halim Abdullah, Mohd Hilmi Hamzah, Raja Haffizah Soffia Raja Hussin, Umar Haiyat Abdul Kohar, Sharifah Nurarfah S. Abd Rahman & Juhazren Junaidi. (2017).Teachers' Readiness in Implementing Science, Technology, Engineering and Mathematics (STEM) Education from the Cognitive, Affective and Behavioural Aspects. IEEE 6th International Conference on Teaching Assessment, and Learning for Engineering (TALE). 7, 51-63.
Ahmad Zamri Khairani. (2017). Assesing Urban and Rural Teachers' Competencies in STEM Integrated Education in Malaysia. Pulau Pinang: Universiti Sains Malaysia.
Bekir Yildririn & Cumhur Turk. (2018). Opinions of Middle School Science and Mathematics Teacher on STEM Education. World Journal of Educational Technology.
Bevo Wahono & Chun- Yen Chang. (2018). Examining the Relationship between Science Teachers' Knowledge, Attitude and Application of STEM Education. International Conference of East-Asia Association for Science Education (EASE).
Breiner, J.M. , Harkness, S.S., Johnson, C. C. & Koehler, C.M. (2013). What is STEM ? A Discussion About Conception of STEM in Educational and Partnership.Journal of STEM Education. 112(1), 3-11
Darling-Hammond, L., Newton, S. P., & Wei, R. C. (2013). "Developing and Assessing Beginning Teacher Effectiveness: The potential of performance Assessments." Educational Assessment, Evaluation, and Accountability. 25(3): 179-204.
Dilekli, Y. & Tezci, E. (2020). A cross-cultural study: Teachers' Self-Efficacy Beliefs for Teaching Thinking Skills. Thinking Skills and Creativity. 35
Edy Hafizan Mohd Shahali, Lilia Halim, Sattar Rasul, Kamisah Osman, Zanatun Ikhsan & Faszly Rahim. (2015). Bitara-STEM Training of Trainers' Programme : Impact on Trainers' Knowledge, Beliefs, Attitude and Efficacy towards Integrated STEM Teaching. Journal of Baltic Science Education.
El-Deghaidy, H. & Mansour, N. (2015). Science Teachers' Perceptions of STEM Education: Possibilities and Challenges. International Journal of Learning and Teaching. 1(1), 127-131.
Esmail Safaie, Nader Safaie & Akbar Safaie. (2014). The Erosion of EFL Teachers Content and Pedagogical-content Knowledge Throughout the Years of Teaching Experience, Procedia - Social and Behavioral Sciences. 98.1599-1605
Gitomer, D. H. & Zisk, R. C. (2015). Knowing What Teachers Know. Review of Research in Education. 39, 1-53
Gorozidis, G. & Papaioannou, A. G. (2013). Teachers' Motivation to Participate Training and to Implement Innovations. Journal of Teaching and Teacher Education.
Guerriero, S. (2017). Pedagogical Knowledge and the Changing Nature of the Teaching Profession. OECD Publishing : Paris.
Kang Mu Huai & Lim Hooi Lian. (2015). Pengetahuan dan Keprihatinan Guru-Guru Terhadap Pelaksanaan Kurikulum Standard Sekolah Rendah (KSSR). Jurnal Pendidikan. Bitara UPSI. 8, 22-31.
König, J. (2013). First Come the Theory than the Practice ? On the Acquisition of General Pedagogy Knowledge during Initial Teacher Education. International Journal of Science and Mathematics Educatum. 11(4), 999-1028.
Kong, S. F., & Mohd Matore, M. E. @ E. (2020). STEM approaches in teaching and learning process: Systematic Literature Review (SLR). Jurnal Pendidikan Sains Dan Matematik Malaysia, 10(2), 29-44.
Krejcie, R.V., & Morgan, D.W. (1970). Determining Sample Size for Research Activities. Educational and Psychological Measurement, 30, 607-610
Kurup, P. M., Brown, M., Powell, G. & Xia Li. 2017. Future Primary Teachers' Beliefs Understanding and Intentions to Teach STEM. IAFOR Journal of Education. 5, 313-317.
Makewa, L. & Ngussa, B. M. (2015). Curriculum Implementation and Teacher Motivation:Theoritical Framework. USA: IGI Global.
Muhammad Daud, K. (2019). Cabaran guru prasekolah dalam menerapkan Pendidikan Stem. Jurnal Pendidikan Sains Dan Matematik Malaysia, 9(2), 25-34.
Nadelson, L.S. & Seifert , A. L. (2017). Integrated STEM Define: Contexts, Challenges and the Future.The Journal of Educational Research. 2(1), 88-93.
Ngan, L., Bien, N., Nguyen, H. & Hoang, L. (2020). Exploring Vietnamese Students' Participation and Perceptions of Science Classroom Environment in STEM Education Context. Jurnal Penelitian dan Pembelajaran IPA. 6(1) 73-86.
Naziah Sahat, Adina Yantiaryanie Abd Rahman, Khairul Amilin Tengah, Hui- Chuan Li & Nor Azura Abdullah. (2018). A Study of Mathematics' Teacher Motivation towards Teaching in Brunei Darussalam. Journal of Studies in Education, 8(2), 18-28.
Nese Börü. (2018). The Factors Affecting Teacher-Motivation. International Journal of Instruction, 11(4), 761-776.
Nur Diyana Zakariah, Haryati kamarrudin, Emiliana Tompang, Lilia Ellanu Mohtar & Lilia Halim. (2018). STEM Teaching strategies of Primary School Science Teachers: An Exploratory study. Fakulti Pendidikan, Universiti Kebangsaan Malaysia. 176, 699-708,
Panduan Pelaksanaan STEM dalam PdP. (2016). Bahagian Pembangunan Kurikulum Kementerian Pendidikan Malaysia
Prasart Nuangchalerm. (2018). Investigating Views of STEM Primary Teachers On STEM Education. Bulgarian Journal of Science Education. 3(2), 148-185.
Rehaf A.Madani & Sufian Forawi. (2019). Tecaher Perceptions of the New Mathematics and Science Curriculum: A Step Toward STEM Implementation in Saudi Arabia. Journal of Education and Learning. 8 (3), 202-223.
Roehrig G.H., Moore T.J., Hui-Hui Wang & Mi Sun Park. (2012). Is Adding the E Enough?: Investigating the Impact of K-12 Engineering Standards on the Implementation of STEM Integration. School of Engineering Education Faculty Publications, Purdue University.
Rozenszajn R. & Yarden A. (2014). Mathematics dan Biology Teachers' Tacit Views of the Knowledge Required for Teaching : Varying Relationship Between Content Knowledge and Pedagogical Content Knowledge. International Journal of STEM Education.
Rusli Ahmad, Hasbee Usop, Azman Ismail, Sopian Bujang & Nur Naha Abu Mansor. (2014). Conducting Research in Social Sciences and Management Studies. Kuching : RS Publishing House.
Shaughnessy , M. 2013. By Way of Introduction : Mathematics in STEM Context . Mathematics teaching in the middle school. 18(6), 324.
Shernoff, D.J., Sinha, S., Bressler, D.M. & Ginsburg, L. (2017). Assessing Teacher Education and Professional Development Needs for the Implementation of Intergrated Approaches to STEM Education. International Journal of Science.
Shulman, L. S. (1987). Knowledge and Teaching: Foundations of The New Reform. Harvard Educational Review. 57, 1-22.
Siti Najihah Jamal, Nor Hasniza Ibrahim, Johari Surif, Nornazira Suhairom, Abdul Halim Abdullah & Nurul Farhana Jumaat. (2017). Understanding of STEM Education among Chemistry Teachers in District of Melaka Tengah. Man In India. 97(12), 101 - 108.
Siti Nur Diyana Mahmud, Nurfaradilla Mohamad Nasri, Mohd Ali Samsudin & Lilia Halim. (2018). Science teacher education in Malaysia : Challenge and way forward. Asia- Pacific science Education. 86, 45-59
Song, B. & Kim, T. Y. (2016). Teacher Demotivation from an Activity Theory perspective: Cases of two experienced EFL teachers in South Korea. System. 57, 134-145.
Tamim, S. R. , & Grant, M. M. (2013). Definitions and Uses: Case Study of Teachers Implementing Project based Learning. Interdisciplinary Journal of Problem-Based Learning. 7(2), 11-19.
Utusan Malaysia. 2018. TVET Lahir Modal Insan Berkemahiran Tinggi. 24 April (2018).
Wachira Srikoom & Chatree Faikhamta. (2018). In- Service Science Teachers' Self-Efficacy and Beliefs about STEM Education : The 1st Year of Implementation. Department Education, Kasetsart University, Thailand.
Yariv, E. (2013). Teachers' Professional Experience Solving Simple and Complex Problems. International Journal of Educational Research. 60, 19-26.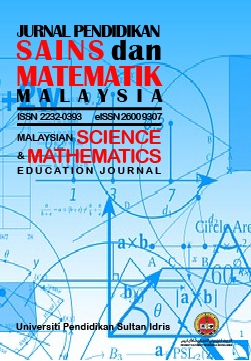 How to Cite
Jerki, A., & K Han, C. G. (2020). Influence of Teaching Experience in Knowledge, Motivation and Implementation of STEM Teaching and Learning. Jurnal Pendidikan Sains Dan Matematik Malaysia, 10(2), 45-56. https://doi.org/10.37134/jpsmm.vol10.2.5.2020
Copyright (c) 2020 UPSI Press, Malaysia
This work is licensed under a Creative Commons Attribution-NonCommercial-ShareAlike 4.0 International License.