Biomimicry in relation with islamic value
Aini Atiqah

Faculty of Design and Architecture, Universiti Putra Malaysia, Serdang, Selangor, MALAYSIA

Khairul Aidil Azlin Abd Rahman

Faculty of Design and Architecture, Universiti Putra Malaysia, Serdang, Selangor, MALAYSIA
Keywords:
Nature-inspired design, Islamic value, Human-nature relationship
Abstract
This paper explore the relationship between biomimicry and Islamic value especially in the context of ecosystem. Human activity directly and indirectly is, our conscious action to refine our environment. The method used in this paper is Kawakita Jiro method and various literature review to achieve the conceptual framework for further research investigation. Humankind value was brought to the attention as the crucial part to preserve the environment thus the utilization of biomimicry can assist better comprehension in humanity. Therefore, this study aims to perceive the correlation of  the human's belief is part of the value to develop a healthy environment. This include biomimicry as one source of inspiration used in nature. It helps the human to enhance well-being by connecting to the nature or the element which remind us of nature.
Downloads
Download data is not yet available.
References
Alqur'an 19:58
Attia, D. D. ismail ismail. (n.d.). Positive Energy in Interior Design and Furniture ″ Dr . Doaa ismail ismail attia. Journal, International Design Energy, Positive, 4(1).
Bulduk, B. (2012). An Analysis of the Use of Urban Furniture in City Advertising in Terms of Aesthetic/Visual Appreciation Training: City Design. Procedia - Social and Behavioral Sciences, 46, 3279–3283. https://doi.org/10.1016/j.sbspro.2012.06.051
Collado-Ruano, J. (2015). Biomimicry: a Necessary Eco-Ethical Dimension for a Future Human Sustainability. Future Human Image-an International Journal for Philosophy Psychology and Education, 5(June), 23–57.
Haque, M., Naamane, D., Shehu, F. M., & Sulaiman, K. U. (2010). Islam and environment. Ethics and Fiqh for Everyday Life: An Islamic Perspective, 133–156.
Nkandu, M. I., & Alibaba, H. Z. (2018). Biomimicry as an Alternative Approach to Sustainability. Article.Sapub.Org, 8(1), 1–11. https://doi.org/10.5923/j.arch.20180801.01
ROOT-BERNSTEIN, M., & LADLE, R. J. (2010). Conservation by Design. Conservation Biology, 24(5), 1205–1211. https://doi.org/10.1111/j.1523-1739.2010.01501.x
Rusdi, M., & Omar, H. M. A. bin H. (n.d.). CONTRIBUTION OF ANIMAL AND PLANTS TO THE HUMAN ِ. International Seminar on Human Sustainability 2017.
Sayuti, N. 'Ayn A., Hoyos, C. M., & Bonollo, E. (2015). a Study of Furniture Design Incorporating Living Organisms With Particular Reference To Biophilic and Emotional Design Criteria, 04(01), 75–106.
Shahriman, Z. A., Rafeah, L., Mohamad Hariri, A., & Nur Izyan Syazwani, I. (2016). The Pertanika Journal of Scholarly Research Reviews PJSRR. Pertanika Journal of Scholarly Research Reviews (Vol. 2). Retrieved from http://pjsrr.upm.edu.my/index.php/pjsrr/article/view/158
Shahvali, M., & Abedi-Sarvestani, A. (2008). Environmental Ethics: Toward an Islamic Perspective. J. Agric. & Environ. Sci, 3(4), 609–617. Retrieved from https://s3.amazonaws.com/academia.edu.documents/34162410/Environmental_Ethics-Toward_an_Islamic_Perspective.pdf?response-content-disposition=inline%3B filename%3DEnvironmental_Ethics_Toward_an_Islamic_P.pdf&X-Amz-Algorithm=AWS4-HMAC-SHA256&X-Amz-Credentia
Torabi, M, & Hanaee, T. (2011). Khavaran Higher-education Institute. Retrieved from http://5thsastech.khi.ac.ir/data1/Arc/1 (53).pdf
Torabi, Mahdi. (n.d.). ISLAMIC VALUES AND THEIR INFLUENCES ON ARCHITECTURAL DESIGN. Retrieved from https://www.academia.edu/1486417/ISLAMIC_VALUES_AND_THEIR_INFLUENCES_ON_ARCHITECTURAL_DESIGN
Volstad, N. L., & Boks, C. (2012). On the use of Biomimicry as a Useful Tool for the Industrial Designer.
Sustainable Development, 20(3), 189–199. https://doi.org/10.1002/sd.1535
Yeler, G. M. (2015). Creating Nature Awareness in Design Education. Procedia - Social and Behavioral Sciences, 174, 406–413. https://doi.org/10.1016/j.sbspro.2015.01.682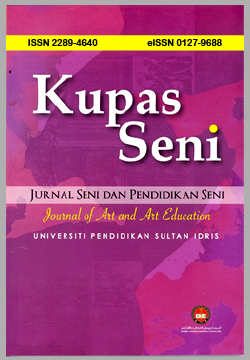 How to Cite
Atiqah, A., & Abd Rahman, K. A. A. (2019). Biomimicry in relation with islamic value. KUPAS SENI, 7, 87-96. https://doi.org/10.37134/kupasseni.vol7.10.2019
Copyright (c) 2019 Aini Atiqah, Khairul Aidil Azlin Abd Rahman
This work is licensed under a Creative Commons Attribution-NonCommercial-ShareAlike 4.0 International License.