Conservation approach of underutilized screw-pine leaves (daun mengkuang) material: home accessories design made of screw-pine leaves bio-composite
Izyan Syamimi

Faculty of Design and Architecture, Universiti Putra Malaysia, Serdang, Selangor, MALAYSIA

Khairul Aidil Azlin Abd Rahman

Faculty of Design and Architecture, Universiti Putra Malaysia, Serdang, Selangor, MALAYSIA

Saiful Hasley Ramli

Faculty of Design and Architecture, Universiti Putra Malaysia, Serdang, Selangor, MALAYSIA
Keywords:
Screw-pine leaves, Bio-composite, home accessories product
Abstract
Screw-pine leaves is a material that widely used by local crafter to produce a daily necessity product in old time. With the fast-growing ability, the leaves are easy to be found wild in several areas in Asia. In this the modern lifestyle, Malaysian did not used the material as much as the old time. Therefore, the material has been underutilized material. As a popular craft material, screw-pine leaves are proven to be good material with decent strength and flexibility. Herein, the researcher seized an approach to conserve the utilization of screw-pine leaves as material by developing several home accessories product designs. Product design in this study is a stool, a lighting, a clock and a set of coasters. A set of questionnaires is created, and the attributes are selected through the KJ Method. The questionnaire is run online and validated offline. The analysis shows the differences between both online and offline method. The results, based on comparing the attributes, shows the respondent is positively accepting the form of the design yet least putative on the visual. While among the 4 products, the coaster design is the most acceptable product calculated followed by the stool. Though, other analysis shows that the lighting design is the most prospective product to display the potential of screw-pine leaves bio-composite. Through the study, the application of screw-pine leaves bio-composite demonstrates the example of utilization of screw-pine leaves could lead a new product line in screw-pine leaves industry in Malaysia. 
Downloads
Download data is not yet available.
References
Ismail, Noor & Md Nawawi, Norwani & Leng, Ngo. (2013). The Art of Melaka: Mengkuang Plaiting. 2. Research Gate.
Shuib, Nor Hartina. (2018, June 26). Anyaman tikar mengkuang mampu raih rezeki lumayan. In Berita Harian Online. Retrieved from https://www.bharian.com.my/wanita/lain-lain/2018/06/441875/anyaman-tikar-menkuang-mampu-raih-rezeki-lumayan
Plant use. (2016). Pandanus Parkinson (PROSEA). Retrieved from https://uses.plantnet-project.org/en/Pandanus_parkinson_(PROSEA)
Thomson, L.A., Englberger, J.L., Guarino, L., Thama, R.R. & Elevitch C.R. (2006). Permeant Agriculture Resources (PAR), Pandanus tectorius (Pandanus). Hijualoa-Hawwai'I.
Azahana, A., Wickneswari, R., Noraini, T., Nordahlia A.S., Solihani, N.S., & Nurida M.K. (2015). Notes on Pandanus Atrocarpus Griff and P. tectorius Parkinson in Peninsular Malaysia. AIP Publishing LLC.
Nina Azarello (2016). Christopher Jenner revives ancient weaving craft with rush chair at gallery FUMI. In designboom. Retrieved from https://www.designboom.com/design/christopher-jenner-rush-chair-gallery-fumi-porto-cervo-06-05-2016/
Yoav Shavit Studio. In archiproducts. Retrieved from https://www.archiproducts.com/en/products/yoav-shavit-studio/organix-composite-material-pendant-lamp-jooom_312305#
Spool, J.M. (2004). The KJ-Technique: A Group Process for Establishing Priorities. UIE Articles. Retrieved from https://articles.uie.com/kj_technique/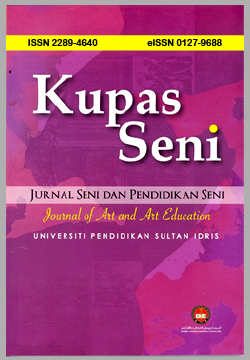 How to Cite
Syamimi, I., Abd Rahman, K. A. A., & Ramli, S. H. (2019). Conservation approach of underutilized screw-pine leaves (daun mengkuang) material: home accessories design made of screw-pine leaves bio-composite. KUPAS SENI, 7, 81-86. https://doi.org/10.37134/kupasseni.vol7.9.2019
Copyright (c) 2019 Izyan Syamimi, Khairul Aidil Azlin Abd Rahman, Saiful Hasley Ramli
This work is licensed under a Creative Commons Attribution-NonCommercial-ShareAlike 4.0 International License.