Visual communication on social media advertisement that influence consumer buying behavior on skin-whitening product
Ida Puteri Mahsan

Department of Advertising and Public Relation, Faculty of Art and Social Science, Universiti Tunku Abdul Rahman, Kampar, Perak, MALAYSIA

Mohd Fauzi Harun

Public Relation Department, Faculty of Art and Social Science, Universiti Tunku Abdul Rahman, Kampar, Perak, MALAYSIA

Mohd Yusof Zulkefli

Public Relation Department, Faculty of Art and Social Science, Universiti Tunku Abdul Rahman, Kampar, Perak, MALAYSIA

Muliyati Mat Alim

Public Relation Department, Faculty of Art and Social Science, Universiti Tunku Abdul Rahman, Kampar, Perak, MALAYSIA
Keywords:
Visual Communication, Consumer Behavior, Online Advertising, Purchasing Decision, Social Media
Abstract
Social media and beauty brands are a match made in heaven. Consumers are exposed to thousands social media ads specifically beauty brands match which are match made in heaven. Small to big brand are now realizing the importance of social media as requirement in in creating consumer attention as part of their marketing strategy that engender a positive effect on the attitude and sales intention towards the brand. Social media such as Instagram and Facebook ads are cost-effective, faster and better engagement in build brand awareness. Many believes social media ads generated immense exposure and engagement with online potential buyers as repertoire to be connected as a part of their integrated marketing communications strategy. Advertisers utilized the usage of social media with highly-crafted campaigns by telling a story such as reviewing the testimonial about the effectiveness of their product by enhancing the comments and feedback of the customers to reach marketing goals. However, not all the advertised product that purport to lighten the skin are illegal because they are also many unregistered brand that contain chemicals banned with the authority under safety regulations. This could not only cause with the misleading information but the users will easily trapped by the copy or/and visuals image featured in the ads. Desire for white skin that ingrained into the cultural aspects of beauty ideals made most of the consumers or potential buyers just rely solely on the information which is fed by the advertisers. The objective of this research is to discover consumers' opinion towards persuasiveness and believability in social media advertisement. This research is developed by using mixed method in enhancing survey and content analysis. The important of the research is to look at the key factor implied by the marketers in their content ideas of visual communication in attracting the audience and how they motivate the potential buyers in their online purchasing process.
Downloads
Download data is not yet available.
References
Abdallah Al Tawara & Ergun Gide (2017). A Comprehensive Literature Review on the Adoption of Social Media Marketing in SME Retailors in Jordan. International Journal of Business and Management Studies Vol. 6(1), p. 221–256
Advertising world 'transformed by social media', (06 August 2012). Retrieved from Advertising world 'transformed by social media' http://www.bbc.com/news/business-19147393
Anderson, Simon P., and Jean J. Gabszewicz. 2005. "The Media and Advertising: A Tale of Two-Sided Markets." CEPR Discussion Paper 5223.
Arkib, 02 December 2013. Ancaman Jenayah e-Dagang. Retrieved on March 2016. Taken from http://ww1.utusan.com.my/utusan/Keluarga/20131202/ke_01/Ancaman-jenayah-e-dagang
Brian Meert (2018). The Complete Guide to Facebook Advertising. AdvertiseMint, Incorporated
Chowdhury, T., & Debi, H. R. (2013) Online Advertisement System: A New Intelligent Approach. The International Journal of Soft Computing and Software Engineering [JSCSE], Vol. 3, No. 3, Special Issue: San Francisco State University, CA, U.S.A.
Dan Zarrella (2010), The Social Media Marketing Book. O'Reilly Media, Inc.
David S. Evans. 2009. The Online Advertising Industry: Economics, Evolution and Privacy. Journal of Economic Perspectives 23(3): 37-60.
Ekaterina Walter, Jessica Gioglio. 2014. The Power of Visual Storytelling: How to Use Visuals, Videos, and Social Media to Market Your Brand. McGraw-Hill Education
Ferguson, R. (2008). Word of mouth and viral marketing: Taking the temperature of the hottest trends in marketing. Journal of Consumer Marketing, 25(3), 179-182.
Gagandeep Nagra & R Gopal (2013). A study of Factors Affecting on Online Shopping Behavior of Consumers. International Journal of Scientific and Research Publications, Volume 3, Issue 6
Jen Green (2012) Advertising. The Rosen Publishing Group Inc. New York
Kruti Shah & Alan D'Souza (2009). Advertising & promotions, an IMC Perspectives. Taata McGraw Hill Education Pte. Ltd
Lars Reuter, (2003). The ethics of advertising strategies in the pharmaceutical industry. Ethics & Medicine, 19:3 (2003):171-175. Bioethics Press Fall
Rochet, Jean-Charles, and Jean. Tirole. 2006, "Externalities and Regulation in Card Payment System." Review of Network Economics 5(1): 1-4.
Shu-Hsien Liao & Pei-Yuan Hsiao (2014) The Study of Snack Purchasing Behavior and Foreign Tourist' Eating Habits at Taiwanese Night Markets. ICoSI 2014: Proceedings of the 2nd International Conference on Sustainable Innovation, 263-270
Sisira neti (2011). Social Media and Its Role in Marketing. International Journal of Enterprise Computing and Business Systems.Vol1 Issue July 2011.
Siti Fatimah Yaman, 05 August 2016. Manfaat Menjadi Uasahawan Maya. Retrieved on August 2016. Taken from http://www.utusan.com.my/rencana/manfaat-menjadi-usahawan-alam-maya-1.366597
Waspada pembelian Ubat Online. (19 Novemver 2015). Retrieved from http://www.pharmacy.gov.my/v2/ ms/entri/waspada-pembelian-ubat-online.html
Zunaidah Zainon, 1 Jan 2016. Usahawan bumiputera perlu rebut peluang media sosial. Retrieved on April 2016. Taken from http://www.utusan.com.my/bisnes/korporat/usahawan-bumiputera-perlu-rebut-peluang-media-sosial-1.175014
Negm & Tantawi. (2015). Investigating the Impact of Visual Design on Consumers' Perceptions towards Advertising. International Journal of Scientific and Research Publications, 5(4).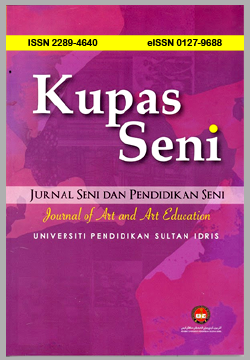 How to Cite
Mahsan, I. P., Harun, M. F., Zulkefli, M. Y., & Mat Alim, M. (2020). Visual communication on social media advertisement that influence consumer buying behavior on skin-whitening product. KUPAS SENI, 8(1), 11-19. https://doi.org/10.37134/kupasseni.vol8.1.2.2020
Copyright (c) 2020 Ida Puteri Mahsan, Mohd Fauzi Harun, Mohd Yusof Zulkefli, Muliyati Mat Alim
This work is licensed under a Creative Commons Attribution-NonCommercial-ShareAlike 4.0 International License.