Visualizing of Blowpipe Business Identity Symbol of The Orang Asli Community
Pengvisualan Simbol Indentiti Perniagaan Sumpit Komuniti Orang Asli
Keywords:
Orang Asli, visual communication, symbol, blowpipe
Abstract
Visual communication is a part of educational field which being exposed to mankind since long ages. Orang Asli has been exposed to visual communication in the form of symbols and drawings throughout their ancestors and it was developed informally among them. The objective of this study is to explore the process of creating blowpipe symbols regarding of small business which being operated by the Orang Asli communities. This study aims to explicate the expansion of the Orang Asli businesses through the visualizing identity using symbols in order to be publicly known and familiar by the outsiders. The research area was located at Kampung Orang Asli Batu 12, Gombak, Selangor. A few research methods were implemented such as focus group interview with selected Orang Asli, literature reviews and observation on field which being documented using written-notes, pictures, videos and audios. Some data were collected and analyzed, extracting three main elements visualizing the digital blowpipe symbols which are the blowpipe (sumpit), darts (damak) and the darts movement from the blowpipe (movement). These elements were discovered based on the informal skills among the Orang Asli. Sharing experience and knowledge about the blowpipes, symbol and the lifestyle of Orang Asli, occurred spontaneously and unstructured among the Orang Asli and the outsiders. Thus, this study facilitated as reference and assistance for the Orang Asli in context of visualizing small business identity of their heritage arts as a trademark to expand the Orang Asli business to the market and well-known to the outsiders.
Downloads
Download data is not yet available.
References
Abdul Ghani Azmi, I.M. (2017). "Voices from the dead: the uneasy case of indigenous cultural expression", International Journal of Law and Management, Vol. 59, No. 4, pp. 522-533. https://doi-org.ezpustaka2.upsi.edu.my/10.1108/IJLMA-03-2016-0027
Alter, B.H. (2010). "Trademark registration can provide financial services companies with valuable benefits", Journal of Investment Compliance, Vol. 11 No. 1, pp. 59-61. https://doi-org.ezpustaka2.upsi.edu.my/10.1108/15285811011030202
Beig, F. A., & Nika, F. A. (2019). Brand Experience and Brand Equity. Vision, 23(4), 410–417. https://doi.org/10.1177/0972262919860963
Chan, C.S.C. (2018). "Sustainability of indigenous folk tales, music and cultural heritage through innovation", Journal of Cultural Heritage Management and Sustainable Development, Vol. 8, No. 3, pp. 342-361.https://doi-org.ezpustaka2.upsi.edu.my/10.1108/JCHMSD-06-2017-0044
Er Ah Choy., Zalina Che Mat Ariffin., & Joy Jacqueline Pereira. (2010). Sosioekonomi Masyarakat Orang Asli: Kajian Kes di Hutan Simpan Bukit Lagong, Selangor, Malaysia. Jurnal Melayu, Vol. 5, 295-314. http://ejournals.ukm.my/jmelayu/article/view/4961/2517
Flikkema. M., Castaldi, C., de Man A-P., & Seip M. (2019). Trademarks' relatedness to product and service innovation: a branding strategy approach. Res Policy 48:1340–1353. https://doi.org/10.1016/j.respol. 2019.01.018
Garaus, M., & Halkias, G. (2020). One color fits all: product category color norms and (a)typical package colors. Rev Manag Sci 14, 1077–1099. https://doi-org.ezpustaka2.upsi.edu.my/10.1007/s11846-018-0325-9
Ghazali Daimin. (2015). Komunikasi Visual Teori & Falsafah. UiTM Press
Herman Cerrato. (2012). The Meaning of Colors. XTEC Blocs. https://blocs.xtec.cat/gemmasalvia1617/files/2017/02/the-meaning-of-colors-book.pdf
Jin, C., Yoon, M., & Lee, J. (2019). "The influence of brand color identity on brand association and loyalty", Journal of Product & Brand Management, Vol. 28 No. 1, pp. 50-62. https://doi-rg.ezpustaka2.upsi.edu.my/10.1108/JPBM-09-2017-1587
Khan, I., Islam, N., Ur Rehman, H., & Khan, M. (2020). A comparative study of graphic symbol recognition methods. Multimed Tools Appl 79, 8695–8725. https://doi.org/10.1007/s11042-018-6289-6
Khor, G. L., & Zalilah M. S. (2008). The Ecology of Health and Nutrition of "Orang Asli" (Indigenous People) Women and Children in Peninsular Malaysia. Tribes and Tribals, Special, Vol. No. 2, 67-77. https://www.academia.edu/16381311/The_Ecology_of_Health_and_Nutrition_of_Orang_Asli_Indigenous_People_Women_and_Children_in_Peninsular_Malaysia
Mensah, C.N., Long, X., Dauda, L., Boamah, K.B., & Salman, M. (2019). Innovation and CO2 emissions: the complimentary role of eco-patent and trademark in the OECD economies. Environ Sci Pollut Res 26, 22878–22891. https://doi.org/10.1007/s11356-019-05558-4
Mohd Sam, S. A. (2015). Kajian amalan budaya Orang Asli suku kaum Jakun di Kampung Peta [Masters dissertation, Universiti Tun Hussein Onn]. Malaysian Theses Online (MyTO). http://myto.upm.edu.my/find/Record/my-uthm-ep.7029
Omar, R., Wan Abdul, W.M.H., & Knight, V.F. (2019). Status of visual impairment among indigenous (Orang Asli) school children in Malaysia, BMC Public Health 19, 543. https://doi-org.ezpustaka2.upsi.edu.my/10.1186/s12889-019-6865-3
Pampoulou, E., & Fuller, D.R. (2020). "Exploring AAC graphic symbol choices: a preliminary study", Journal of Enabling Technologies, Vol. 14 No. 3, pp. 171-185. https://doi-org.ezpustaka2.upsi.edu.my/10.1108/JET-03-2020-0013
Ramle bin Abdullah., Wan Hasmah Wan Mamat., W. A. Amir Zal., & Asmawi Mohamad Ibrahim. (2013). Teaching and Learning Problems of the Orang Asli Education: Students' Perspective. Asian Social Science, Vol. 9, No. 12, 118-119. https://doi.org/10.5539/ass.v9n12p118
Rezvanifar, A., Cote, M., & Branzan Albu, A. (2019). Symbol spotting for architectural drawings: state-of-the-art and new industry-driven developments. IPSJ T Comput Vis Appl 11, 2. https://doi-org.ezpustaka2.upsi.edu.my/10.1186/s41074-019-0055-1
Rienda, L., Ruiz-Fernández, L., & Carey, L. (2021). "Analysing trademark and social media in the fashion industry: tools that impact performance and internationalization for SMEs", Journal of Fashion Marketing and Management, Vol. 25 No. 1, pp. 117-132. https://doi-org.ezpustaka2.upsi.edu.my/10.1108/JFMM-03-2020-0035
Rita Clifton., Sameena Ahmad., Tony Allen., Simon Anholt., Patrick Barwise., Tom Blackett., Deborah Bowker., Jonathan Chajet., Deborah Doane., Iain Ellwood., Paul Feldwick., Jez Frampton., Giles Gibbons., Andy Hobsbawm., Jan Lindemann., Allan Poulter., Max Raison., John Simmons., & Shaun Smith. (2009). Brands and Branding. Profile Books Ltd
van Rompay, T.J.L., Fransen, M. L. . & Borgelink, B.G.D. (2014). Light as a feather: Effects of packaging imagery on sensory product impressions and brand evaluation. Mark Lett 25, 397–407. https://doi.org/10.1007/s11002-013-9260-3
Suhaila Abdul Latiff. (2010). Potensi Keusahawanan di Kalangan Orang Asli. [Paper presentation]. In Prosiding PERKEM V, Jilid 2, 80-87. https://www.ukm.my/fep/perkem/pdf/perkemV/PERKEM2010-2-09.pdf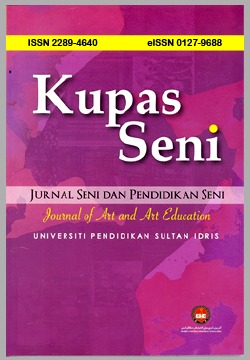 Downloads
How to Cite
Abdul Manaf, M. A. S., & Mat Salleh, N. S. (2021). Visualizing of Blowpipe Business Identity Symbol of The Orang Asli Community: Pengvisualan Simbol Indentiti Perniagaan Sumpit Komuniti Orang Asli. KUPAS SENI, 9(2), 66–76. https://doi.org/10.37134/kupasseni.vol9.2.6.2021