The administrator, teachers and parents involvement in preschool during Movement Control Order
Muhammad Adam Senin

Department of Social Sciences, Centre for General Studies and Co-Curricular, Universiti Tun Hussein Onn Malaysia, Batu Pahat, Johor, Malaysia

Harliana Halim

Department of Social Sciences, Centre for General Studies and Co-Curricular, Universiti Tun Hussein Onn Malaysia, Batu Pahat, Johor, Malaysia
Keywords:
preschool MCO, parents' involvement, preschool management, teachers' role
Abstract
The Covid-19 pandemic is affecting the whole education system including the preschoolers in Malaysia in receiving a proper teaching and learning lesson especially in the classroom. Movement Control Order (MCO) implemented by the government has restricted the act for each person in the daily life. However, the action and role that has been played by the preschool administrators, teachers and parents in ensuring the smoothness of the teaching and learning process of the preschoolers should be recognized. This study focuses on the responses and roles that have been conducted and given by the preschool management and teacher as well as parents in assisting their preschoolers children during the MCO period. This study also determined the reaction played by the preschoolers in adapting the new norm act according to the Standard Operating Procedures (SOP) given by the government. A qualitative research design by using observation and interview based on the responses given by ten randomly chosen among preschool parents, teachers and administrators in a government preschool in Johor, Malaysia were used in this study. Phenomenology research was conducted to investigate the experience that has been gone through by the informants of the study during the MCO period. Narrative writing analysis were used to explain the outcome. This study indicated that the preschool administrators and teachers were able to collaborate and conduct an excellent code of practice according to the SOPs given by the government. Meanwhile, parents were able to establish a strong communication with the administrators and teachers by following the SOPs and assist the preschool management in ensuring their children are following the new norm acts according to the SOPs. A strong collaboration between all parties involved has shown a good example to the preschoolers during the pandemic MCO period.
Downloads
Download data is not yet available.
References
Abdullahi, N. J. K. (2020). Managing teaching approach in early childhood care education towards skill development in Nigeria. Southeast Asia Early Childhood Journal, 9(1), 59-74. https://ejournal.upsi.edu.my/index.php/SAECJ/article/view/3527
Björk, L. G., & Browne-Ferrigno, T. (2016). Parent-school involvement in Nordic countries: A cross-national comparison. International Journal of Pedagogies and Learning, 11(2), 103-117.
Creswell, J. W. (2009). Research design: Qualitative, quantitative, and mixed methods approaches (3rd ed.). Sage Publications Inc.
Epstein, J. L. (1998). School, family and community partnerships in middle and high schools. Thousand Oaks.
Foong, L., Veloo, P. K., Dhamotharan, M., & Loh, C. (2018). Private sector early child care and education in Malaysia: Workforce readiness for further education. Kajian Malaysia: Journal of Malaysian Studies, 36(1).
Ghani, M. Z. (2006). Sumbangan faktor ciri keluarga, personaliti, sikap dan tekanan terhadap pencapaian pelajar pintar cerdas akademik (Doctoral dissertation). Universiti Kebangsaan Malaysia.
Heikka, J., & Suhonen, K. (2019). Distributed pedagogical leadership functions in early childhood education settings in Finland. Southeast Asia Early Childhood Journal, 8(2), 43-56. https://doi.org/10.37134/saecj.vol8.no2.4.2019
Heikka, J., Waniganayake, M., & Hujala, E. (2013). Contextualizing distributed leadership within early childhood education: Current understandings, research evidence and future challenges. Educational Management, Administration & Leadership,41(4), 30‒44. https://doi.org/10.1177/1741143212462700
Hoslin, S. A. (2006). Peranan Pengetua terhadap penglibatan ibu bapa dalam program kemajuan sekolah (Master thesis). Universiti Malaya.
Husin, K. H., & Aziz, S. H. H. A. (2003). Pedagogi: Asas pendidikan. Kumpulan Budiman Sdn Bhd.
Ismail, N. (2009). Faktor-faktor yang mempengaruhi ibu bapa menghantar anak ke prasekolah KEMAS di parlimen Gelang Patah Johor. Universiti Teknologi Malaysia.
Jeynes, W. H. (2018). A practical model for school leaders to encourage parental involvement and parental engagement. School Leadership & Management, 38(2), 147-163.
Kamoo, G. (2013). Pengaruh keluarga terhadap pencapaian akademik murid India di sekolah menengah rendah (Doctoral thesis). Universiti Malaya.
Lemmer, E., & Van Wyk, N. (2004). Schools reaching out: Comprehensive parent involvement in South African primary schools. Africa Education Review,1(2), 259-278.
Mahmud, A. H., & Haron, Z. (2017) Penglibatan ibu bapa dalam pendidikan anak-anak di sekolah rendah. E-Prosiding PASAK 2 - Jilid 1: Subtema Pendidikan, Teknologi Maklumat, Politik dan Kepimpinan, "Kesepaduan Nilai-Nilai Sejagat Merentasi Globalisasi". Kolej Universiti Islam Antarabangsa Selangor.
McDowall, P. S., & Schaughency, E. (2017). Elementary school parent engagement efforts: Relations with educator perceptions and school characteristics. The Journal of Educational Research, 110(4), 348-365.
Mustafa, L. M., Yunus, N. K. Y., & Azman, M. N. A. (2014). An overview of private preschool in Malaysia: Marketing strategies and challenges. Procedia-Social and Behavioral Sciences, 130, 105–113. https://doi.org/10.1016/j.sbspro.2014.04.013
Nachiappan, S. (2015). Panduan pendidikan awal kanak-kanak: Teori, model, kaedah dan aktiviti ke arah perkembangan kognisi. Penerbit Universiti Pendidikan Sultan Idris.
Neuman, W. L. (2014). Social research methods: Qualitative and quantitative approaches (7th ed.). Pearson Education Limited.
Park, S., & Holloway, S. D. (2017). The effects of school-based parental involvement on academic achievement at the child and elementary school level: A longitudinal study. The Journal of Educational Research, 110(1), 1-16.
Shabnam, N. (2003). Preschool education and under privileged children. Sarup & Sons.
Shim, J. M. (2013). Involving the parents of English language learners in a rural area: Focus on the dynamics of teacher-parent interactions. Rural Educator, 34(3), 18-26.
Zakaria, A. R., Hasim, Z., Mohd Salleh, U. K., & Mohd Yusoff, J. Z. (2013). Family context and its relationship with parental involvement in the education of secondary school children. International Journal of Asian Social Science, 3(4), 1063-1076.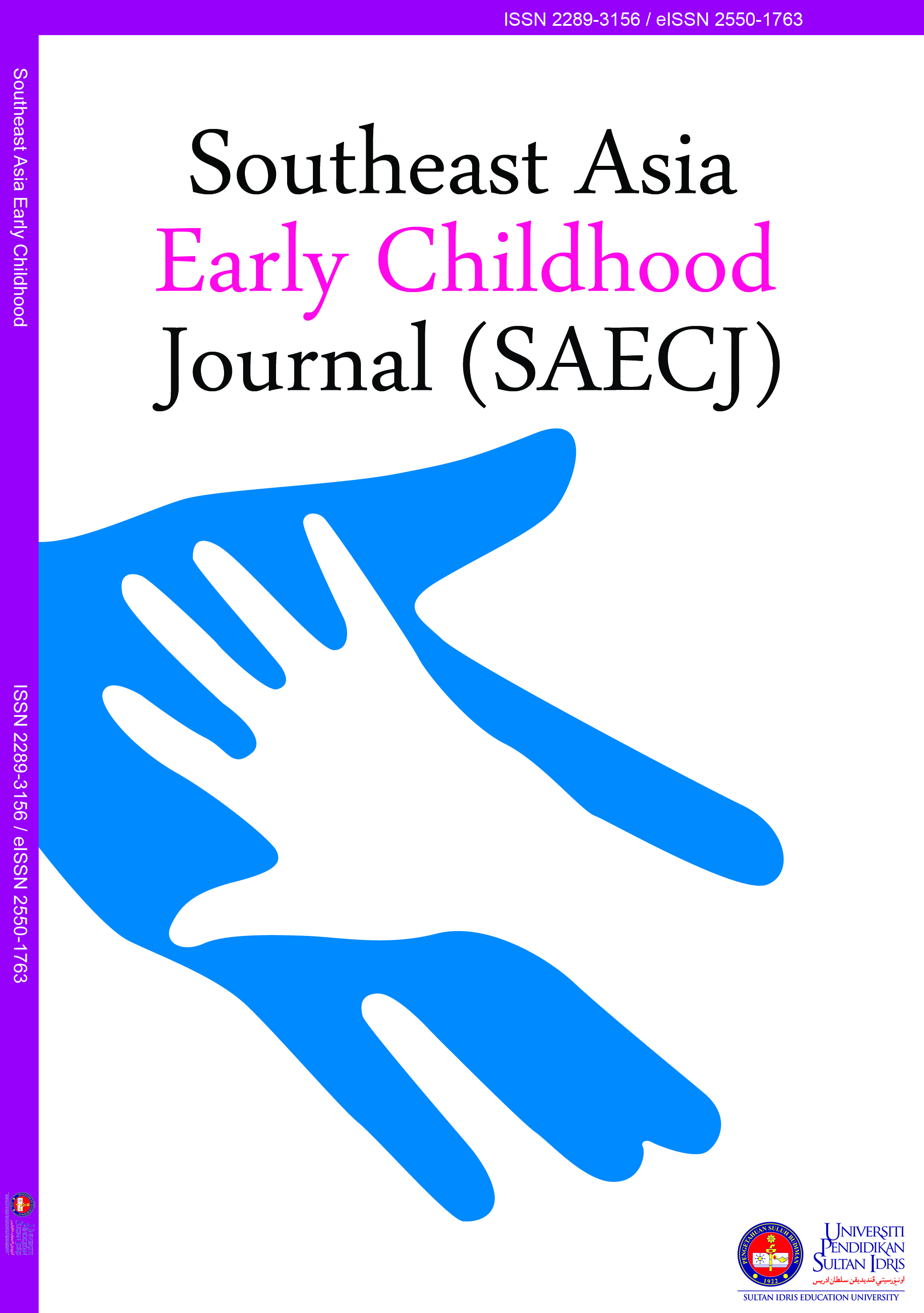 How to Cite
Senin, M. A., & Halim, H. (2021). The administrator, teachers and parents involvement in preschool during Movement Control Order. Southeast Asia Early Childhood Journal, 10, 10-24. https://doi.org/10.37134/saecj.vol10.sp.2.2021
Copyright (c) 2021 Muhammad Adam Senin, Harliana Halim
This work is licensed under a Creative Commons Attribution-NonCommercial-ShareAlike 4.0 International License.