Oral Questioning in Teaching Islamic Studies
Penyoalan Lisan Dalam Pengajaran Pendidikan Islam
Liyana Maisarah Binti Ismail

Fakulti Pendidikan, Universiti Kebangsaan Malaysia, Bangi, Selangor, MALAYSIA

Mohd Isa Bin Hamzah

Fakulti Pendidikan, Universiti Kebangsaan Malaysia, Bangi, Selangor, MALAYSIA
Keywords:
Oral Questioning, Islamic Education, Creative and Critical, Penyoalan Lisan, Pendidikan Islam, Kreatif dan Kritis
Abstract
Islamic Education is a subject that must be mastered by every Muslim student in line with the objectives of the Philosophy of Islamic Education towards becoming a balanced student in terms of mastery of knowledge, skills, values and behavior. This article aims to highlight the implementation of oral questioning in the teaching of Islamic Education through teaching strategies used by teachers as well as its application in the topic of tayammum. These highlights found that the use of teachers 'oral questioning is important to produce effective teaching as well as help hone students' creative and critical thinking skills.
Pendidikan Islam merupakan subjek yang perlu dikuasai oleh setiap murid yang beragama Islam selaras dengan objektif Falsafah Pendidikan Islam ke arah kemenjadian murid secara seimbang dari sudut penguasaan pengetahuan, kemahiran, nilai dan tingkah laku. Artikel ini bertujuan untuk menyorot pelaksanaan penyoalan lisan dalam pengajaran Pendidikan Islam melalui strategi pengajaran yang digunakan oleh guru serta aplikasinya dalam topik tayamum. Sorotan ini mendapati penggunaan penyoalan lisan guru adalah penting untuk menghasilkan pengajaran yang berkesan serta membantu mengasah kemahiran berfikir secara kreatif dan kritis murid.
Downloads
Download data is not yet available.
References
Anitah, S. (2007). Strategi Pembelajaran. Jakarta: Universitas Terbuka.
Atmotiyoso, P. and Huda, M. (2018). Investigating Factors Influencing Work Performance on Mathematics Teaching: A Case Study. International Journal of Instruction. 11(3), 391-402
Baysen, E., & Baysen, F. (2010). Prospective Teachers' Wait-Times. Procedia-Social And Behavioral Sciences, 2(2), 5172-5176.
Brookhart, S. M. (2012). Expending Views About Formative Classroom Assessment: A Review Of The Literature, Dalam Mcmillan J. H (Eds). Formative Classroom Assessment: Theory Into Practice. New York. Teachers College Press. 43–62.
Chin, C. (2007). Teacher Questioning In Science Classrooms: Approaches That Stimulate Productive Thinking. Journal Of Research In Science Teaching: The Official Journal Of The National Association For Research In Science Teaching, 44(6), 815-843.
Cimer, A. (2007). Effective Teaching In Science: A Review Of Literature. Journal Of Turkish Science Education, 4(1), 20-44.
Cotton, K. (2001). Classroom Questioning. North West Regional Educational Laboratory.
Elder, L. & R. Paul. (2006). Art of Socratic Questioning. Dillion Beach, CA: Foundation for Critical Thinking.
Fine, M. & Desmond, J. (2017). Inquiry-Based Learning: Preparing Young Learners For The Demands Of The 21st Century. Journal Educator's Voice 1(6): 2-11.
Jasmi, K. A. (2010). Guru cemerlang pendidikan Islam sekolah menengah di Malaysia: satu kajian kes (Doctoral dissertation, Universiti Kebangsaan Malaysia).
Jasmi, K. A. (2011). Pendidikan Islam: Cabaran di Alaf Baru in Seminar Pendidikan Islam at Madrasah Idrisiah. Kuala Kangsar on, 30.
Jandra, M., Mohamed, A. K., Huda, M., & Maseleno, A. (2020). Communicating Islam is Friendly for all (CIFA). International Journal of Psychosocial Rehabilitation, 24(1).
Kementerian Pendidikan Malaysia. (2018). Modul Pendidikan Islam. Cyberjaya: Institut Pendidikan Guru Malaysia KPM.
Kipper, H. & Ruutman, T. (2010). Strategies and Techniques Of Questioning Effectuating Thinking And Deep Understanding In Teaching Engineering At Estonian Centre For Engineering Pedagogy. Problems of Education in 21st Century: 36-45
McAninch, M. J. (2015). A Qualitative Study Of Secondary Mathematics Teachers' Questioning, Responses, And Perceived Influences. The University Of Iowa.
Mok, S.S. (2009). Pedagogi 1: Pengenalan Kepada Pedagogi. Kumpulan Budiman Sdn Bhd.
Muijs, D., & Reynolds, D. (2017). Effective Teaching: Evidence And Practice. Sage.
Noh, M.A.C., Omar, N. & Hussin, N.H. (2014). Sumber Pendidikan Islam. Bangi: Fakulti Pendidikan UKM.
Othman, R., Shahrill, M., Mundia, L., Tan, A., & Huda, M. (2016). Investigating the Relationship Between the Student's Ability and Learning Preferences: Evidence from Year 7 Mathematics Students. The New Educational Review, 44(2), 125-138.
Sahin, A. (2007). Teachers' Classroom Questions. School Science And Mathematics, 107(1), 369-371.
Shamsuddin, S. & Pardi, A. (2016). Pedagogi Pendidikan Islam. Bangi: Pelangi Epublishing Sdn. Bhd.
Sidik, I. F., Awang, M. M., & Ahmad, A. R. (2019). The Relationship between Students' Involvement in 21st Century Classroom Learning Activities and Higher Order Thinking Skills (Hubungan antara Keterlibatan Pelajar dalam Aktiviti Pembelajaran Abad ke-21 dan Kemahiran Berfikir Aras Tinggi). Jurnal Pendidikan Malaysia (Malaysian Journal of Education), 44(1), 59-64.
Sukadari S, Huda M. (2021). Culture Sustainability through Co-Curricular Learning Program: Learning Batik Cross Review. Education Sciences. 11(11):736. https://doi.org/10.3390/educsci11110736
Sukadari, Huda, M., Perianto, E., Haryanto, Subarkah, E. (2021). Improving Education Quality of Elementary School in Indonesia: An Empirical Research. Journal of Southwest Jiaotong University. 56(4), 330-337.
Sulaiman, S. & Zawawi, M. (2001). Tahap Kognitif Pelajar Tingkatan Empat Di Sekolah Menengah Di Dalam Daerah Kluang Johor Berdasarkan Taksonomi Bloom Dalam Mata Pelajaran Sains.
Way, J. 2008. Using Questioning to Stimulate Mathematical Thinking. Australian Primary Mathematics Classroom, 13(3), 22–27.Yuliandi, N. & Hamdu, G. (2019). Pengembangan Soal Tes Berbasis Higher Order Thingking Skill Taksonomi Bloom Revisi Di Sekolah Dasar, Tasik Malaya: Universitas Pendidikan Indonesiavo.6 No.1, 2019.
Zhaffar, N. M., bin Wan Abdullah, W. A. A., Hamzah, M. I., Razak, K. A., & Lubis, M. A. (2018). Strategi penyoalan guru pendidikan islam dalam pengajaran berfikir kritis. Asean comparative education research journal on islam and civilization (acer-j). eISSN2600-769X, 2(1), 72-87.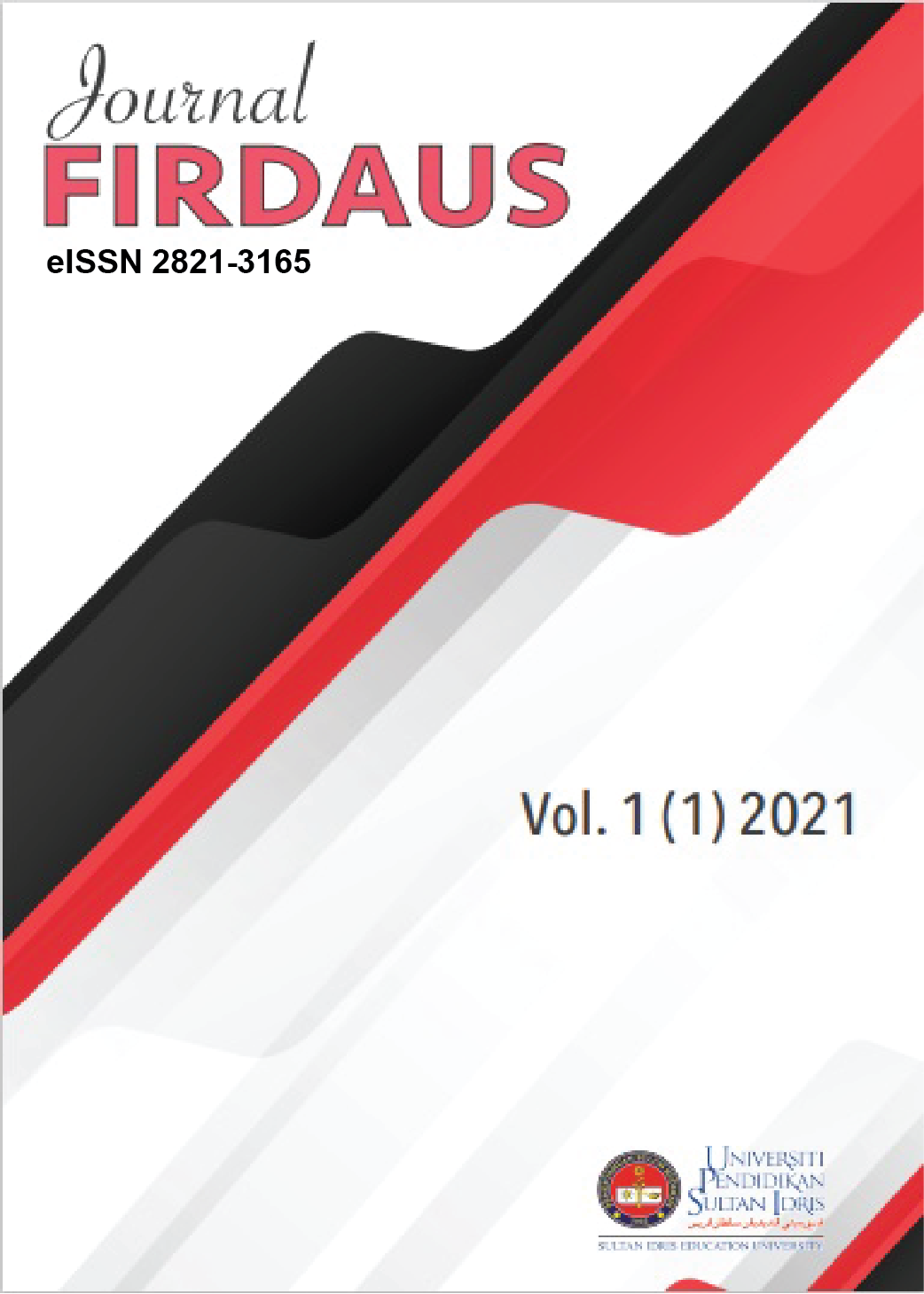 How to Cite
Ismail, L. M., & Hamzah, M. I. (2021). Oral Questioning in Teaching Islamic Studies. Firdaus Journal, 1(1), 12-20. https://doi.org/10.37134/firdaus.vol1.1.2.2021
Copyright (c) 2021 Liyana Maisarah Binti Ismail, Mohd Isa Bin Hamzah
This work is licensed under a Creative Commons Attribution-NonCommercial-ShareAlike 4.0 International License.