Searching for Women in Trance: Attitudes of and towards the Female Performers of Jathilan Dance
Keywords:
gender equality, jathilan, Javanese culture, kuda kepang, performing arts, spirit possession, women
Abstract
Jathilan is one of the names of the traditional dance that has pre-Islamic animistic origins but still enjoys remarkable popularity in Javanese communities in Indonesia and abroad (including Malaysia and Singapore where it is better known as kuda kepang). The state of trance is considered to be the main attraction of the performance; dancers are believed to become possessed by the spirits which give them powers to demonstrate various feats of physical invulnerability. It can be generally perceived as a masculine practice, since the dancers 'riding' flat woven horse effigies represent soldiers or noble warriors of the past (satria), however lately more and more young women were joining the existing performing groups or even starting their own. The objectives of this paper are to reflect on the experience of these female performers, their backgrounds, beliefs and motivations; to consider the differentiation in understanding of male and female roles (in terms of spiritual strength and potency) in the tradition of Javanese spirit and magic beliefs (kejawen); to see, how the perception of these female performers by their audiences and their selfidentification are formed in the conjuncture of local mysticism and understanding of gender norms prevalent in the society; to assess what kinds of mystical and mundane threats female performers should be more aware of in comparison to their male counterparts, and whether they truly break the barriers of gendered expectations or rather adjust their performing practice according to them.
Downloads
Download data is not yet available.
References
Andaya, B. (2018). Speaking to the spirits: Thinking comparatively about women in Asian indigenous beliefs. In A. Zamfira, C. De Montlibert, & D. Radu (Eds.), Gender in focus: Identities, codes, stereotypes and politics (pp. 41–63). Verlag Barbara Budrich.
Becker, J. (2004). Deep listeners: Music, emotion, and trancing. Indiana University Press.
Bourguignon, E. (1973). Introduction: A framework for the comparative study of altered states of consciousness. In E. Bourguignon (Ed.), Religion, altered states of consciousness and social Change (pp. 3–39). Ohio State University Press.
Browne, K. O. (2003). Awareness, emptiness, and Javanese selves: Jathilan performance in Yogyakarta, Indonesia. Asia Pacific Journal of Anthropology. 4(1–2), 54–71.
Christensen, P. (2014). Modernity and spirit possession in Java: Horse dance and its contested magic. In V. Gottowik (Ed.), Dynamics of religion in Southeast Asia: Magic and modernity (pp. 91–112). Amsterdam University Press.
Ferzacca, S. (2002). A Javanese metropolis and mental life. Ethos. 30(1/2), 95–112.
Foley, K. (1985). The dancer and the danced: Trance Dance and Theatrical Performance in West Java. Asian Theatre Journal, 2(1), 28–49.
Groenendael van, V. M. C. (2008). Jaranan: The horse dance and trance in East Java. KITLV Press.
Guelden, M. (2017). Thailand: Spirits among us. Marshall Cavendish.
Hardwick, P. A. (2014). Horsing around Melayu: Kuda kepang, Islamic piety and identity politics at play in Singapore's Malay community. Journal of the Malaysian Branch of the Royal Asiatic Society. 87(1), 1–19.
Hughes-Freeland, F. (2008a). "Becoming a puppet": Javanese dance as spiritual art. The Journal of Religion and Theatre. 7(1), 35–54.
Hughes-Freeland, F. (2008b). Gender, representation, experience: The case of village performers in Java. Dance Research: The Journal of the Society for Dance Research. 26(2), 140–167.
Inggris. (1923). De Djatilan. In Djawa. 3(3), 98–111.
Irianto, A. M. (2016). The development of Jathilan performance as an adaptive strategy used by Javanese farmers. Harmonia: Journal of Arts Research and Education. 16(1), 38–48.
Kartomi, M. J. (1973). Music and trance in central Java. Ethnomusicology. 17(2), 163–208. Keeler, W. (1987). Javanese shadow plays, Javanese selves. Princeton University Press.
Keller, M. (2002). The hammer and the flute: Women, power, and spirit possession. The Johns Hopkins University Press.
Kim, H.-J. (2007). Reformist Muslims in a Yogyakarta village: The Islamic transformation of contemporary socioreligious life. ANU Press.
Koentjaraningrat. (1990). Javanese culture. Oxford University Press.
Kuswarsantyo. (2013). Seni Jathilan: Bentuk, fungsi, dan perkembangannya (1986–2013). Universitas Negeri Yogyakarta.
Lewis, I. M. (2003). Ecstatic religion: A study of Shamanism and spirit possession (3rd ed.). Routledge.
Marschall, W. (1995). Possession, Barongan, and social relief in a central Javanese village, Indonesia circle. School of Oriental & African Studies. Newsletter. 23(66), 100–108.
Mauricio, D. E. (2002). Jaranan of east Java: An ancient tradition in modern times. University of Hawaii at Manoa.
Pigeaud, T. G. T. (1938). Javaanse volksvertoningen: Bijdrage tot de beschrijving van land en volk. Volkslectuur.
Rapoport, E. (2018). Jathilan horse dance: Spirit possession beliefs and practices in present-day Java. IKAT: The Indonesian Journal of Southeast Asian Studies. 2(1), 1–17.
Rapoport, E. (2020). Spirit possession, Javanese magic and Islam: Current state of affairs. In M. Maeva, Y. Erolova, P. Stoyanova, M. Hristova, V. Ivanova (Eds.), Between the worlds: Magic, miracles, and mysticism. Vol. 2 (pp. 86–104). IEFSEM – BAS & Paradigma.
Schmidt, B. (2010). Possessed women in the African diaspora: Gender difference in spirit possession rituals. In B.E. Schmidt & L. Huskinson (Eds.), Spirit possession and trance: New interdisciplinary perspectives (pp. 97– 116). Continuum.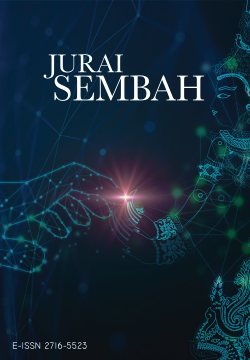 Downloads
How to Cite
Rapoport, E. (2021). Searching for Women in Trance: Attitudes of and towards the Female Performers of Jathilan Dance. Jurai Sembah, 2(2), 1–12. https://doi.org/10.37134/juraisembah.vol2.2.1.2021