Survival on the Skin: Communicating, Continuity and Preservation of the Iban Tattoo
Keywords:
continuity, cultural identity, Iban tattoo, preservation
Abstract
Tattoo has been an integral part of the cultural identity of Iban in Sarawak. Every stroke, line and design of the tattoo communicate meaning for the Ibans, which they relate to mystical power to protect them. Jumpo and Bebit (2019) ascertained that these tattoos denote strength, achievement, spiritualism and a deep sense of aesthetic, all at once. With the pervasiveness of technology and globalization, tattoo has now become a piece of modern art on the skin sans the history and meaning to these motifs. Since 1960s, researchers continue to express concerns on Iban tattoo preservation, despite being skeptical on the authenticity of the Iban tattoo. Using a qualitative method, it determines the concepts and variables that could describe and support the phenomenon. Informants to the in-depth interview were selected using the purposive, non-probability sampling. It is hoped that this paper in progress will become primarily significant to the Iban community as it explores the ways the Iban intend to communicate its cultural identity to the younger generation; and at the same time, identifies the practices that ensure the continuity and preservation of its cultural heritage.
Downloads
Download data is not yet available.
References
Anggo, F., & Laja, L. (2018). The function and role in Iban social rank in their communities. International Journal of Engineering and Technology, 7(2.29), 639-641.
Bailey, D. (2012). Tattoo art around the world (1 st ed.). The Rosen Publishing Group.
De Mello, M. (2014). Inked and body art around the world. US-ABC-CLIO.
Department of Statistics Malaysia. (2011). Population distribution and basic demographic characteristic report 2010. Department of Statistics Malaysia Official Portal. https://www.dosm.gov.my/v1/index.php?r=column/cthemeByCat&cat=117&bul_id=MDMxdHZjWTk1SjFzTz NkRXYzcVZjdz09&menu_id=L0pheU43NWJwRWVSZklWdzQ4TlhUUT09
Kiyai @ Keai, G., & Tugang, N. (2020). Artifak budaya masyarakat Iban: Warisan dan pusaka. Jurnal Kinabalu, 26(1), 59-71. https://www.researchgate.net/publication/342864368
Hecht, M. L. (1993). A research odyssey: Toward the development of a communication theory of identity. Communication Monographs, 76-82.
Hecht, M. L., & Lu, Y. (2014). Communication Theory of Identity. In T. L. Thompson (Ed.), Encyclopedia of health communication, (pp. 225-227). Sage.
Jumpo, S., & Bebit, M. P. (2019, October). Deconstruction of traditional bunga terung tattoo and sequence of it's application on Iban males of Sarawak and Kalimantan. SPSSK Conference: Seminar Kebangsaan Pascasiswazah Sains Sosial Dan Kemanusiaan (), Universiti Malaysia Sabah, Kota Kinabalu, Sabah Malaysia. https://www.researchgate.net/publication/339641142_Deconstruction_Of_Traditional_Bunga_Terung_Tattoo_And_Sequence_Of_Its_Application_On_Iban_Males_Of_Sarawak_And_Kalimantan
Jung, E., & Hecht, M. L. (2004). Elaborating the communication theory of identity: Identity gaps and communication outcomes. Communication Quarterly, 52(3), 265-283. https://doi.org/10.1080/01463370409370197
Krutak, L. (2012, November, 23) In the realm of spirit: Traditional Dayak Tattoo in Borneo. https://www.larskrutak.com/in-the-realm-of-spirits-traditional-dayak-tattoo-in-borneo
Littlejohn, S., & Foss, K. (Eds.). (2009). Encyclopedia of communication theory. Sage Publications.
Lockhart, T., & Hemingson, V. (2014, May 27). The Vanishing tattoo: Complete episode. YouTube. https://www.youtube.com/watch?v=yvgEaxndXXs
Moorthy, T. N., Gunasekaram, J., & Asmuje, N. F. (2015). A pilot study on tattooing culture in Peninsular Malaysia. International Annals of Advance Scientific Research, 2(2). 046-056.
Scheinfeld, N. (2007). Tattoos and religion. Clinics in Dermatology, 25(4), 362–366. https://doi.org/10.1016/j.clindermatol.2007.05.009
Nurul Hidayah Bahaudin. (2016, March 8). Tatu Iban simbol keberanian dan pahlawan. BH Online. http://origin.bharian.com.my/bhplus-old/2016/03/131711/tatu-iban-simbol-keberanian-dan-pahlawan
Osup, C. (2019). The Oral literature of the Iban in Borneo. Muallim Journal of Social Science and Humanities, 3(2), 132-140. https://doi.org/10.33306/mjssh11
Robinsonmike. (2014, August 31). The Kingdom of Sawarak. https://robinsonmike.blogspot.com/2014/08/kelingai-iban-sarawak-tattoo.
Sarawak Tourism Board. (2020, February 14). The fascinating stories behind Sarawakian tribal tattoos. https://sarawaktourism.com/story/fascinating-stories-behind-sarawakian-tribal-tattoos
Schwenk, R. L. (1975). Iban solidarity: Structural factors that promote development. Missiology: An International Review, 3(2), 191-207. https://doi.org/10.1177/009182967500300207
Tagie, G., Taharuddin, N.S., & Ibrahim, N.A. (2020). The 'Kelungai Motif': A case study of Kampung Gayau Ulu Pantu, Sri Aman, Sarawak. Ideology Journal, 5(1), 33-42.
Tattoo. (n. d.) In Oxford Learners Dictionary, Retrieved August 7, 2021 from https://www.oxfordlearnersdictionaries.com/definition/english/tattoo_1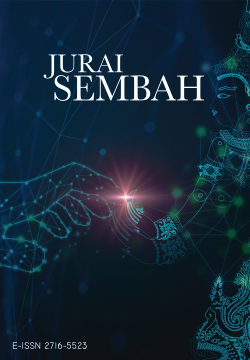 Downloads
How to Cite
Pawenteh, M., Md. Khir, R. J., Cagadas, R. B., & Loo, C. H. (2021). Survival on the Skin: Communicating, Continuity and Preservation of the Iban Tattoo. Jurai Sembah, 2(1), 40–45. https://doi.org/10.37134/juraisembah.vol2.1.5.2021