Need analysis of English for Hospitality students: A case study in Sungai Petani Community College
Krishnavehni Gopal

Department of Hotel Operation, Sungai Petani Community College, MALAYSIA

http://orcid.org/0000-0001-7403-3524

Wei Boon Quah

Department of Hotel Operation, Sungai Petani Community College, MALAYSIA

Sasikumar Gengatharan

Penang State Health Department, Ministry of Health Malaysia, MALAYSIA
Keywords:
community college, course design, English for specific purposes, needs analysis
Abstract
Malaysia, as a rapidly developing nation, plays a crucial role in equipping its graduates with all the necessary skills which are considered highly in demand in the current market. Course designers need to consider the target learning needs of ESP students in redesigning an appropriate syllabus that will cater to their working needs. Needs analysis is a way of determining and outlining syllabus and teaching methods to achieve a valuable learning environment. Instructors and teachers conducting English classes ought to identify their students' needs to build an appropriate curriculum that facilitates a better learning process. Therefore, the objective of this study is to identify the English Language needs of Community College English for Hospitality students. 40 internship Hospitality students from a Community College, and 40 industry personnel participated in this study. All these participants were from Malaysia. The questionnaires were used as the main instruments in this study. The finding shows that 62.5% of the respondents' main reason for learning English is to improve their speaking skills as they are mainly dealing with answering telephone calls, inquiries on hotel facilities as well as handling hotel reservations. The finding further reveals that major emphasis should be given to listening and speaking skills as they are more widely used when dealing with the guests. It is hoped that the findings of this study are used to propose an English for Specific Purposes syllabus, which would benefit future hospitality students in public or private colleges.
Downloads
Download data is not yet available.
References
Al-Saadi, N. (2013). Importance of English language in the development of tourism management. Academic Journal of Accounting and Economics Researches, 4(1), 33–45. Retrieved from https://www.researchgate.net/publication/297760065
Aris, N. M., & Zawawi, N. M. (2016). A need analysis of English language course design for community college tourism students in Klang Valley. Retrieved from https://www.academia.edu/22926990
Don, Y., Daud, Y., Kasim, A. L., Sakdan, M. F., & Omar, F. M. S. (2014). Outcomes and impact assessment on skill courses program in Community College Malaysia. European Scientific Journal February, 2, 152–159. Retrieved from https://www.researchgate.net/publication/267331399
Lahap, J., O'Mahony, B. & Dalrymple, J. (2016). The importance of communication in improving service delivery and service quality in the Malaysian hotel industry. Procedia - Social and Behavioral Sciences, 224, 213-220. https://doi.org/10.1016/j.sbspro.2016.05.446
Li, J. (2014). Literature review of the classifications of "needs" in needs analysis theory. International Journal of Education & Literacy Studies, 2(3), 12-16. doi:10.7575/aiac.ijels.v.2n.3p.12
Mujawar, G. A. (2013). The role and scope of English in hospitality industry. Retrieved from http://www.englishcyber-literature.net/Dr.%20Mrs.%20Anisa%20G.%20Mujawar.pdf
Noor, S. N. F. M. (2008). Language needs for hotel and catering students: a proposal for syllabus design. In: LSP 2008: 6th Language for Specific Purposes International Seminar, 9 -10 April 2008, Persada Johor International Convention Centre, Johor Bahru, Johor.
Prabhu, P., & Wani, P. (2015). A study of importance of English language proficiency in hospitality industry and the role of hospitality educators in enhancing the same amongst the students. Atithya: A Journal of Hospitality, 1(1), 6–13. doi:10.21863/ATITHYA/2015.1.1.009
Silvia, R. (2016). Designing an ESP course for Midwifery students in Stikes Prima Jambi. Scientia Journal, 5(2), 126-130. Retrieved from https://media.neliti.com/media/publications/286559-designing-an-esp-course-for-midwifery-st-bc61d398.pdf
Sönmez, H. (2019). An examination of needs analysis research in the language education process. International Journal of Education & Literacy Studies, 7(1), 8-17. doi:10.7575/aiac.ijels.v.7n.1p.8
Sularti, Drajati, N. A. Supriyadi. (2019). Students' needs analysis on learning of the English listening skills in vocational high school. 3rd English Language and Literature International Conference (ELLiC) Proceedings – (ELLiC Proceedings, 3, 244-249. Retrieved from https://jurnal.unimus.ac.id/index.php/ELLIC/article/view/4713/4240
Tabiolo1, J. L., & Villar R, D., Jr. (2019). Enhancing students' Science achievement through Jigsaw II strategy. Journal of Sciences Leaning, 3(1), 29-35. Retrieved from http://files.eric.ed.gov/fulltext/EJ1251659.pdf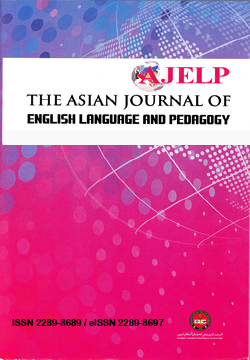 How to Cite
Gopal, K., Quah, W. B., & Gengatharan, S. (2021). Need analysis of English for Hospitality students: A case study in Sungai Petani Community College. AJELP: Asian Journal of English Language and Pedagogy, 9(2), 43-53. https://doi.org/10.37134/ajelp.vol9.2.4.2021
Copyright (c) 2021 Krishnavehni Gopal, Wei Boon Quah, Sasikumar Gengatharan
This work is licensed under a Creative Commons Attribution-NonCommercial-ShareAlike 4.0 International License.