Integrating Reader Response Theory into EFL Classroom at Farhangian University
Saeid Rahimipour

Farhangian University, IRAN
Keywords:
Reader Response Theory, reading comprehension, Teacher Training Center, short stories
Abstract
The integration of literature in TEFL has recently achieved a profound status. The applicability and efficiency of RRT in EFL settings are great educational objectives. This article deals with the introduction of Reader Response Theory to language teaching in Teacher Training Centers. The subjects were 120 sophomore students at Farhangian University, Shahid Modaress and Imam Jafar-e-Sadegh Campuses. An experimental design was used in the study. Instead of offering the regular teaching textbooks, eight grade-three short stories were presented for language teaching purposes. The data analysis revealed that the application of RRA to teaching general English in Farhangian University proved to be highly successful and it improved the learners' language learning significantly. This proved to be highly successful with girls than boys. The incorporation of Reader Response Theory is highly recommended in university curriculum for better language learning and teaching.
Downloads
Download data is not yet available.
References
Al-Bulushi, Y. (2011). Teaching short stories in the Omani context: The use of the reader response theory. Literacy Information and Computer Education Journal, 2(3), 450-455.
Beach, Richard. (1993). A Teacher's Introduction to Reader-Response Theories. USA: University of Minnesota.
Carlisle, A. (2000). Reading logs: An application of reader-response theory in ELT. ELT Journal, 54 (1), 12-19.
Cubukcu, F. (2007). Reader response theory in the classroom. Licus, 3, 63-73.
Eagleton, T. (1983). Literary theory: An introduction. Oxford, UK: Basil Blackwell Publishers Limited.
Faiyaz, Afreen (2020). Literature and Reading Motivation in Saudi EFL Classrooms: Bridging the Missing Link. The Asian ESP Journal, 15 (1), 38-54.
Garzón1, Eliana & Castañeda-Peña, Harold (2015). Applying the Reader-Response Theory to Literary Texts in EFL-Pre-Service Teachers' Initial Education. English Language Teaching, 8 (8), 187-198.
Hien, Dinh Thi Minh (2013). Reader-response Criticism in Teaching Literature for EFL/ESL Students at the University Level. IPEDR, 68 (26), 152-156.
Hirvela, A. (1996). Reader-response theory and ELT. ELT Journal, 50 (2), 127-134.
Kurniawan, R. S. & Amin Khudlori, S. S. A. (2018) Portrait of Racism in the Southern America Reflection in Harpper Lee's Novel to Kill a Mocking Bird. Culture, 5 (1), 117-143.
Hismanoglu, M. (2005). Teaching English through literature. Journal of language and linguistic studies, 1 (1), 53-66.
Juass, Hans Robert (1982). Towards an Aesthetic of Reception. Minneapolis: The University of Minnesota Press.
Khatib, S. (2011). Applying the reader-response approach in teaching English short stories to EFL students. Journal of Language Teaching and Research, 2(1), 151-159.
Kurniawan R.S. and Khudlori A. (2018)., Portrait of Racism in the Southern America Reflected in Harper Lee's Novel To Kill A Mockingbird. Culture, 5(1), 117-143.
Lutge, Christiane (2018). Reconsidering the Role of Literature in the EFL Classroom. Proceedings of the Conference of the German Association for the Study of English. 39.
Mishra, P. (2010). Reader response and its relevance for communicative language teaching in the context of EFL learners. ELT Weekly, 2(62), 18-25.
Mitchell, Diana (1993). Reader response theory: Some practical applications for the high school literature classroom. Language Arts Journal of Michigan, 9(1), 1-13.
Pasaribu, Truly Almendo & Iswandari, Yuseva Ariyani (2019). A Reader Response Approach in Collaborative Reading Projects to Foster Critical Thinking Skills. LLT Journal, 22 (2), 231-245.
Rashtchi, M. (2019). Scaffolding Argumentative Essay Writing Via Reader Response Approach: A Case Study. Aisan-Pacific Journal of Second and Foreign Language Education, 4 (12), 1-17.
Rosenblatt, L. M. (1978). The reader, the text, the poem: The transactional theory of the literary work. Carbondale, IL: Southern Illinois University Press.
Rosenblatt, L. M. (2005b). From 'What facts does this poem teach you?' Voices from the Middle, 12, 43-46.
Sualih, Mussa & Fente, Gebeyehu (2020). The Approperiateness of Literary Texts in Teaching Reading Skills; The Case of Some Selected Highschools in Ethopia. Theory and Practice in Language Studies, 10 (10), 1200-1209.
Trisnawati, Ririn Kurnia (2009). Implementing Reader-Response Theory: An Alternative Way of Teaching Literature Research Report on the Reading of Booker T Washington's Up from Slavery. Journal of English and Education, 3 (1), 1-14.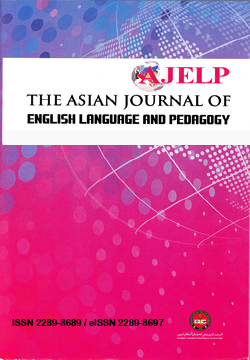 How to Cite
Rahimipour, S. (2021). Integrating Reader Response Theory into EFL Classroom at Farhangian University. AJELP: Asian Journal of English Language and Pedagogy, 9(2), 16-25. https://doi.org/10.37134/ajelp.vol9.2.2.2021
Copyright (c) 2021 Saeid Rahimipour
This work is licensed under a Creative Commons Attribution-NonCommercial-ShareAlike 4.0 International License.