Syntactic Complexity of MA thesis and PhD Dissertation Abstracts Written by Native and Non-native Speakers of English
Seyed Foad Ebrahimi

English Department, Shadegan Branch, Islamic Azad University, Shadegan, IRAN

Lotfollah Akbarpour

English Department, Bushehr Branch, Islamic Azad University, Bushehr, IRAN
Keywords:
noun phrase, syntactic complexity, academic text, MA thesis abstract, PhD dissertation abstract
Abstract
Academic texts have been characterized by the high number of noun phrases; however, to the best the researcher's knowledge, no prior study has investigated the syntactic complexity of noun phrases in abstracts written by native and non-native MA and PhD applied linguistics students. In an attempt to fill this gap, a corpus of 40 abstracts written by native and non-native MA and PhD applied linguistics students was collected and examined. Using two computer applications (L2SCA and TAASSC), the researcher analyzed the corpus to pinpoint possible differences. The findings of this study showed that there were some similarities and differences between the syntactic structures employed in the abstracts of native and non-native MA and PhD students. The results showed that noun phrase syntactic complexity measures (examined through TAASSC) were not successful in differentiating native versus non-native and MA versus PhD writers. The findings suggest that other measures rather than noun phrase complexity measures should be employed.
Downloads
Download data is not yet available.
References
Ahmadi, M., Esfandiari, R., & Zarei, A. A. (2020). A corpus-based study of noun phrase complexity in applied linguistics research article abstracts in two contexts of publication. Iranian Journal of English for Academic Purposes, 9(1), 76-94.
Ansarifar, A., Shahriari, H., & Pishghadam, R. (2018). Phrasal complexity in academic writing: A comparison of abstracts written by graduate students and expert writers in applied linguistics. Journal of English for Academic Purposes, 31, 58-71.
Azadnia, M., Lotfi, A., & Biria, R. (2019). A study of syntactic complexity via Coh-Metrix: similarities and differences of Ph.D. dissertations written by Iranian university students and English native speakers. Research in English Language Pedagogy, 7(2), 232-254.
Biber, D., & Gray, B. (2010). Challenging stereotypes about academic writing: Complexity, elaboration, explicitness. Journal of English for Academic Purposes, 9(1), 2-20.
Biber, D., Gray, B., & Poonpon, S. (2016). Predicting patterns of grammatical complexity across language exam task types and proficiency levels. Applied Linguistics, 37(5), 639-668.
Bulté, B., & Housen, A. (2012). Defining and operationalising L2 complexity. In Dimensions of L2 performance and proficiency: Complexity, accuracy and fluency in SLA, 23-46.
Ellis, R. (2003). Task-based language learning and teaching. Oxford university press.
Kyle, K. (2016). Measuring syntactic development in L2 writing: Fine grained indices of syntactic complexity and usage-based indices of syntactic sophistication (Doctoral Dissertation). Retrieved from http://scholarworks.gsu.edu/alesl_diss/35.
Larsson, T., & Kaatari, H. (2020). Syntactic complexity across registers: Investigating (in) formality in second-language writing. Journal of English for Academic Purposes, 45, 100850.
Song, R., & Wang, H. (2019). An investigation into the syntactic complexity of Chinese doctoral dissertation abstracts. Journal of PLA University of Foreign Languages, 42, 84-91.
Spoelman, M., & Verspoor, M. (2010). Dynamic patterns in development of accuracy and complexity: A longitudinal case study in the acquisition of Finnish. Applied Linguistics, 31(4), 532-553.
Staples, S., & Reppen, R. (2016). Understanding first-year L2 writing: A lexico-grammatical analysis across L1s, genres, and language ratings. Journal of Second Language Writing, 32, 17-35.
Swales, J. M., & Feak, C. B. (2009). Abstracts and the writing of abstracts (Vol. 2). University of Michigan Press ELT.
Wolfe-Quintero, K. (1998). The connection between verbs and argument structures: Native speaker production of the double object dative. Applied Psycholinguistics, 19(2), 225-257.
Yin, S., Gao, Y., & Lu, X. (2021). Syntactic complexity of research article part-genres: Differences between emerging and expert international publication writers. System, 97, 102427.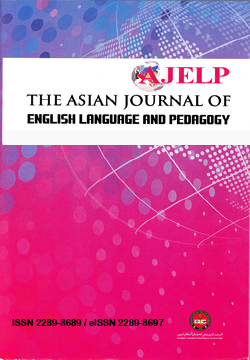 How to Cite
Ebrahimi, S. F., & Akbarpour, L. (2021). Syntactic Complexity of MA thesis and PhD Dissertation Abstracts Written by Native and Non-native Speakers of English. AJELP: Asian Journal of English Language and Pedagogy, 9(2), 66-79. https://doi.org/10.37134/ajelp.vol9.2.6.2021
Copyright (c) 2021 Seyed Foad Ebrahimi, Lotfollah Akbarpour
This work is licensed under a Creative Commons Attribution-NonCommercial-ShareAlike 4.0 International License.