The relationship between students' learning styles and academic performance: Final year accounting students
Keywords:
learning styles, academic performance, awareness of learning styles
Abstract
Accounting students at tertiary education basically prefer different types of learning styles. This study investigated the impact of the relationship among the learning style preferences of undergraduate accounting students, awareness of learning styles and their academic achievements. Participants of the study consisted of all the final year accounting students in UiTM Tapah. The results indicated that the students prefer kinesthetic learning modality, and for the rest of the modalities students found that they are generally well-balanced. The study found that there were significant awareness of learning styles among students particularly for the kinesthetic type of students. However, based on the test conducted, there was no significant correlation between the academic achievement and the learning style preferences of the students. There was also no significant relationship between learning styles and awareness of the learning styles. Hence, types of learnings styles do not contribute directly to the accounting students' academic performance.
Downloads
Download data is not yet available.
References
Abidin, M. J. Z., Rezaee, A. A., Abdullah, H. N., & Singh, K. K. B. (2011). Learning Styles and Overall Academic Achievement in a Specific Educational System. International Journal of Humanities and Social Science, 1(10).
Arthurs, J. B. (2007). A juggling act in the classroom: Managing different learning styles. Teaching and Learning in Nursing, 2(1), 2-7. doi:https://doi.org/10.1016/j.teln.2006.10.002
Awang, H., Samad, N. A., Faiz, N. S. M., Roddin, R., & Kankia, J. D. (2017). Relationship between the Learning Styles Preferences and Academic Achievement. International Research and Innovation Summit.
Barman, A., Aziz, R. A., & Yusoff, Y. M. (2014). Learning Style Awareness and Academic Performance of Students. South East Asian Journal of Medical Education, 8(1).
Bhutkar, M. V., & Bhutkar, P. M. (2016). Effect of Awareness of Learning Styles and Modifications in Study Modalities on Academic Performance in First MBBS Students. National Journal of Basic Medical Sciences, 7(1).
Bracci, E., Tallaki, M., & Castellini, M. (2019). Learning Preferences in Accounting Education: A Focus on the Role of Visualization. Meditari Accountancy Research, 28(2).
Cimermanova, I. (2018). The Effect of Learning Styles on Academic Achievement in Different Forms of Teaching. International Journal of Instruction, 11(3).
Fleming, N. D. (2006). V.A.R.K Visual, Aural/Auditory, Read/Write, Kinesthetic. New Zealand: Bonwell Green Mountain Falls.
Geiser, W. F., Dunn, R., Deckinger, E. L., Denig, S., Sklar, R. I., Beasley, M., & Nelson, B. (2000). Effects of Learning-Style Awareness and Responsive Study Strategies on Achievement, Incidence of Study, and Attitudes of Suburban Eighth-Grade Students. National Forum of Special Education Journal, 9E.
Gohar, M. J., & Sadeghi, N. (2015). The Impact of Learning Style Preferences on Foreign Language Achievement: A Case Study of Iranian EFL Students. Procedia - Social and Behavioral Sciences, 171, 754-764. doi:https://doi.org/10.1016/j.sbspro.2015.01.188
Kim, R. H., Gilbert, T., & Ristig, K. (2015). The Effect of Surgical Resident Learning Style Preferences on American Board of Surgery In-Training Examination Scores. Journal of Surgical Education, 72(4), 726-731. doi:https://doi.org/10.1016/j.jsurg.2014.12.009
Kirschner, P. A. (2017). Stop propagating the learning styles myth. Computers & Education, 106, 166-171. doi:10.1016/j.compedu.2016.12.006
Liew, S.-C., Sidhu, J., & Barua, A. (2015). The Relationship between Learning Preferences (Styles and Approaches) and Learning Outcomes among Pre-clinical Undergraduate Medical Students. BMC Medical Education.
Nasiri, Z., Gharekhani, S., & Ghasempour, M. (2016). Relationship between Learning Style and Academic Status of Babol Dental Students. Electronic Physician, 8(5), 2340-2345. doi:10.19082/2340
Nuzhat, A., Salem, R. O., Hamdan, N. A., & Ashour, N. (2013). Gender differences in learning styles and academic performance of medical students in Saudi Arabia. Medical Teacher, 35, S78-S82. doi:10.3109/0142159X.2013.765545
Nuzhat, A., Salem, R. O., Quadri, M. S. A., & Al‐Hamdan, N. (2011). Learning style preferences of medical students: a single-institute experience from Saudi Arabia. International Journal of Medical Education, 2, 70-73. doi:10.5116/ijme.4e36.d31c
Othman, N., & Amiruddin, M. H. (2010). Different Perspectives of Learning Styles from VARK Model. Procedia - Social and Behavioral Sciences, 7, 652-660. doi:https://doi.org/10.1016/j.sbspro.2010.10.088
Razzak, F., Shaikh, S., & Siddiqui, A. (2019). EXPLORING EFFECTS OF LEARNING STYLES ON LEARNING OUTCOMES. New Horizons (1992-4399), 13(1), 13-30. doi:10.2.9270/NH.13.1(19).02
Rogowsky, B. A., Calhoun, B. M., & Tallal, P. (2015). Matching Learning Style to Instructional Method: Effects on Comprehension. Journal of Educational Psychology, 107(1), 64-78. doi:10.1037/a0037478
Stevens, D. P. (2013). Assessing the Effects of Learning Style in Business Statistics. International Journal of Innovation and Learning, 13(3).
V, M. (2011). An Analysis of Some Factors Affecting Student Academic Performance in an Introductory Biochemistry Course at the University of the West Indies. The Carribean Teaching Scholar, 1(2).
Vasileva-Stojanovska, T., Malinovski, T., Vasileva, M., Jovevski, D., & Trajkovik, V. (2015). Impact of satisfaction, personality and learning style on educational outcomes in a blended learning environment. Learning and Individual Differences, 38, 127-135. doi:https://doi.org/10.1016/j.lindif.2015.01.018
Yeung, A., Read, J., & Schmid, S. (2012). Students' Learning Styles and Academic Performance in First Year Chemistry. Proceedings of the Australian Conference on Science and Mathematics Education, 11.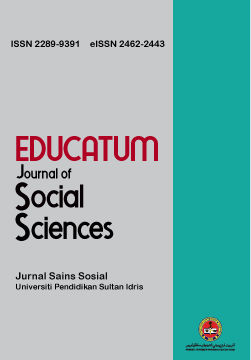 Downloads
How to Cite
Mohd Isa, N. S., Omar, N., Mohd Fatzel, F. H., Mohd Ghazali, Z., & Anas, N. (2021). The relationship between students' learning styles and academic performance: Final year accounting students. EDUCATUM Journal of Social Sciences, 7(1), 1–9. https://doi.org/10.37134/ejoss.vol7.1.1.2021