Phonological Fossilization of Arabic Pronunciation among Malays: A Review Article
Kekerasan Lidah terhadap Penyebutan Huruf Arab dalam Kalangan orang Melayu: Satu Sorotan Kajian
Keywords:
Phonological fossilization, Pronunciation, Arabic Language, Air Pressure Control, Malays
Abstract
Arabic pronunciation has been used widely among Malay speakers in worshiping and religious deeds. However, tongue hardness has affected the Arabic pronunciation among Malays including the factor of different language system. Mahjub's Theory (1993) mentioned that there were nine the most difficult Arabic sounds to non-native speakers. This concept paper aims only a major objective which is to develop and propose a conceptual framework for the application of air pressure control technique in the vocal tract for reducing phonological fossilization of Arabic pronunciation among Malays. This concept paper is a qualitative study which use library research method, with research for the most part of researches that related to phonological fossilization in second language that were compiled to be analyzed in order to comprehend the concept of phonological fossilization. Besides, observation method towards previous scientific research was made particularly research on the articles that were published in international academic journal. A conceptual framework then will be utilized to apply the technique of air pressure control in the vocal tract that constructed based on Warren's Theory of Air Pressure Regulation (1986). The technique is then expected to help in improving particularly the pronunciation of the nine most difficult Arabic sounds among Malays.
Downloads
Download data is not yet available.
References
Ahmad Fared Mohd Din & Mohammad Seman. (2019). Meningkatkan Kemahiran Bertutur Bahasa Arab Melalui Strategi Penguasaan Sebutan (SPS) Segmental dan Suprasegmental. INSANIAH: Online Journal of Language, Communication, and Humanities, 2(1), 85-99.
Awaad Alqarhi. (2019). Arabic Phonology. English Linguistic Research, 8(4), 9-17.
Brown, M. (2008). Good Language Learner and Pronunciation. In C. Griffiths (Ed.), Lessons from Good Language Learners (pp.197-207). Cambridge: Cambridge University Press.
Cheng. (2009). First Language Influence and Fossilization in Second Language Vocabulary Acquisition. Teachers College, Columbia University Working Papers in TESOL & Applied Linguitics, 9(2), 65-67.
Christiner, M. & Reiterer, S. M. (2018). Early Influence of Musical Abilities and Working Memory on Speech Imitation Abilities: Study with Pre-School Children. Brain Sciences, 8(169). doi:10.3390/brainsci8090169
Daud Ismail, Wan Mohd Khairul Firdaus Wan Khairuldin & Mahadi Mohammad. (2014). Perkembangan dan Masalah Pembelajaran al-Quran dalam Program j-QAF di Malaysia. ISLAMIYYĀT, 36(2), 57-66.
Dornyei. (2005). The Psychology of the Language Learner: Individual Differences in Second Language Acquisition. London, UK: Lawrence Erlbaum.
Elliot, A. R. (1995). Foreign Language Phonology: Field independence, attitude, and the success of formal instruction in Spanish pronunciation. The Modern Language Journal, 79(iv), 530-542.
Fitch. (2010). Social Cognition and the Evolution of Language: Constructing Cognitive Phylogenies. Neuron, 65(6). 795-814.
Flege, J. E., Yeni-Komshian, G. & Liu, H. (1999). Age Constraints on Second Language Acquisition. Journal of Memory & Language, 41, 78-104.
Hajar Salman Mohammed Binasfour. (2018). Investigating the Perception and Production of the Arabic haryngealised Sounds by L2 Learners of Arabic. (Doctoral thesis, University of Reading, Reading, United Kingdom).
Oyama. (1976). A Sensitive Period for the Acquisition of a non-native Phonological System. Journal of Psycholinguistic Research, 5, 261-283.
Hulin Ren. (2013). Social Perspective on Fossilization of Interlanguage. International Journal of Asian Social Science, 3(4). 878-881.
Issraq Ramli & Mohd Zaki Abd Rahman. (2017). Aplikasi Teori Mahjub terhadap Pembaikan Sebutan Bunyi Bahasa Arab dalam Kalangan Pelajar Sabah. Jurnal Pusat Penataran Ilmu & Bahasa, Universiti Malaysia Sabah, Malaysia. 25.
Lenneberg. (1967). Biological Foundations of Language. New York: W'ilep.
Littlewood. (2002). Foreign and Second Language Learning. Beijing. Foreign Language Teaching and Research Press and the Press of the University of Cambridge, Cambridge.
Mahjub, 'Abdul Fatah (1993). Ta'lim wa Ta'allum al-Aswat al-'Arabiyyaṯ al-Sa'bat Li Ghair al- Natiqin Biha, Lil Mu'allim Wa al-Muta'allim. Al-Tab'aṯ al-Thaniaṯ. Ma'ahad al-Lughaṯ al 'Arabiyyaṯ. Universiti Umm al-Qura.
Majdan Paharal Razi, Che Radiah Mezah, Nik Farhan Mustapha & Mohammad Azizie Aziz. (2015). Al-Akhṭā' as-Syāi'ah Fī Nuṭqi ba'ḍ al-Aṣwāt al-'Arabiyyah Ladā Ṭullāb al- Jāmi'āt fī al-Munādzarah. Global Journal Al-Thaqafah. 5(1). 133-144.
Mohammed Shariq. (2015). Arabic and English Consonants: A Phonetic and Phonological Investigation. Advances in Language and Literary Studies, 6(6), 146-152.
Selinker, L. (1972). Interlanguage. International Review of Applied Linguistics in Language Teaching. 10(3), 219-231.
Sultan Almelhes. (2016). Teaching of Arabic Languagee Proficiency (Pronunciation) to Non-native Speakers: Designing Interventions using ICT. (Doctoral thesis, Western Sydney University, Sydney, Australia).
Tahta et al., (1981). Foreign Accents: Factors Relating to Transfer of Accent From the First Language to a Second Language. Language and Speech, 24.
Warren, D. W. (1986). Compensatory Speech Behaviors in Individuals with Cleft Palate: A Regulation/Control Phenomenon? Cleft Palate Journal, 23, 251-260.
Xueping Wei. (2008). Implication of Interlanguage Fossilization in Second Language Acquisition. Beijing Language and Culture University. CCSE English Language Teaching. 1(1).
Zarima Zakaria & Nik Mohd Rahimi. (2015). Konsonan Arab Berdasarkan Konsep Ansur Maju dalam Pembelajaran Sebutan Peringkat Awal Pembelajaran. EDUCATUM-Journal of Social Science. 1, 14-23.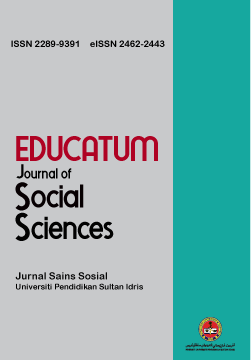 Downloads
How to Cite
Ali Huddin, M. R., & Sapar, A. A. (2022). Phonological Fossilization of Arabic Pronunciation among Malays: A Review Article: Kekerasan Lidah terhadap Penyebutan Huruf Arab dalam Kalangan orang Melayu: Satu Sorotan Kajian. EDUCATUM Journal of Social Sciences, 8(1), 126–134. https://doi.org/10.37134/ejoss.vol8.1.12.2022