Communication in understanding art concept during learning process for students with hearing impairment
Komunikasi dalam pemahaman konsep seni visual semasa proses pembelajaran murid masalah pendengaran
Norzuraina Mohd Nor

Fakulti Seni, Komputeran dan Industri Kreatif, Universiti Pendidikan Sultan Idris, Tanjong Malim, Perak, Malaysia
Keywords:
communication, concept of art, students with hearing impairment
Abstract
Communication in the process of teaching and learning is the most important aspects in order to make learning fun as well as the students can appreciate the importance and beauty of subject matter. This study aims to explore the impact of communication in Visual Arts Education to promote the understanding of arts concept among the students with hearing impairment. The focus of this study also aims to identify the quality of their artworks at the end of the learning process. The sampling of this study focused on six students with hearing impairment aged between 11 dan 12 years old  to produce artworks according to given theme and four teachers that teach PSV. Case study design is used in this study with qualitative approach to provide tools based on observation, interviews and assignment to study complex phenomena within its context. Socio-cultural Theory that emphasizes the framework of Scaffolding is underpinned in this study. Finding showed the communication between students and teachers has led the problem of poor understanding the concept of arts among the students. Visual cue approach or the existing materials can help students to build an understanding of the concept in arts and in turn to help the others to produce assignments. As a consequence, the significance of this study is able to provide teachers with an understanding of effective communication to students with hearing impairments will lead them to an effective grasping in the concept of arts. The use of appropriate approach is important to students with hearing impairment to enhance their understanding in the concepts of art in order to produce artworks.
Komunikasi dalam pengajaran dan pembelajaran(PdP) merupakan aspek terpenting dalam menjadikan subjek  yang diajar menarik sekaligus murid dapat menghargai kepentingan dan menghayati keindahan subjek  itu sendiri. Kajian ini melihat bagaimana komunikasi dalam subjek Pendidikan Seni Visual (PSV) dapat meningkatkan kefahaman murid masalah pendengaran (MMP) terhadap konsep seni. Fokus kajian ini untuk mengenal pasti komunikasi dalam pemahaman konsep seni pada MMP pada akhir PdP. Pensampelan melibatkan enam orang MMP yang berumur antara 11 dan 12 tahun yang menghasilkan tugasan mengikut tema yang diberikan, dan empat orang guru yang mengajar PSV. Reka bentuk kajian kes digunakan dengan pendekatan kualitatif berdasarkan kaedah pemerhatian, temu bual dan tugasan. Teori Sosio Budaya yang menekankan kepada kerangka Scaffolding diaplikasikan dalam PdP MMP. Dapatan mendapati masalah kefahaman terhadap konsep seni berpunca daripada komunikasi antara murid dengan guru semasa proses pembelajaran berlansung. Pendekatan kiu visual dan bahan maujud mampu membantu murid membina kefahaman tentang konsep seni seterusnya meningkatkan kemahiran murid menghasilkan tugasan. Oleh yang sedemikian, signifikan kajian berupaya memberi kefahaman kepada guru mengenai komunikasi yang berkesan kepada MMP. Penggunaan pendekatan PdP yang sesuai amat penting terhadap MMP bagi meningkatkan pemahaman terhadap konsep seni bagi menghasilkan tugasan.
Kata Kunci: komunikasi, konsep seni, murid masalah pendengaran
Downloads
Download data is not yet available.
References
Abd Mutalib, S., & Kanreng, M. Z. (2017). Pelaksanaan KBAT dalam pentaksiran formatif bagi slot Tunjang Komunikasi Bahasa Malaysia: Kajian kes. Jurnal Pendidikan Awal Kanak-Kanak Kebangsaan, 6(1), 18 - 33. https://doi.org/10.37134/jpak.vol6.1.2.2017
Ahmad Taufik. (2020). Interaksi komunikasi dalam pendidikan. Edification Journal: Pendidikan Agama Islam.
Andi Husniati, I., Ketut, B., Dwi Juniati, & Carol, L. L. (2020). Analysis of deaf students understanding math concepts in the topic of geometry (rectangle shape): A case study. Journal for the Education of Gifted Young Scientists.
Carpenter, E. A. C., Meltzer, A., & Marquart, M.( 2020), Best practices for inclusivity of deaf/deaf/hard of hearing students in the synchronous online classroom. World Journal of Education.
Che Aleha, L. (2015). Pentaksiran berasaskan sekolah pendidikan seni visual sekolah menengah. Thesis yang belum diterbitkan. Universiti Pendidikan Sultan Idris.
Kementerian Pendidikan Malaysia. (2017). KSSR Pendidikan Khas (Ketidakupayaan Pendengaran) Pendidikan Seni Visual Tahun 5. Penulis
Kementerian Pendidikan Malaysia. (2020). Data pendidikan khas. Penulis.
Kementerian Pendidikan Malaysia.(2018). Modul Latihan Pembangunan Profesional Guru (Pendidikan Inklusif). Penulis.
Kurikulum Standard Sekolah Rendah. (2017). Dokumen Standard Kurikulum dan Pentaksiran Bahasa Isyarat Komunikasi. Kementerian Pendidikan Malaysia.
Mohd Hanafi, M. Y., Safani, B., & Rabaishahazirun. (2015). Kemahiran sosial dan akademik murid-murid pendidikan khas bermasalah pendengaran. Proceeding: 7th International Seminar On Regional Education.
Muhammad Aidil, A.(2018) Komunikasi dalam pendidikan. Al-Hadi. Jurnal.Pancabudi.Ac.Id/Index.Php/Alhadi/Article/View/356>
Nik Hassan, S. Mustafa, C. O., Abdullah, Y,. & Mohd Yusof, A.(2016). Analisis permasalahan pelajar cacat pendengaran dalam pembelajaran mata pelajaran Pendidikan Islam Ddi Malaysia. Jurnal IlMI. http://www.kuim.edu.my/journal/index.php/JILMI/article/view/4.
Nor Ashikin Alias. (2012). Pembangunan laman web sains prasekolah berdasarkan pendekatan visual dinamik. Tesis yang tidak diterbitkan, Universiti Teknologi Malaysia.
Norzuraina Mohd Nor. (2019). Penilaian KIPP dalam pembelajaran dan pemudahcara murid ketidakupayaan penglihatan menggunakan Buku Teks Braille Pendidikan Kesenian. Tesis yang belum diterbitkan. Universiti Pendidikan Sultan Idris.
Norzuraina, M, N.(2015). Pendekatan visual untuk meningkatkan kreativiti murid cacat pendengaran dalam mata pelajaran pendidikan seni visual. Tesis yang belum diterbitkan. Universiti Pendidikan Sultan Idris.
Office of the High Commissioner for Human Rights . (1990). https://www.ohchr.org/EN/pages/home.aspx
Ramli, M. F., & Musa, R. (2020). Ekplorasi seni visual melalui aktiviti lakaran asas terhadap kanak-kanak prasekolah. Jurnal Pendidikan Awal Kanak-Kanak Kebangsaan, 9(1), 35-47. https://doi.org/10.37134/jpak.vol9.1.4.2020
Siti Muhibah, N., & Zetty Nurzulian, R.(2018). Peranan dan cabaran guru-guru pendidikan khas membentuk kemenjadian murid-murid masalah pendengaran dalam abad ke 21. Journal of Quran Sunnah Education and Special Needs, l(1). http://ddms.usim.edu.my/xmlui/handle/123456789/16255.
Yossita, Y. (2017). Komunikasi efektif dalam dunia pendidikan. Jurnal Nomosleca.
Zainuddin, I. (2018). Pembangunan modul pembelajaran seni reka grafik berasaskan teknologi dan gaya pembelajaran pelajar bermasalah pendengaran. Tesis yang belum diterbitkan, Universiti Malaya.
Zariul Antosa, Lazim, N., & Indra Gunawan. (2015). Peningkatan hasil belajar mata kuliah konsep seni mahasiswa Pgsd-Fkip Universitas Riau (Ur) melalui penerapan pendekatan pembelajaran multikultural. http://ejournal.uika-bogor.ac.id/index.php/at-tadib/article/view/153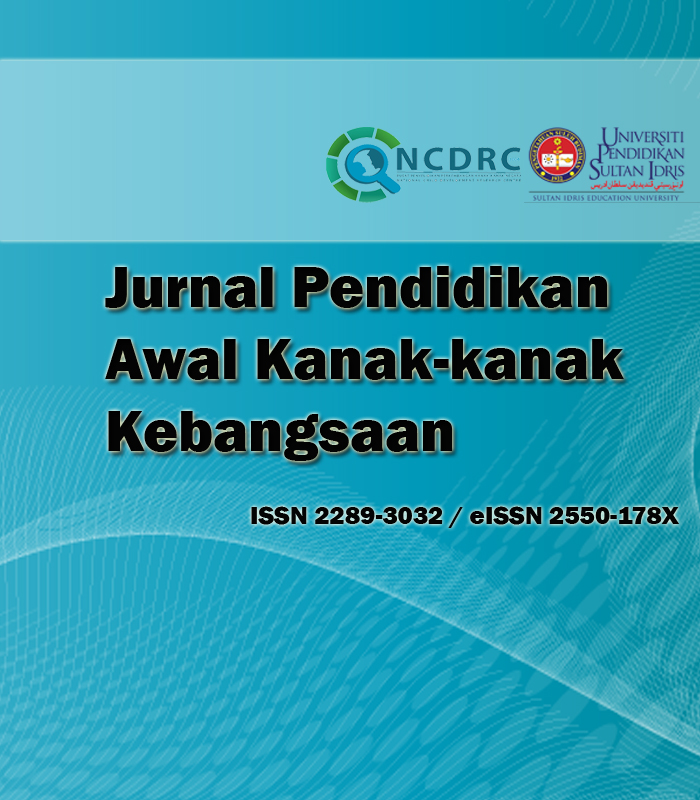 How to Cite
Mohd Nor, N. (2021). Communication in understanding art concept during learning process for students with hearing impairment. Jurnal Pendidikan Awal Kanak-Kanak Kebangsaan, 10(1), 66-76. https://doi.org/10.37134/jpak.vol10.1.6.2021
Copyright (c) 2021 UPSI Press, Malaysia
This work is licensed under a Creative Commons Attribution-NonCommercial-ShareAlike 4.0 International License.