Pemupukan sikap inkuiri kanak-kanak prasekolah melalui pendekatan projek
Fostering the inquiry attitude of preschool children through a project approach
Noraida Othman

Pusat Penyelidikan Perkembangan Kanak-kanak Negara, Universiti Pendidikan Sultan Idris, Tanjong Malim, Perak, Malaysia

Norazilawati Abdullah

Pusat Penyelidikan Perkembangan Kanak-kanak Negara, Universiti Pendidikan Sultan Idris, Tanjong Malim, Perak, Malaysia

Hamidah Idris

Fakulti Sains dan Matematik, Universiti Pendidikan Sultan Idris, Tanjong Malim, Perak, Malaysia
Keywords:
pendidikan prasekolah, pendekatan projek, proses pembelajaran, holistik, inkuiri, preschool education, project approach, learning process, holistic, inquiry
Abstract
Proses pembelajaran merupakan aspek penting dalam memastikan perkembangan kanak-kanak. Terdapat beberapa pendekatan yang digunakan di prasekolah, semuanya digunakan adalah untuk memastikan setiap kanak-kanak mampu mencapai tahap perkembangan yang holistik. Kajian ini dijalankan untuk melihat sama ada pendekatan projek berkesan untuk menanamkan sikap inkuiri dalam diri kanak-kanak di prasekolah. Sampel kajian ini melibatkan 17 orang kanak-kanak yang berumur 6 tahun. Kajian ini dijalankan di Pusat Penyelidikan Perkembangan Kanak-kanak Negara (NCDRC), Universiti Pendidikan Sultan Idris. Kajian secara kualitatif ini menggunakan hasil lakaran kanak-kanak sepanjang projek dilaksanakan. Hasil dari pemerhatian mendapati, kaedah pendekatan projek dapat meningkatkan sikap inkuiri kanak-kanak di prasekolah. Bukan sahaja di prasekolah, malahan  sikap ingin tahu yang tinggi juga dapat dilihat apabila kanak-kanak sering mengajukan soalan kepada ibu bapa di rumah apabila mereka ingin mengetahui sesuatu yang di luar pengetahuan mereka. Proses pembelajaran yang dilalui sepanjang menjayakan projek memberikan pengalaman yang bermakna untuk kanak-kanak di prasekolah.
The learning process is an important aspect in ensuring the development of children. There are several approaches used in preschool, all of which are used to ensure that each child is able to reach a holistic level of development. This study was conducted to see whether the project approach is effective to inculcate inquiry attitudes in children in Preschool. The sample of this study involved 17 childrens aged 6 years. The study was conducted at the National Child Development Research Center (NCDRC), Sultan Idris Education University. This qualitative study uses the results of children's sketches throughout the project. The results of the observation found that the project approach method can improve the inquiry attitude of children in Preschool. Not only in Kindergarten, even a high curiosity can also be seen when children often ask questions to parents at home when they want to know something that is beyond their knowledge. The learning process that goes through throughout the success of the project provides a meaningful experience for children in preschool.
Downloads
Download data is not yet available.
References
Bahagian Pembangunan Kurikulum. (2012). Kreativiti dan inovasi: Elemen merentas kurikulum. Kementerian Pendidikan Malaysia.
Gandini, K. (1997). Foundations of the Reggio Emilia approach. First step toward teaching the Reggio way, (hlm.14-25). Prentice-Hall.
Ha, Y. L. (2010). A valuable experience for children: The Dim Sum and Chinese Restaurant Project. Early Childhood Research & Practise, 12(1), 1-12.
Harlen, W. (2014a). Helping children's development of inquiry skills innearly years. Teachers College Press.
Harlen, W. (2014b). Helping children's development of inquiry skills. Inquiry in Primary Science Education (IPSE), 1, 1, 5-19. https://sainshumanika.utm.my/index.php/sainshumanika/article/view/1386
Helm, J. H., & Katz, L. G. (2011). Young investigator: The project approach in the early years. Teachers College Press.
Katz, L .G. (2010, May). STEM in the early years. In STEM in early Educator and Development Conference,Cedar falls, Iowa, May. http://ecrp.uiuc.edu/beyond/seed/katz.html.
Katz, L. G., Chard, S. C., & Kogan, Y. (2014). Engaging children;s mind: The project approach- third edition. Praeger.
Ng, S. G. (2015). Project approach for preschool children's autentic learning: A case study. (Tesis Doktor Falsafah Tidak Diterbitkan). Universiti Sains Malaysia.
Norazizah Abdul Rahman. (2018). Pelaksanaan pendidikan alam sekitar dalam kalangan kanak-kanak prasekolah menerusi pendekatan projek. Tesis Doktor Falsafah, Universiti Pendidikan Sultan Idris.
Nursyazwani Ismail. (2018). Pendekatan projek: Projek Buih Sabun. Penerbit Universiti Pendidikan Sultan Idris.
Zurida Ismail, Sharifah Norhaidah Syed Idris, Maznah Ali. (2003). Pendidikan sains prasekolah. Selangor PTS Publications.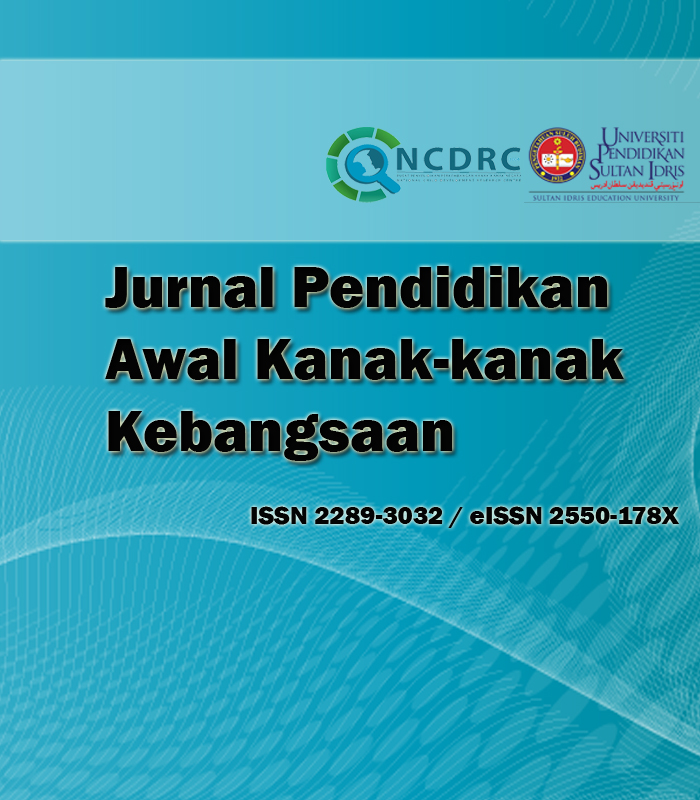 How to Cite
Othman, N., Abdullah, N., & Idris, H. (2021). Pemupukan sikap inkuiri kanak-kanak prasekolah melalui pendekatan projek. Jurnal Pendidikan Awal Kanak-Kanak Kebangsaan, 10(2), 16-26. https://doi.org/10.37134/jpak.vol10.2.2.2021
Copyright (c) 2021 Noraida Othman, Norazilawati Abdullah, Hamidah Idris
This work is licensed under a Creative Commons Attribution-NonCommercial-ShareAlike 4.0 International License.