Practicum During Covid-19 Pandemic: Challenges of Students Teachers Early Childhood Education in Teaching and Learning Online
Praktikum ketika Pandemik COVID-19: Cabaran siswa guru Pendidikan Awal Kanak-kanak dalam pengajaran secara dalam talian
Keywords:
COVID-19, teacher students, practicum, online teaching, technology
Abstract
This study aimed to identify the problems or issues faced by early childhood education teacher students and the challenges they faced in implementing online teaching during practicum during the Covid-19 Pandemic. In addition, this study also aims to explore the needs of early childhood education teacher students to improve the implementation of online teaching and learning during practicum. This study uses a qualitative approach. with case study design. A total of 5 teacher students specializing in Early Childhood Education were involved as the study sample. Interview instruments were used to obtain data for this study. The data collected will be analyzed involving 3 stages, namely the data management stage, the reduction stage and the category production stage. Interview data will be coded and categorized based on predefined themes. Findings show that the problems or issues faced by student teachers are poor internet access, high internet subscription costs, less active involvement of children in teaching and learning, lack of support from parents, changes in teaching new norms and limited technological knowledge of teacher students. While the challenges faced by student teachers in implementing online teaching are the difficulties in building technology -based teaching and learning materials, selection of appropriate approaches and strategies and aspects of mentoring in supervisory guidance. In addition, the findings of the study also show that there is a need for improvement in the implementation of online teaching among student teachers, especially in the aspects of teacher training, communication skills and assessment of practicum supervision.
Downloads
Download data is not yet available.
References
Azraai Othman, Dani Asmadi Ibrahim, Noor asmahan abdullah & Farhana Umanan. (2021). Pembangunan model pengajaran dan pembelajaran menggunakan kerangka TPACK dan keberkesanan e-Pembelajaran untuk subjek Kimia Matrikulasi. Jurnal Pendidikan sains dan Matematik Malaysia, 11(1), 1-19
Ghazali Darusalam & Sufean Hussin, (2016). Metodologi penyelidikan dalam pendidikan. Kuala Lumpur: Universiti Malaya
Johnson, A. V., La Paro, J., & Crosby, D. A. (2017). Early practicum experiences: Preservice esrly childhood students' perceptions and sense of efficacy. Early Childhood Education Journal, 45, 229-236
Kementeraian Pelajaran Malaysia, (2018). Modul latihan transformasi praktikum IPG. Cyberjaya: Institut Pendidikan Guru Malaysia
Kidd, W. & Murray, J, (2020). The Covid-19 pandemic and its effects on teacher educatioan in England: how teacher educators moved practicum learning online. European Journal of Teacher Education,43;4, 542-558
Kim, J. (2020). Learning and teaching online during Civid-19: Experiences of student teachers in an early childhood education practicum. International Journal of Early Childhood, 52:145-158
Konca, A.S., Ozel, E., & Zelyurt, H. (2016). Attitudes of preschool teachers towards uisng information and communication technologies (ICT). International Journal of Research in education and Sciences (IJRES), 2(1). 10-15
McPake, J., Plowman, L. & Stephen, C. (2013). Preschool children creating and communicating with digital technologies in the home. British Journal Of Educational Technology, 44(3), 421-431
Nachiappan, S., Edward Munovah, R. M., Abdullah, N., & Suffian, S. (2017). Perkembangan kognisi dalam kanak-kanak prasekolah melalui teknik bermain. Jurnal Pendidikan Awal Kanak-Kanak Kebangsaan, 6(1), 34–44
Nel, C., & Marais, E., (2020). Preservice teachers use of WhatsApp to explain subject content to school children during the Covid-19 pandemic. International Journal of Work-Integrated Learning, Special Issue, 21(5), 629-641
Nik Salmi Nurulhuda Mohd Sainain, Romarzila Omar, Hazhari Ismail, Nordin Mamat, Ruslan Abdullah. (2020). Parental knowledge and development of languages and literacy, communication and socializations in the early childhood education. International Journal of Psychosocial Rehabilitation, 24(9), 2070-2080.
Noraini Idris. (2010). Penyelidikan dalam Pendidikan. Kuala Lumpur. McGraw-Hill (Malaysia) Sdn. Bhd.
Nor Musfirah Mohamad (2021). Cabaran pedagogi norma baharu di Kolej Universiti Islam Perlis (KUIPs) ketika pandemik wabak koronavirus Covid-19. Jurnal Pengajian Islam, Vol 14, 243-254
Othman Lebar. (2012). Penyelidikan Kualitatif: Pengenalan kepada teori dan metod. Perak: Universiti Pendidikan Sultan Idris
Romarzila Omar. (2017). Project-based learning in early childhood education for preschool children. Doctoral Degree in Philosophy, National University of Malaysia.
Romarzila Omar, Hazhari Ismail, Ruslan Abdullah, Zanaton Hj Iksan, Rosniza Mohamed Zain. (2020). Teacher's Knowledge, Skills and Attitudes towards the Implementation of Preschool Curriculum Innovations. Psychology And Education (2020) 57(8): 42-50 ISSN: 0033-3077
Ruslan Abdullah. (2018). Penilaian Pelaksanaan Program LINUS dalam Kalangan Murid-murid Orang Asli di Perak. Tesis Doktor Falsafah Universiti Utara Malaysia.
Ramlah Jantan (2016). Faedah bermain dalam perkembangan kanak-kanak prasekolah (4-6 tahun). Perak: Universiti Pendidikan Sultan Idris, December 2013
Sasaki, R., & Goff, W., (2020). The practicum experience during Covid-19-Supporting initial teacher education student's practicum experience through a simulated classroom. Journal of Technology and Teacher Education, 28(2), 329-339
Shaista Noor, Filzah md Isa, Faizan Farid Mazhar (2020). Online teaching practices during Covid19 Pandemic. Educational Process International Journal, 9(3), 169-184
Siti Uzairiah Mohd Tobi. (2017) Kajian kualitatif dan analisis temu bual. Kuala Lumpur: Aras Publisher
Wedenoja, L. (2020). What to expert when you weren't expecting online classes. Rockefeller Institute of Government. https://rockinst.org/blog/what-to-expect-when-you-werent-expecting-online-classes/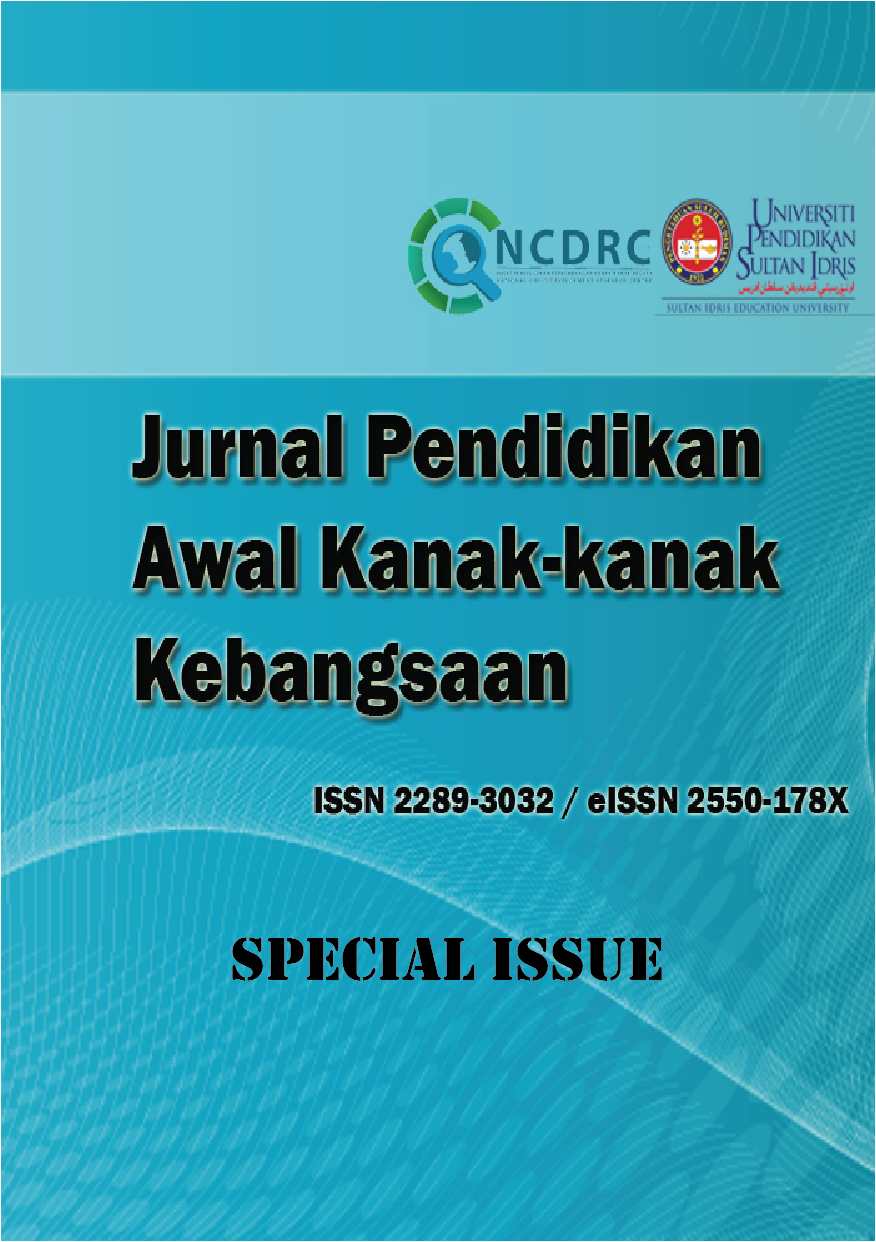 Downloads
How to Cite
Muhaini, Z. binti, Saat, L. bin, & Tamit, R. binti. (2022). Practicum During Covid-19 Pandemic: Challenges of Students Teachers Early Childhood Education in Teaching and Learning Online: Praktikum ketika Pandemik COVID-19: Cabaran siswa guru Pendidikan Awal Kanak-kanak dalam pengajaran secara dalam talian. Jurnal Pendidikan Awal Kanak-Kanak Kebangsaan, 11, 124–138. https://doi.org/10.37134/jpak.vol11.sp.11.2022