The antecedents of subjective well-being of Javanese paramedics: The indigenous study
Keywords:
Subjective well-being, Javanese paramedics
Abstract
Regarding the Indonesia government's program namely leading to the Healthy Indonesia to the year 2025, a study in 2016 showed that the paramedics with the Javanese ethnic background demanding increase on welfare. Whereas, the Javanese paramedics were well-known to hold the role of harmony which tended to avoid conflict and they are obedient and tolerant. Subjective wellbeing (SWB) becomes one of the important factors that can determine and increase the welfare. It is very important to investigate the antecedents of SWB among Javanese Paramedics to enhance their performance. This research is a qualitative study with interview to 15 Javanese paramedics that consisted of 11 woman and 4 man paramedics in the Health Office of Yogyakarta. The interview transcript was classified by three academics of psychology who understood the Javanese culture. Then, they were calculated to notice which antecedents that would have the big effect. The results indicated that there was difference between the antecedents of SWB in the previous research and the antecedents of SWB in Javanese Paramedics. The antecedent subjective well-being is divided into four categories, i.e. physical, psychics, social and religiosity. Woman tends more on instrumental values while man tends more on terminal values. This result will help the Health Department of Yogyakarta to make an appropriate intervention for their paramedics to increase SWB.
Downloads
Download data is not yet available.
References
Chak, K. C., King, L. N., & Phiilips, D. (2008). Social policy in China: Development and well-being. Social Policy & Administration (Vol. 42). Great Britain: The Policy Press. https://doi.org/10.1111/j.1467-9515.2008.00621_4.x

Delle Fave, A. (2013). The exploration of pappiness: Present and future perspectives. Springer Berlin Heidelberg. https://doi.org/10.1007/978-94-007-5702-8_1

Faturochman, Minza, M. W., & Nurjaman, T. A. (2017). Memahami dan mengembangkan indigenous Psychology (1ed ed.). Yogyakarta: Pustaka Pelajar.

Haring, M. J., Stock, W. A., & Okun, M. A. (1984). A research synthesis of gender and social class as correlates of subjective well-being. Human Relations, 37, 645–657. https://doi.org/10.1177/001872678403700805

Hofstede, G. (1994). The business of international business is culture. International Business Review, 3(1), 1–14.

Inawati, A. (2014). Peran perempuan dalam mempertahankan kebudayaan jawa dan kearifan lokal. Musãwa Jurnal Studi Gender Dan Islam, 13(2), 195. https://doi.org/10.14421/musawa.2014.132.195-206

Inglehart, R. (2002). Gender, aging, and subjective Well-Being. International Journal of Comparative Sociology, 43(3–5), 391–408. https://doi.org/10.1177/002071520204300309

Keyes, C. L. . (2005). Mental illness and/or mental health? Investigating axioms of the complete state model of health. Journal of Consulting and Clinical Psychology, 73(3), 539–548.
https://doi.org/10.20885/psikologika.vol7.iss13.art3

Kim, J., & Nesselroade, J. (2003). Relationships among social support, self-concept, and wellbeing of older adults: A study of process using dynamic factor models. Journal International Journal of Behavioral Development, 27(1), 49–65.

Kim, U., Kuo, S. Y., & Kwang, K. H. (2010). Indigenous and cultural psychology: Memahami orang dalam konteksnya. Yogyakarta: Pustaka Pelajar.

Korvajarvi, P. (2002). Gender-neutral gender and denial of difference. In B. Czarniawska & H. Hopfl (Eds.), Casting the Other:The production and maintenance of inequalities in work organizations (pp. 119–137). New York: Routledge, Taylor and Francis Group.

Rokeach, S. J. B. (1973). Values and violence : A test of the subculture of violence. Thesis. American Sociological Review, 38(6), 736–749.

Sahrah, A. (2016). The impact of collaborative conflict resolution strategy and emotional maturity on nurses subjective well-being. Global Journal of Research in Business & Management, 4(2), 312–318.

Sahrah, A., & Yuniasanti, R. (2018). Efektivitas pelatihan pemberian dukungan sosial pada walinapi dengan metode bermain dan permainan peran. Jurnal Psikologi, 45(2), 151. https://doi.org/10.22146/jpsi.28038

Tesch-ro, C., Andreas, M., & Tomasik, M. (2008). Gender differences in subjective well-Being : Comparing societies with respect to gender equality. Social Indicators Research, 85, 329–349.
https://doi.org/10.1007/s11205-007-9133-3

Tuulik, K., Ounapuu, T., Kuimet, K., & Titov, E. (2016). Rokeach's instrumental and terminal values as descriptors of modern organisation values. International Journal of Organizational Leadership, 5, 151–161.

Uyun, Q. (2002). Peran gender dalam budaya Jawa. Psikologika, 13(7), 32–42.
https://doi.org/10.20885/psikologika.vol7.iss13.art3

Wijayanti, H., & Nurwianti, F. (n.d.). Kekuatan karakter dan kebahagiaan pada suku jawa. Jurnal Psikologi, 3(2), 114–122.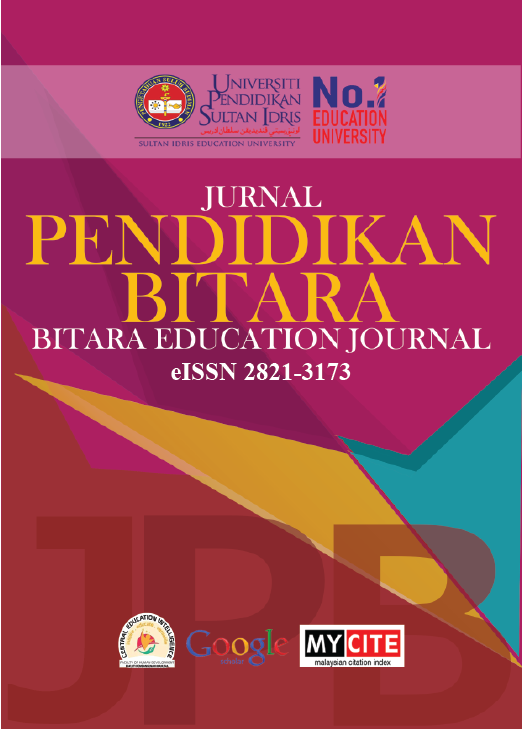 Downloads
How to Cite
Sahrah, A., & Yuniasanti, R. (2020). The antecedents of subjective well-being of Javanese paramedics: The indigenous study. Jurnal Pendidikan Bitara UPSI, 13(1), 27–35. Retrieved from https://ejournal.upsi.edu.my/index.php/JPB/article/view/2058