The role of teachers in unity formation among secondary school students
Parvathy Rajan Naidu

Faculty of Human Development, Universiti Pendidikan Sultan Idris, Tanjong Malim, Perak, MALAYSIA

Norliza Abdul Majid

Faculty of Human Development, Universiti Pendidikan Sultan Idris, Tanjong Malim, Perak, MALAYSIA

Jaya Kumar Veerasamy

Faculty of Human Development, Universiti Pendidikan Sultan Idris, Tanjong Malim, Perak, MALAYSIA

Nur Azila Ismail

Faculty of Human Development Universiti Pendidikan Sultan Idris, Tanjung Malim, Perak MALAYSIA
Keywords:
The Role of Teacher, Formation of Unity, Secondary School Students
Abstract
The Ministry of Education Malaysia often emphasizes the issue of unity. Teachers have become the bridge to connect government policy to students. The role of teachers is very important in the formation of unity among high school students. This study was conducted to examine to which extent teachers play a role in the formation of unity among secondary school students. This is a qualitative study, using a case study method and using interviews and observations as the study instrument. A total of 6 students and 3 teachers were taken as samples from 3 secondary schools with multiracial students. Findings show that teachers play a high role in the formation of high school students' unity. Various efforts involving teachers form the basis for the formation of unity. The role of teachers in the classroom, outside the classroom and the role of teachers as role models to students are among the aspects studied. The data were collected as a result of interviews and observations and then analyzed to obtain a conclusion. Therefore, it can be concluded that the unity among students becomes a responsibility of schoolteachers with infinite teacher involvement. This study can explain that teachers can realize the aspirations of the country from the aspect of unity.
Downloads
Download data is not yet available.
References
Abdul Aziz Abdul Rahman, Abdul Razaq Ahmad & Mohd Mahzan Awang (2019). Patriotism Among Multi-Ethnic Youths in Malaysia. The 2nd International Conference on SustainableDevelopment&Multi-EthnicSociety.2,pp.1-5. https://doi.org/10.32698/GCS.0162
Abdul Said Ambotang & Norhayati Bayong (2018). Hubungan Antara Beban Tugas dan Tekanan Kerja dengan Komitmen Guru Sekolah Rendah. Jurnal Pendidikan Bitara UPSI, 11, 11-21.
Anuar Ahmad & Nelson Jinggan. (2015). Pengaruh Kompetensi Kemahiran Guru Dalam Pengajaran Terhadap Pencapaian Akademik Pelajar Dalam Mata Pelajaran Sejarah. Jurnal Kurikulum & Pengajaran Asia Pasifik, 3(2), 1-11.
Bity Salwana Alias, Rosli Ismail, Shamsudin Mohamad, Maimunah Muda, Zaini Ahmad, Ura Pin @ Chum, Nasithah Abd. Hamid, M. Selvarajah Manikam, Datin Kasmah Abu Bakar, Nor Suhara Fadzil, Nuzulharlina Abd. Rahman, Akbariah (2017). Kajian Pengukuran Tahap Perpaduan 2016. Jurnal Penyelidikan Pendidikan, 13-19.
Chew F. P., & Nurmaziah Majelan (2019). Pelaksanaan Pendidikan Perpaduan Menerusi Teks KOMSAS dalam Kalangan Pelajar Tingkatan Dua. PENDETA Journal of Malay Language, Education and Literature, 10, 75-90.
Foziana Jamaludin, Mohamed Yusoff Mohd Nor & Mohd Izham Mohd Hamzah. (2018). Latihan Dalam Perkhidmatan: Pengurusan Bilik Darjah. Jurnal Wacana Sarjana, 2(1), 1-12.
Hanita Mohd Yusoff & Norzaini Azman. (2018). Pencapaian Akademik Murid Lelaki dan Perempuan: Peranan Sokongan Pembelajaran Dan Keterlibatan Murid. Malaysian Journal of Learning and Instruction, 15(2), 257-287.
Howitt, D. (2019). Introduction To Qualitative Research Methods in Psychology (4th ed.). UK: Pearson Education Limited.
Ikhsan Othman, Abdul Talib Mohammed Hashim, Azli Ariffin, Zaini Abdullah & Abu Bakar Yusof. (2019). Student Teachers' Perspectives on Their Readiness Towards Teaching Practice: A Case Study in A Malaysian University. Journal of Research, Policy & Practice of Teachers & Teacher Education, 9, 12-19.
Kabir, S. M. (2016). Basic Guidelines for Research:An Introductory Approach for All Disciplines. Bangladesh: Book Zone Publication.
Kalman, M. (2019). "It Requires Interest, Time, Patience and Struggle": Novice Researchers' Perspectives on and Experiences of the Qualitative Research Journey. Qualitative Research in Education, 8(3), 341-377.
Kamoo, G. (2013). Pengaruh Keluarga Terhadap Pencapaian Akademik Murid India di Sekolah Menengah Rendah [Thesis Doktor Falsafah, University Malaya].
Kaviza, Fauziah Abdul Rahim & Nurliyana Bukhari. (2018). Tahap Kesediaan Guru-Guru Sejarah Dalam Melaksanakan Kaedah Pengajaran Dan Pembelajaran Berasaskan Sumber Sejarah: Satu Tinjauan Di Negeri Perlis. Jurnal Kurikulum & Pengajaran Asia Pasifik, 6(2), 23-31.
Merriam, B. (2009). Qualitative Research: A Guide to Design and Implementation. San Francisco: Joses-Bass.
Ministry of Education Malaysia (2013). Malaysian Education Development Plan (MEDP) 2013-2025. Putrajaya: Curriculum Development Division.
Mohd Mahadee Ismail, Azlina Abdullah, Mansor Mohd Noor & Siti Noranizah Hafizah Boyman (2016). Penghayatan Semangat Patriotisme Belia Malaysia: Kajian ke atas PLKN. Research Journal of Social Sciences, 9(3), 37-44. Retrieved from http://www.aensiweb.com/RJSS/
Nur Ayuni Nusaibah Husin & Amir Hasan Dawi (2018). Peranan Sekolah Dalam Pembentukan Perpaduan antara Kaum dalam Kalangan Pelajar. Jurnal Pendidikan Bitara UPSI, 12, 18-28.
Siti Hajar Yusof (2019, Mac 31). Perpaduan Kaum Menyumbang Kepada Kemajuan Negara. Berita Harian. https://www.bharian.com.my/berita/nasional/2019/03/547348
Tan, W. H. (2018). Comparing Perceptions on Characteristics of Quality Techers and Future Teachers for Schools in Malaysia. Jurnal Pendidkan Bitara UPSI, 11, 22-32.
Yin, K., Robert. (2018). Case Study Research And Aplications Design And Methods. United States: Sage Publications.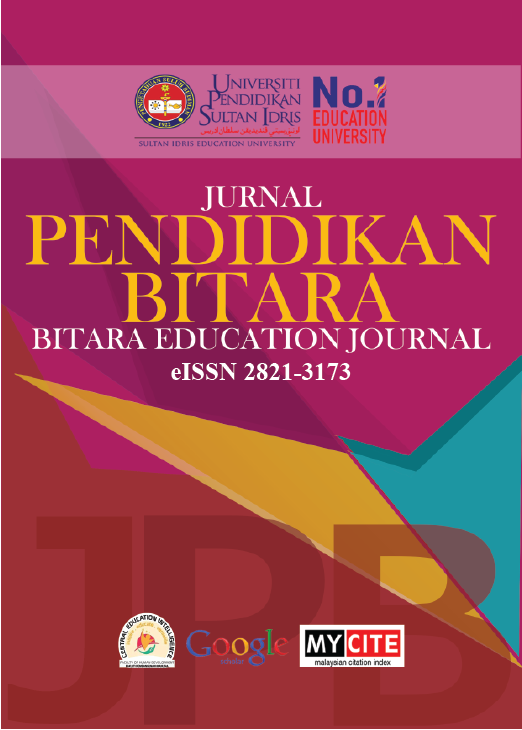 How to Cite
Rajan Naidu, P., Abdul Majid, N., Veerasamy, J. K., & Ismail, N. A. (2021). The role of teachers in unity formation among secondary school students. Jurnal Pendidikan Bitara UPSI, 14(1), 54-61. https://doi.org/10.37134/bitara.vol14.1.6.2021
Copyright (c) 2021 Parvathy Rajan Naidu, Norliza Abdul Majid, Jaya Kumar Veerasamy, Nur Azila Ismail
This work is licensed under a Creative Commons Attribution-NonCommercial-ShareAlike 4.0 International License.