Exploring the Counsellors' Intervention in Handling Truancy Issues in School
Meneroka Intervensi Kaunselor Dalam Menangani Masalah Pelajar Ponteng Sekolah
Nursabihah Roslan

Jabatan Psikologi dan Kaunseling, Fakulti Pembangunan Manusia, Universiti Pendidikan Sultan Idris, Tanjong Malim, Perak, MALAYSIA

Nurul Ain Mohd Daud

Jabatan Psikologi dan Kaunseling, Fakulti Pembangunan Manusia, Universiti Pendidikan Sultan Idris, Tanjong Malim, Perak, MALAYSIA
Keywords:
Intervention, Counselors, Truancy, Students, Programme
Abstract
This study aims to investigate the intervention strategies that can be used by counselors in handling truancy issues in school, identify how to run the intervention, and find out the effectiveness of the intervention strategies used. This study employed a qualitative method using case study on three counselors from different states; Pahang, Perak and Perlis. This study used interview technique as the data collection. The participants was chosen based on the purposive sampling who has been served for 10 years and above and handling any truancy issues. The findings of this study shows that there were four themes that aswering the objectives, including performing specific activities to student. Counselors also implement interventions related to student directions and intervention in the form of building good relationships with all stakeholders with student. Finally, counselors and students can also make changes for the better. This study give implication to implemented the intervention of truancy that can be used as a guide by counselors.
Downloads
Download data is not yet available.
References
Abdul Malek Abdul Rahman. (2007). The Effectiveness of Cognitive Behaviour Group Counselling on Bullies Amongst The Secondary Schoool Students in Malaysia. Jurnal Pendidikan BITARA UPSI. Vol. 1, 17-28.
Azman Khoong, Mohd Saufuddin Mohamed, Syafika Nazeera Sapii. (2016). Masalah Ponteng Kuliah dalam Kalangan Pelajar Institut Pendidikan Guru Kampus Tawau. Seminar Psikologi Kebangsaan. Fakulti Psikologi dan Pendidikan. 327-335.
Caraka Putra Bhakti & Nindiya Eka Safitri. (2017). Peran Bimbingan Dan Konseling Untuk Menghadapi Generasi Z Dalam Perspektif Bimbingan Dan Konseling Perkembangan. Jurnal Konseling GUSJIGANG, 3(1) 104-113.
Faizura Rohaizad, Rusnani Abdul Kadir & Rahimah Ibrahim. (2014). Hubungan Antara Stigma Kendiri Terhadap Sikap untuk Mendapatkan Perkhidmatan Kaunseling. Jurnal Pendidikan BITARA UPSI. Vol. 7, 106-113.
Jenny Michael Jemat & Che Nazrah Yusof. (2016). T-Trace: Meningkatkan Kehadiran Ke Sekolah Dalam Kalangan Murid Tahun 4. Proceeding of ICECRS, 1 (2016) 167-176.
Lichtman, M. (2010) Qualitative Research in Education: A User's Guide. 2nd Edition, Sage, California.
McNulty, P.E. (2016). Combating School Truancy: Current Practices and Recommendations for Improvement. Ph.D Dissertation. National Louis University.
Noremy Md Akhir, Nur Syafawani Mat Deris & Mohammad Rahim Kamaluddin. (2019). Tingkah Laku Remaja Ponteng Sekolah. Malaysian Journal of Youth Studies. 50-67.
Simpsons, S.B. (2020). A Review of Truancy Programs at The Elementary Level In West Virginia: Perceptions of Attendance Directors on The Effectiveness Of Strategies to Improve Student Attendance. Ph.D Dissertation. Marshall University.
Siti Hajar Johari, Dharatun Nissa Fuad Mohd Karim, Siti Nor Aisyah Akhwan, Restu Nabila & Jeffery Apdal. (2019). Peranan Kaunselor dalam Menangani Masalah Ponteng Sekolah. International Journal of Supply Chain, Operation Management and Logistic, 1(1).
Smith. K.E. (2015). Critical Reflections: Interviews with Parents Regarding Truancy. Ph. D Dissertation. The University of San Francisco.
Suleman, Q., Hussaun, I., & Kayani, A.I. (2017). Factors Contributing to Truancy Among Secondary School Students in Karak District, Pakistan. Journal of Education and Practise. 8(25), 65-74.
Ura Pin, Wan Raisuha Wan Ali, Azlina Osman, Salmah Mohd Salleh, Ihsan Ismail, Sheela Nair, et.al. (2017). Jurnal Penyelidikan Pendidikan. Unit pembangunan dan pembudayaan penyelidikan sektor penyelidikan dan penilaian, BPPDP.
Yusi Riksa Yustiana, Aas Saomah & Suherman. (2017). Competence of Guidance and Counseling Teacher in Developing Helping Relationship with Student. Jurnal Pendidikan BITARA UPSI. Vol. 10, 16-24.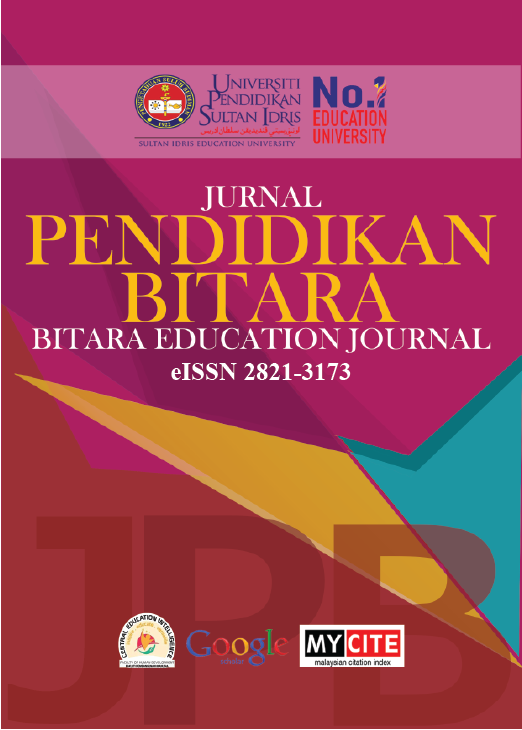 How to Cite
Roslan, N., & Mohd Daud, N. A. (2021). Exploring the Counsellors' Intervention in Handling Truancy Issues in School. Jurnal Pendidikan Bitara UPSI, 14(1), 70-77. https://doi.org/10.37134/bitara.vol14.1.8.2021
Copyright (c) 2021 Nursabihah Roslan, Nurul Ain Mohd Daud
This work is licensed under a Creative Commons Attribution-NonCommercial-ShareAlike 4.0 International License.