Usability and development on population genetics website for Diploma of Biotechnology Program at Nilai Polytechnic
Pembangunan Dan Kebolehgunaan Laman Sesawang Population Genetics Bagi Program Diploma Bioteknologi Di Politeknik Nilai
Keywords:
Usability, Population Genetics, Biotechonology, Website developer, Need analysis, E- learning
Abstract
The development of information and communication technology has resulted in a huge impact on our life and culture today, particularly in the field of education including in Malaysia. The application of technology in teaching and learning has given a new impetus to the instructional strategies of educators. This study analysed the needs, developed, and evaluated the usability of the Population Genetics website as an interactive supplementary reference material for DYB30073 Genetics course offered to Diploma in Biotechnology students at Polytechnic Nilai. The conducted needs analysis revealed that students and lecturers synonymously agree that course information, reference notes, additional reference links, multimedia materials, tutorials, simulations, and discussion boards should be displayed on the Population Genetics website. The development process of this website is based on the Hannafin and Peck (1988) model and uses English as the medium of communication. The learning materials for this topic employ the application of multiple learning theories such as cognitivism, constructivism, and social learning and embed the use of multimedia elements such as video, graphics, and text. The learning content and activities also meet the requirement of the syllabus set for DYB30073 Genetics course. This website consists of Homepage, Course Information, Modules, Tutorials and Simulation, and Contact Us page. Throughout its development, feedback including suggestions for improvement has been collected formally and informally. Quantitative methods were used to assess the usability of this website through a four-point Likert scale questionnaire involving 96 respondents comprising students and lecturers of the Diploma in Biotechnology programme. In summary, the findings demonstrate that the usability of the Population Genetics website based on four aspects which are design, content organization, multimedia, and easiness, is high with an average mean score between 3.35 to 3.62. This indicates that this website has the potential to be used as a supplementary reference material that meets the syllabus for the topic of Population Genetics.
Downloads
Download data is not yet available.
References
Ahmad Fkrudin Mohamed Yusoff, Wan Norina Wan Hamat, & Nor Khayati Basir. (2019). Penggunaan aplikasi Web 2.0 dalam proses pengajaran dan pembelajaran kursus mata pelajaran umum (MPU) di Politeknik. e-Bangi Journal of Social Sciences and Humanities, 16(5), 1–13. https://doi.org/https://www.researchgate.net/publication/331513390_Penggunaan_Aplikasi_Web_20_Dalam_Proses_Pembelajaran_Dan_Pengajaran_Kursus_Mata_Pelajaran_Umum_MPU_Di_Politeknik
Ahmad Fkrudin Mohamed Yusoff & Ammar Badruddin Romli. (2018). Kebolehgunaan Aplikasi Mudah Alih (Mobile Apps) Bagi Kursus Sains, Teknologi Dan Kejuruteraan Dalam Islam (M-ISTECH) Di Politeknik Malaysia. Attarbawiy: Malaysian Online Journal of Education. 2(1), 18-28.
Almeida, F., & Simoes, J. (2019). The role of serious games, gamification and Industry 4.0 tools in the Education 4.0 paradigm. Contemporary Educational Technology, 10(2), 120-136.
Ai Nurlaelasari Rusmana, Arif Rachmatullah, Eni Nuraeni & Ha, M. (2021). The Genetics Conceptual Understanding of Indonesian and United States Undergraduate Biology Students. Asia-Pacific Science Education, 7(1), 197-225.
Almeida, F., & Simoes, J. (2019). The role of serious games, gamification and Industry 4.0 tools in the Education 4.0 paradigm. Contemporary Educational Technology, 10(2), 120-136.
Braxton, S., Bronico, K., & Looms, T. (1995). Instructional Design Methodologies and Techniques. Washington: The George Washington University.
Chua, Y. P. (2006). Kaedah dan Statistik: Kaedah penyelidikan (Edisi kedua). McGraw-Hill.
Chua, Y. P. (2022). Kaedah dan Statistik Penyelidikan: Asas Statistik Penyelidikan (Edisi Keempat). McGraw Hill Education (Malaysia) Sdn. Bhd
Etobro, A. B., & Banjoko, S. O. (2017). Misconceptions of genetics concepts among pre-service teachers. Global Journal of Educational Research, 16(2), 121-128.
Hafizah Harun & Wajihan Ibrahim. (2010). Pembangunan Perisian Multimedia Bagi Subjek Sains Sukan Tingkatan 5 Bertajuk Sistem Kardiovaskular. Universiti Teknologi Malaysia Institutional Repository, 1-10.
Hannafin, M. J. & Peck, K. L. (1988). Instructor's Manual for The Design, Development, and Evaluation of Instructional Software. Macmillan Publishing Company: New York.
Ilmi Zajuli Ichsan et al. (2020). Covid-19 dan e-learning: Perubahan Strategi Pembelajaran Sains dan Lingkungan di SMP. Jurnal Inovasi Pendidikan (JINoP). 1: 50-61.
Ishak Johari, Syed Abdul Malik, Ahmad Sharif, Rasyidi Johan & Maizam Alias (2016). Analisis Keperluan Pembangunan Koswer Weblog Multimedia Interaktif dalam Pembelajaran Kejuruteraan Hidrologi. Prosiding Seminar Kebangsaan Majlis Dekan Pendidikan Universiti Awam Malaysia, 2016. Guru Berkualiti Pencetus Pendidikan Bermutu. Pada 13-15 November 2016, TH Hotel, Pulau Pinang.
Ishak Johari, Syed Abdul Malik, Ahmad Sharif, Rasyidi Johan & Maizam Alias (2018). Reka Bentuk Pembangunan Koswer Weblog Multimedia Interaktif dalam Pembelajaran Kejuruteraan Hidrologi. Prosiding Technology and Annovation International Confference 2018, (TECHON2018), Pada 03-05 Mei, 2018, Hotel Meritz, Miri, Sarawak.
Jamalludin Harun & Zaidatun Tasir (2003). Asas Multimedia dan Aplikasi dalam Pendidikan. Diperolehi pada tarikh akses 11/10/2007 daripada http:www.jz.media.com.html.
Krejcie, R. V. & Morgan, D.W., (1970). Determining Sample Size for Research Activities. Educational and Psychological Measurement. 30, 607-610.
Marlina Mohamad. (2016). Pembelajaran Pengaturcaraan Komputer di dalam Persekitaran Web Berdasarkan Prinsip Multimedia. Seminar TVET, (May), 9.
Masel, J. (2012). Rethinking Hardy-Weinberg and genetic drift in undergraduate biology. BioEssays, 34(8), 701–710. https://doi.org/10.1002/bies.201100178
Meirink, J. A., Imants, J., Meijer, P. C., & Verloop, N. (2010). Teacher learning and collaboration in innovative teams. Cambridge Journal of Education, 40(2), 161-181.
Mohamed Hussain Thowfeek & Mohamed Nainar Abdul Salam. (2014). Students' assessment on the usability of E-learning websites. Procedia - Social and Behavioral Sciences, 141, 916–922. https://doi.org/10.1016/j.sbspro.2014.05.160
Muhammad Zaiamri Zainal Abidin, Amira Firdaus & Md Azalanshah Md Syed. (2020). Keterlihatan Institusi di Alam Maya: Analisis Perbandingan Strategi Komunikasi Laman Sesawang Universiti Penyelidikan Malaysia. Jurnal Komunikasi: Malaysian Journal of Communication. 36(4).
Noor Fadzilah Ab Rahman, Rafiza Kasbun & Nurkaliza Khalid. (2021). Kebolehgunaan Aplikasi Pembelajaran Struktur Data Berasaskan Teknologi Web Dan Multimedia. Malaysian Journal of Information and Communication Technology, 6(1), e-ISSN 0127-7812
Owoyele, S. (2017). Website as a marketing communication tool (Tesis Sarjana Yang Tidak Diterbitkan, Centeria University of Applied Sciences, Kokkola, Finland)
Pappas, C. (2017, March 30). Applying the Hannafin-Peck Model in E-learning. eFront Blog. Retrieved June 23, 2022, from https://www.efrontlearning.com/blog/2016/03/applying-the-hannafin-peck-model-in-elearning.html
Peters, D. (2014). Interface Designing for learning: Design Strategies for learning experiences. USA: New Riders & Pearson
Sazilah Sam. (2017). Pembinaan dan Pengujian Modul i-Think Matematik Tingkatan Tiga bagi Tajuk Rumus Algebra (tesis).
Sidek M. N. & Jamaludin A. 2005. Pembinaan Modul: Bagaimana Membina Modul Latihan dan Modul Akademik. Serdang: Universiti Putra Malaysia.
Syahrul Nizam Junaini. (2014). Analisis Kebolehgunaan Laman Sesawang Perpustakaan Universiti Sebagai Portal Maklumat Sehenti. In Seminar Kepustakawanan UNIMAS 2014 (Vol. 8, pp. 17–25). Kota Semarahan, Sarawak.
Wan, L., Zhou, H.-K., & Wan, J. (2018). Design and Implementation of Android-based Data Structure Mobile Learning Platform. 2018 International Conference on Education, Management and Social Science (EMSS), 273–277. https://doi.org/10.12783/dtssehs/emss2018/24073
Williams, K. R., Wasson, S. R., Barrett, A., Greenall, R. F., Jones, S. R., & Bailey, E. G. (2021). Teaching Hardy-Weinberg equilibrium using population-level Punnett Squares: Facilitating calculation for students with math anxiety. CBE—Life Sciences Education, 20(2). https://doi.org/10.1187/cbe.20-09-0219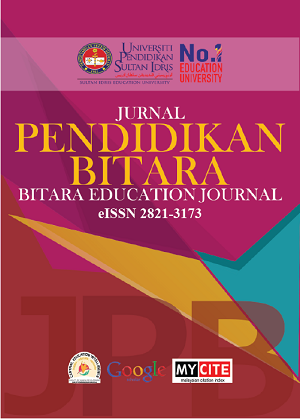 Downloads
How to Cite
Sheh Rahman, F. S., Shaarani, 2Nurul I., & Mohamed Paid, N. 'Assyakirin. (2022). Usability and development on population genetics website for Diploma of Biotechnology Program at Nilai Polytechnic : Pembangunan Dan Kebolehgunaan Laman Sesawang Population Genetics Bagi Program Diploma Bioteknologi Di Politeknik Nilai. Jurnal Pendidikan Bitara UPSI, 15(2), 33–50. https://doi.org/10.37134/bitara.vol15.2.4.2022
License
Copyright (c) 2022 Fauziah Shaheen Sheh Rahman, 2Nurul Izzah Shaarani, Nur 'Assyakirin Mohamed Paid
This work is licensed under a Creative Commons Attribution-NonCommercial-ShareAlike 4.0 International License.