Peradaban Melayu: Paksi Pembetukan Peradaban Malaysia
Keywords:
Peradaban Melayu, Pembentukan, Malaysia, Paksi, Memperkasakan
Abstract
Paksi peradaban Malaysia yang dicita-citakan oleh negara dan bangsa Malaysia seharusnya berasaskan peradaban Melayu yang telah bertapak dan mewarnai wilayah ini selama hampir 1400 tahun. Untuk memainkan peranan ini, peradaban Melayu mesti diperkasakan kembali setelah merosot akibat angkara kuasa penjajah, supaya menjadi sebuah peradaban bertaraf dunia yang mampu mencirikan secara definitif peradaban Malaysia. Ada tiga kekuatan Melayu asasi dan enam worldview Melayu yang telah mencorak clan memartabatkan peradaban Melayu silam ke taraf dunia terutamanya pada zaman Kesulatanan Melayu Melaka dan Aceh. Tiga strategi dicadangkan dalam artikel ini untuk memperkasakan kembali budaya dan peradaban Melayu, iaitu: (1) memantapkan hati budi Melayu, (2) memantapkan budaya ilmu, sains dan teknologi orang Melayu, dan (3) memantapkan organisasi dan operasi prasarana dan institusi budaya clan masyarakat Melayu setempat, sewilayah dan sejagat berasaskan nilai etika dan moral. Namun strategi pemantapan ini seharusnya memenuhi syarat yang telah ditetapkan oleh Allah s.w.t. demi mendapatkan pertolongan-Nya, kerana tanpa pertolongan Allah segala perancangan dan tindakan adalah sia-sia belaka, seperti firman-Nya, "Wahai orang yang beriman, jika engkau menolong (menegakkan agama) Allah, nescaya Dia akan menolong kamu, dan menegakkan serta mengukuhkan kedudukan kamu" (Qur' an, S. Muhammad:7).
Downloads
Download data is not yet available.
References
Abul Hasan Ali Nadwi. 1980. Religion and Civilization. Luck-now: Academy of Islamic Research and Publications.

Ali A. Mazrui. 1993. Islam and the End of History. The American Journal of Islamic So.sial Sciences, 10:4, 1993.

Ali Shahrestani, S. M. 1994. The Crisis of Contemporary Civilization and the Prospects for Salvation". Islamic University Quaterly Academic Journal, Vol. (l) No. (2), April-June, 1994.

Al-Attas, S. M. N. 1978. Islam and Secularism. Kuala Lumpur: ABIM.

. 1995. Prolegomena to the Metaphysics of Islam. Kuala Lumpur: ISTAC.

Bell, Daniel. 2000. The Future of Technology. Subang Jaya: Pelanduk Publications.

Cortesao, Armando (ed.). 1944. The Sume Oriental of Tom Pires: An Account of the East, from the Red Sea to Japan, Written in Malacca and India in 1512-1515, 2 Volumes. London: Hakluyt Society Works.

. 1992. Managingfor the Future. Oxford: Butterworth-Heinemann Ltd.

Drucker, Peter. 1993. Post-Capitalists Society . New York: HarperBusiness.

Fukuyama, F. 1993. The End of History and the Last Man. New York: Avon Book.

Gregory, R. L. (ed.). 1987. The Oxford Companion to the Mind. Oxford: Oxford University Press.

Hashim Hj Musa. 2001. Merekonstruksi Tamadun Melayu Islam: Ke Arah Pembinaan Sebuah Tamadun Dunia Alaf Ketiga. Kuala Lumpur: Akademi Pengajian Melayu.

2002. Agenda Melayu: Ke Arah Pembinaan Peradaban Melayu Bertarqf Dunia Ala/ Ketiga. Petaling Jaya: INMIND.

Huntington. S. 1996. Clash of Civilizations and the Remaking of World order. New York: Simon & Schuster.

. 1995. Democracy for the Long Haul: Keynote Address. International Conference on Consolidating the Third Wave Democracy: Trend and Challenges, Taipei, August 27, 1995.

Jabatan Perangkaan Malaysia. 2001. Banci Penduduk dan Perumahan Malaysia 2000: Taburan Pendudllk clan Ciri-Ciri Asas Demograf. Putra Jaya: Jabatan Perangkaaan Malaysia.

Mahathir Muhamad. 2002. Globalisation and the New Realities. Kuala Lumpur: Pelanduk Publications.

Muhammad Asad. 1934/75. Islam at the Crossroads. Lahore: Sh. Muahammad Ashraf.

Muhammad Kamal Hassan. 1996. Toward Actualizing Ethical dan Educational Principles in Malaysian Society. Kuala Lumpur: ABIM.

Murata, Sachiko & William Chittick. 1994. The Vision ofIslam. Minnesota: Paragon House.

Quigley, Caroll. 1979. The Evolution of Civilizations. Indianapolis: Liberty Press.

Roberts, J. M. 1992. The Penguin History of the World. London: Penguin Books.

Scwheitzer. A. 1923/55. Civilization and Ethics. London: Adams and Charles Black.

Ziauddin Sardar. 1979. The Future of Muslim Civilizsation. London: Croom Helm.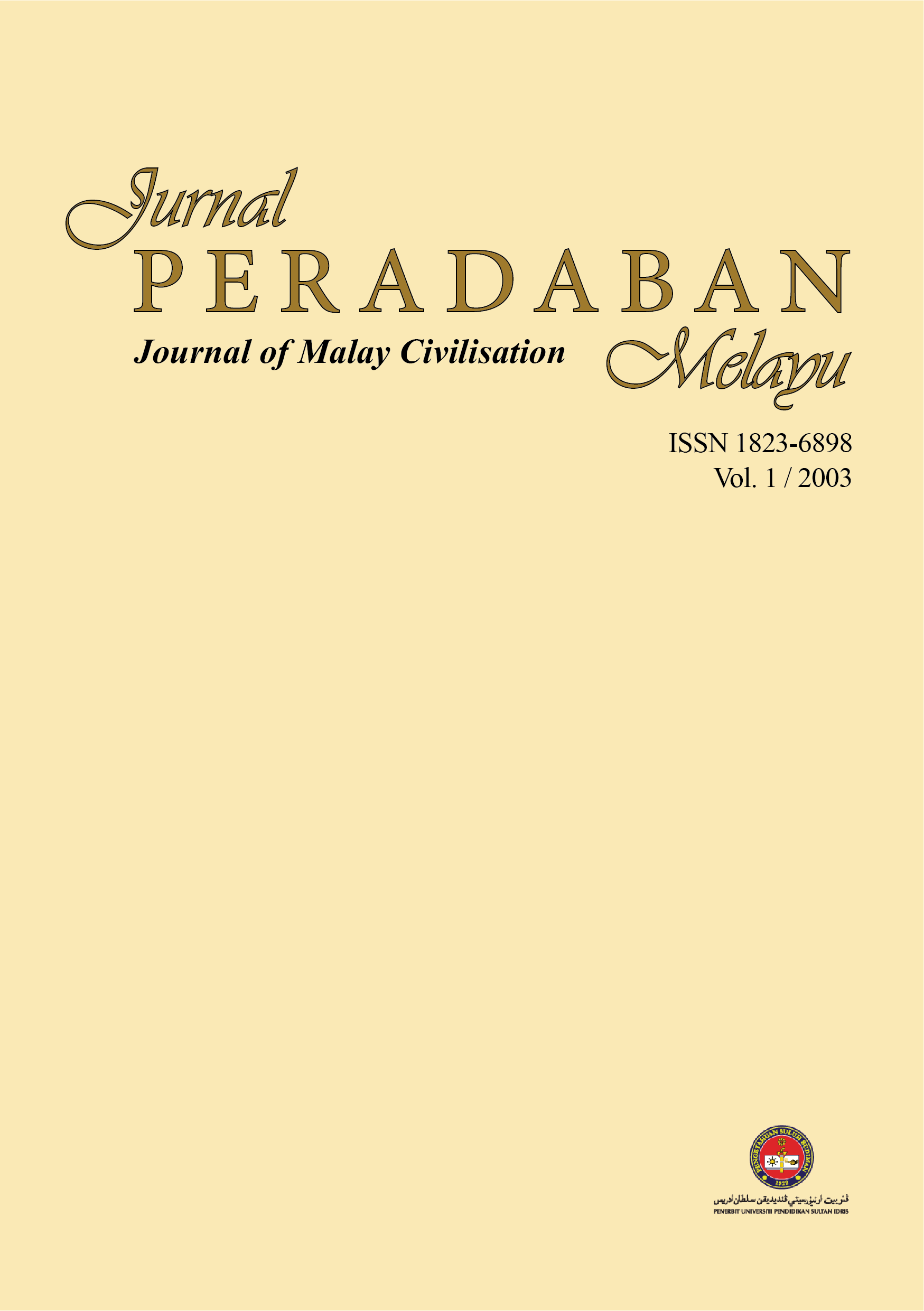 Downloads
How to Cite
Musa, H. (2003). Peradaban Melayu: Paksi Pembetukan Peradaban Malaysia. Jurnal Peradaban Melayu, 1, 54–82. Retrieved from https://ejournal.upsi.edu.my/index.php/JPM/article/view/3277