Visual propaganda: A symbolic anti-thesis towards Japanese occupation in Malaya (1942-1945)
Saiful Akram Che Cob

Universiti Teknologi MARA, Puncak Alam, Bandar Puncak Alam, Kuala Selangor, Selangor, MALAYSIA
Keywords:
Propaganda, Visual, New Order, Dai Nippon, Minshin Ha'aku, Senbu Kosaku
Abstract
This paper aims to discuss an approach of propaganda used by the military regime of Japan (Dai Nippon), during the liberation campaign of Greater East Asia in Malaya in the timespan of 1942 to 1945. The methods used is through the impact and influence of visuals as a platform of effective indoctrination. The strategy is known as Minshin Ha'aku (winning the hearts of the people) and Senbu Kosaku (indoctrination and subduing of the people), the propaganda that attacked Western exploitation of Asia and the West lack respect of Asian peoples and culture. Hence, portrayed Japan as the liberator and leader of a newly united Asia. Freedom from White Domination, freedom from injustice and oppression. The Japanese regime, through the Department of Propaganda (Senden-Bu) is a unit that is responsible to enforce this program, through rigid censorships before it reaches the masses. Hence, this paper systematically analyses the visuals as a propaganda entity that can persuade the people of Malaya to support the New Order and its policies (Shin Chitsujo) promoted by the Japanese administration. The manifestation of visual artworks in the form of propagandistic posters, pamphlets, illustration and editorial cartoons filled the spaces of buildings, offices, schools and in prints, such as newspapers and magazines. It is clear historical records tends to describe a negative tendency towards the Japanese occupation, therefore this paper gives a new and an alternative perspective, which shows that there is support towards the occupation and its policies whereby visuals becomes its pictorial narrative.
Downloads
Download data is not yet available.
References
A. Samad Ismail. (1993). Memoir A. Samad Ismail di Singapura. Bangi: Penerbit UKM.
Abu Talib Ahmad. (2003). The Malay Muslims, Islam and The Rising Sun: 1941-45.MBRAS Monograph No. 34. Kuala Lumpur: Malaysian Branch of the Royal Asiatic Society.
Ahmad Meah Baba Ahmed. (1992). Penaklukan Jepun: Suka Duka di Georgetown. Kuala Lumpur: Media Indah Sdn. Bhd.
Ahmad Sohaimi Lazim. (2014). Dasar dan Kesan Pendidikan Jepun di Tanah Melayu 1941-1945. Kuala Lumpur: Dewan Bahasa dan Pustaka.
Ahmad Suhaimi Mohd Noor. (2007). Sejarah Kesedaran Visual di Malaya. Tg Malim: Universiti Pendidikan Sultan Idris.
Akashi Yoji Y. M. (1976). Education and Indoctrination Policy in Malaya and Singapore under the Japanese Rule, 1942-1945 dalam Malaysian Journal of Education, Volume 13, Number ½, Disember 1976 (m/s 1-2).
Akashi Yoji Y. M. (2008). New Perspectives on The Japenes Occupation in Malaya and Singapore, 1941-1945. Singapore: NUS Press.
Andrew Barber. (2010). Penang at War: A History of Penang during and between the First and Second World Wars 1914-1945. Kuala Lumpur: AB&A.
Andrew Barber. (2012). Kuala Lumpur at War 1939-1945. Kuala Lumpur: Karamoja Press.
Fajar Asia Magazine. (January 1943 to April 1944).
Kratoska P. H. (1998). The Japenese Occupation of Malaya, 1941-1945. Ausralia: Allen & Unwin.
Kurasawa Aiko. (1987). Propaganda Media On Java Under the Japanese 1942-1945. dalam jurnal Indonesia No. 44, Oktober 1987 (m/s 59-116): South East Asia Program Publications Cornell University.
Lee Geok Boi. (1992). Syonan: Singapore Under The Japanese 1942- 1945. Singapura: Singapore Heritage Society.
Lim Cheng Tju. (2009)."Forgotten Legacies": The Case of Abdullah Ariff's Pro-Japanese Cartoons During the Japanese Occupation of Penang. Drawing The Line:Using Cartoon as Hitorical Evidence, edited by Scully, Richard; Quartly, Marian. Melbourne: Monash University ePress.
Malai Sinpo Newspaper. (January 1943 to September 1945).
Md. Sidin Ahmad Ishak. (1998). Penerbitan & Percetakan Buku Melayu, 1807-1960. Kuala Lumpur: Dewan Bahasa dan Pustaka.
Muliyadi Mahamood. (2004). The History of Malay Editorial Cartoons (1930s-1993). Kuala Lumpur: Utusan Publications & Distributors Sdn. Bhd.
Penang Daily News Newspaper. (July 1942 to October 1942).
Saiful Akram Che Cob. (2018). Propaganda Visual Pada Era Penaklukan Jepun (1942- 1945);Manifestasi Simbolik, Retorik & Satira Radikal. Kuala Lumpur: Institut Terjemahan dan Buku Malaysia (ITBM).
Semangat Asia Magazine. (January 1943 to February 1944).
Takao Fusayama. (1997). Memoir of Takao Fusayama: A Japanese Soldier in Malaya & Sumatera.Bangi: Penerbit UKM.
Talib Samat. (1992). Syed Syeikh Al-Hadi Sasterawan Progresif Melayu. Kuala Lumpur: Dewan Bahasa dan Pustaka.
The Syonan Sinbun Newspaper. (January 1943 to September 1943).
The Syonan Shimbun Newspaper. (June 1945 to August 1945).
Tsuruya M. (2005). Senso Sakusen Kirokuga (War Campaign Documentary Painting): Japan's National Imagery of The "Holy War", 1937-1945. Unpublished PhD Thesis: University of Pittsburgh.
Zakaria Ali. (2007). Abdullah Ariff: Bapa Senilukis Moden Malaysia. Kuala Lumpur: Balai Senilukis Negara.
Zakiah Hanum. (1994). Artikel: Malai Sinpo. Kuala Lumpur: Arkib Negara Malaysia.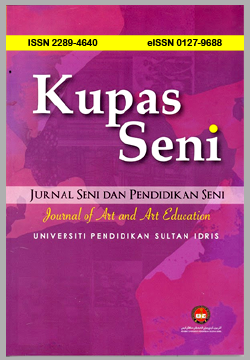 How to Cite
Che Cob, S. A. (2020). Visual propaganda: A symbolic anti-thesis towards Japanese occupation in Malaya (1942-1945). KUPAS SENI, 8(1), 43-53. https://doi.org/10.37134/kupasseni.vol8.1.5.2020
Copyright (c) 2020 Saiful Akram Che Cob
This work is licensed under a Creative Commons Attribution-NonCommercial-ShareAlike 4.0 International License.