Webcomic As Means to Fight Stigmatization of Mental Disorders Among Adolescents
Ezrin Mustafa Bakri

Faculty of Art & Design, Universiti Teknologi MARA, Shah Alam, Selangor, MALAYSIA

Saiful Akram Che Cob

Faculty of Art & Design, Universiti Teknologi MARA, Shah Alam, Selangor, MALAYSIA
Keywords:
Adolescents, Awareness, Mental Disorders, Stigma, Webcomic
Abstract
Mental disorders are a serious issue often being avoided. According to the World Health Organization (WHO), mental disorders are one of the most severe public health issues of the 21st century, as new studies show that mental disorders impact children and adolescents all over the world where half of all mental disorders begin at the age of 14 years old. That makes the issue an important part of the Sustainable Development Goals (SDG) agenda for improving the future by 2030. Notably, the suicidal trend among adolescents in Malaysia is rising alarmingly due to technological advancement and stigmatization. Stigma is closely related to faith and culture. It is a negative belief that causes bias within a group of individuals, resulting in stereotyping and discrimination. Those challenges have the heavy effect that the stigma has on them. The research aims to establish whether webcomics can rationalize knowledge or understanding and the potential to combat stigma against mental disorders and to propose a series of webcomics as awareness and means to fight stigmatization. The selected webcomics were then analyzed qualitatively, using both formal analysis and content analysis. The most influential keyword in these webcomics was 'depression and anxiety.' While the issue is taken seriously and requires more focus to express social messages, the webcomic needs a positive denotation to enlighten, motivate and persuade the audience to an impression towards Etsuro: "Shin no Manga". The webcomic series would somehow manage to communicate a profound impact on a suitable medium that through the powerfulness of the visual language may help bring the mental disorder to insight and recognition.
Downloads
Download data is not yet available.
References
Armitage, S., Parkinson, M., Halligan, S., & Reynolds, S. (2020). Mothers' Experiences of Having an Adolescent Child with Depression: An Interpretative Phenomenological Analysis. Journal of Child and Family Studies, 29(6), 1617-1629. doi: 10.1007/s10826-020-01705-5
Audrey Dermawan. (2020). Penang boy who committed suicide 'targeted by teachers', claims family. New Straits Times. Retrieved 20th February 2020, from https://www.nst.com.my/news/nation/2020/02/563112/penang-boy-who-committed-suicide-targeted-teachers-claims-family
Benoit, W., & Benoit, P. (2008). Persuasive Messages: The Process of Influence. Wiley-Blackwell. ISBN: 978-1-405-15820-6
Chagnon, F. (2007). Coping Mechanisms, Stressful Events and Suicidal Behavior Among Youth Admitted to Juvenile Justice and Child Welfare Services. Suicide and Life-Threatening Behavior, 37(4), 439-452. doi: 10.1521/suli.2007.37.4.439
Chisholm, H. (2019). About the Artist. Just Peachy Comics. Retrieved from https://www.justpeachycomics.com/
Cialdini, R. (2016). Pre-Suasion: A Revolutionary Way to Influence and Persuade. London: Penguin Random House. ISBN 9781847941428
Hamdy, S., & Nye, C. (2019). Comics and revolution as global public health intervention: The Case of Lissa. Global Public Health, 1-21. doi: 10.1080/17441692.2019.1682632
Hassan, M., Hassan, N., Kassim, E., & Hamzah, M. (2018). Issues and Challenges of Mental Health in Malaysia. International Journal of Academic Research in Business and Social Sciences, 8(12). doi: 10.6007/ijarbss/v8-i12/5288
Institute for Public Health. (2017). National Health and Morbidity Survey 2017 (NHMS 2017): Adolescent Mental Health (DASS-21). Kuala Lumpur: National Institutes of Health, Ministry of Health Malaysia. ISBN: 978-983-2387-38-1
Institute for Public Health. (2015). National Health and Morbidity Survey 2015 (NHMS 2015). Vol. II: Non-Communicable Diseases, Risk Factors & Other Health Problems. Kuala Lumpur: Institute for Public Health, National Institutes of Health, Ministry of Health. ISBN: 978-983-2387-23-7
Lyttle, J. (2001). The Effectiveness of Humor in Persuasion: The Case of Business Ethics Training. The Journal of General Psychology, 128(2), 206-216. doi: 10.1080/00221300109598908
Mayo, M., Rimer, T., & Kerkham, H. (2001). War, occupation, and creativity. Honolulu: University of Hawai'i Press.
McCrindle. M. (2018). The ABC of XYZ: Understanding the Global Generations. Australia: McCrindle Research Pty.
Muliyadi Mahamood. (2010). Dunia Kartun: Menyingkap Pelbagai Aspek Seni Kartun Dunia Dan Tempatan. Kuala Lumpur: Creative Enterprise. ISBN 978-983-893-920-1
Nor Hanisah Kamaruzaman. (2016). Fenomena Komik Web. Harian Metro. Retrieved from Retrieved from https://www.pressreader.com/malaysia/harian-metro/20160727/283064118709769
Saiful Akram Che Cob. (2016). Peranan Visual Sebagai Media Propaganda Sewaktu Pendudukan Jepun Dai Nippon di Malaysia, 1942-1945. (Doctoral Dissertation, Universiti Pendidikan Sultan Idris, Malaysia). Retrieved from https://www.researchgate.net/publication306111454_PERANAN_VISUAL_SEBAGAI_MEDIA_PROPAGANDA_SEWAKTU_PENDUDUKAN_JEPUN_DAI_NIPPON_DI_MALAYSIA_1942-1945
Saiful Akram Che Cob. (2018). Propaganda Visual Pada Era Penaklukan Jepun (1842-1945): Manisfestasi Simbolik, Retorik dan Satira Radikal. Kuala Lumpur: Institut Terjemahan & Buku Malaysia.
Schwab, K. (2016). Revolusi Industry Keempat. Jakarta: PT Gramedia Pustaka Utama.
Sharifah Sakinah. (2019). Malaysian Teens Are Suffering from Mental Health Problems. EasyUni. Retrieved 20th February 2020, from https://www.easyuni.my/en/advice/malaysian-teens-mental-health-2444/
Shelton, S. (2014). Building Social Change Through Interactive Webcomics. Research Papers. Paper 553. Retrieved from http://opensiuc.lib.siu.edu/gs_rp/553
Siti Mahani Muhazir., & Nazlinda Ismail. (2015). Generasi Z: Tenaga Kerja Baru dan Cabarannya. Retrieved from: docs.jpa.gov.my/docs/pelbagai/Artikel/2015/Generasi_Z.pdf
Twenge, J. M. (2017). iGen. New York: Atria Books. ISBN 9781501151989
Widayanti, A., & Muntaha, M. (2019). ISLAMIC WEB COMICS AS VISUAL AID IN TEACHING ENGLISH FOR ISLAMIC SECONDARY SCHOOL STUDENTS. Indonesian Journal Of Islamic Literature And Muslim Society, 3(1), 75. doi: 10.22515/islimus.v3i1.1298
Wong N. (2019). What is depression and why should Malaysians care? Free Malaysia Today. Retrieved from https://www.freemalaysiatoday.com/category/leisure/2019/11/12/what-is-depression-and-why-should-malaysians-care/
Wong, Y., Khan, T., Wong, Z., Ab Rahman, A., & Jacob, S. (2019). Perception of Community Pharmacists in Malaysia About Mental Healthcare and Barriers to Providing Pharmaceutical Care Services to Patients with Mental Disorders. Community Mental Health Journal, 56(1), 88-98.
doi: 10.1007/s10597-019-00496-4
World Health Organization. (2019). Mental disorders. World Health Organization. Retrieved from https://www.who.int/news-room/fact-sheets/detail/mental-disorders
World Health Organization. (2020). Mental health included in the UN Sustainable Development Goals. World Health Organization. Retrieved from https://www.who.int/mental_health/SDGs/en/
YADIM. (2018). Menangani isu penyakit mental di Malaysia. Yayasan Dakwah Islamiah Malaysia (YADIM). Retrieved from http://www.yadim.com.my/v2/menangani-isu-penyakit-mental-di-malaysia/
Yee, H. S. (2018). Stigma of Mental Illness and Attitudes towards Seeking Mental Health Services among Undergraduates in a Public University in Malaysia. Universitas Indonesia International Psychology Symposium for Undergraduate Research (UIPSUR 2017). doi: 10.2991/uipsur-17.2018.37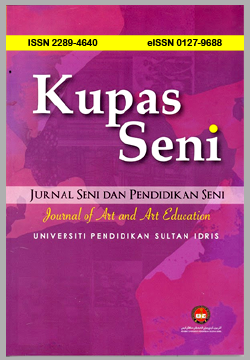 How to Cite
Mustafa Bakri, E., & Che Cob, S. A. (2020). Webcomic As Means to Fight Stigmatization of Mental Disorders Among Adolescents. KUPAS SENI, 8(1), 54-63. https://doi.org/10.37134/kupasseni.vol8.1.6.2020
Copyright (c) 2020 Ezrin Mustafa Bakri, Saiful Akram Che Cob
This work is licensed under a Creative Commons Attribution-NonCommercial-ShareAlike 4.0 International License.