Competitive anxiety among University Student-Athlete of Uitm Sarawak
Redha Afifi Hasni

Faculty of Sports Science and Recreation, Universiti Teknologi MARA, Cawangan Sarawak, MALAYSIA

Suhardi Kram

Faculty of Sports Science and Recreation, Universiti Teknologi MARA, Cawangan Sarawak, MALAYSIA

Ebby Waqqash Mohamad Chan

Centre for Sport and Exercise Sciences, University of Malaya, MALAYSIA
Keywords:
Anxiety, Student-athletes, Demographic variables
Abstract
This study investigates the competitive anxiety between genders and types of sports among university student-athletes of Universiti Teknologi MARA (UiTM) Sarawak. A cross-sectional study was conducted with 155 student-athletes (85 males and 70 females) using Sport Anxiety Scale-2 (SAS-2) to evaluate sports anxiety. A stratified random sampling technique was utilised in participants selection. The analysis result by independent-sample t-test shows that there was a significant difference between male and female university student-athletes. ANOVA test was conducted to the university student-athletes to compare competitive anxiety between age groups and it was reported that there was no significant difference for somatic anxiety and worry but the result shows a significant for concentration disruption. Most of the participants scored highly in a moderate level of competitive anxiety because an anxious person is more vulnerable to poor productivity as they focus more often on potential environmental threats due to the negative effects of the shift and inhibition of the attention system. This indicates anxiety is appraised differently by athletes based on their gender and age groups.
Downloads
Download data is not yet available.
References
Abrahamsen, F. E., Roberts, G. C., & Pensgaard, A. M. (2008). Achievement Goals and Gender Effects on Multidimensional Anxiety in National Elite Sport: Psychology of Sport and Exercise, 9(4), 449-464. doi: 10.1016/j.psychsport.2007.06.005.
Allawy, M. H. (2013). Anxiety among Egyption Athletes as Measured by the 'Arabic Precompetitive State Anxiety Inventory.': Acta Kinesiologica, 7, 70-72.
Al-Ansi, F. M. A., Muhamad, T. A., Salamuddin, N., & Hassan, F. D. (2016). Demographic Differences in Sport Anxiety among Universities Student Athletes in The Republic of Yemen: Journal of Sports and Physical Education, 3(5), 91-96.
Al-Khasawneh, G. (2007). Estimate the Levels of Anxiety of Female Students in Physical Education College at Yarmouk University in Gymnastics Courses: An-Najah University Journal for Research, 21, 1097-1112.
Atarody, E. (2011). The Relationship between Anxiety and Performance Anxiety Coaches Football Players: University of Gonabad.
Azimkhani, A., Gursoy, R., & Torbati H. R. T. (2015). Analyzing the Relationship between Mental Skills and Competition Anxiety among Young and Adult Skiers: International Journal of Sport Studies, 5, 860-867.
Byrne, B. M. (2010). Structural Equation Modeling with Amos: Basic concepts, applications, and programming (2nd edition).
Chen, F. F., Sousa, K. H., & West, S. G. (2005). Teacher's corner: Testing Measurement Invariance of Second Order Factor Models: Structural equation modeling, 12(3), 471- 492. doi: 10.1207/s15328007sem1203_7.
Cheng, W. K. N., Hardy, L., & Markland, D. (2009). Toward A Three-Dimensional Conceptualization of Performance Anxiety: Rationale and Initial Measurement Development. Psychology of Sport and Exercise, 10(2), 271-278. doi: 10.1016/j.psychsport.2008.08.001.
Correia, M., & Rosado, A. F. B. (2019). Anxiety in Athletes: Gender and Type of Sport Differences: International Journal of Psychological Research, 12(1), 9-17. doi: 10.21500/20112084.3552.
Craft, L. L., Magyar, T. M., Becker, B. J., & Feltz, D. (2003). The Relationship between The Competitive State Anxiety Inventory-2 and Sport Performance: A Meta-Analysis: Journal of Sport & Exercise Psychology, 25(1), 44-65. doi: 10.1123/jsep.25.1.44.
Cronbach, L. J. (1951). Coefficient Alpha and the Internal Structure of Tests: Psychometrika, 16, 297-334.
Dacen, J. (2012). Test Performance Strategies among College Going Athletes: Differences Across Type of Sports and Gender: International Journal of Behavioral Social and Movement Sciences, 1, 4.
Dias, C., Cruz, J., & Fonseca, A. (2010). Coping Strategies, Multidimensional Competitive Anxiety and Cognitive Threat Appraisal: Differences across sex age and type of sport: Serbian Journal of Sports Sciences, 4(1), 2331.
Eysenck, M. W., & Derakshan, N. (2011). New Perspectives in Attentional Control Theory: Personality and Individual Differences, 50, 955-960.
Gill, D., Williams, L., & Reifsteck, E. (2017). Psychological Dynamics of Sports and Exercise: United State: Human Kinetics.
Grossbard, J. R., Smith, R. E., Smoll, F. L., & Cumming, S. P. (2009). Competitive Anxiety in Young Athletes: Differentiating Somatic Anxiety, Worry, And Concentration disruption: Anxiety Stress Coping, 22(2), 153-66.
Hair, J., Black, W. C., Babin, B. J. & Anderson, R. E. (2010). Multivariate data analysis, 7
Hálfdanardóttir, B. F. (2016). Anxiety and Depression Symptoms in Athletes and Their Attitudes towards These Problems.
Hamidi, S., & Besharat, M. A. (2010). Perfectionism and Competitive Anxiety in Athletes: Procedia-Social and Behavioral Sciences, 5, 813-817. doi: 10.1016/j.sbspro.2010.07.190.
Hanton, S., Neil, R., Mellalieu, S. D., & Fletcher, D. (2008). Competitive Experience and Performance Status: An Investigation into Multidimensional Anxiety and Coping: European Journal of Sport Science, 8(3), 143-152. doi: 10.1080/17461390801987984.
Hardy, L., Jones, G., & Gould, D. (1996). Understanding Psychological Reparation for Sport: Theory and Practice of Elite Performers, Chichester, UK: Wiley.
Jones, J. G., & Cale, A. (1989). Relationship between Multidimensional Competitive State Anxiety and Cognitive and Motor Subcomponents of Performance: Journal of Sports Sciences, 7(3), 229-240. doi: 10.1080/02640418908729843.
Krejcie, R. V., & Morgan, D. W. (1970). Determining Sample Size for Research Activities: Educational and Psychological Measurement, 30, 607-610.
Kristjánsdóttir, H., Erlingsdóttir, A. V., Sveinsson, G., & Saavedra, J. M. (2018). Psychological Skills, Mental Toughness and Anxiety in Elite Handball Players: Personality and Individual Differences, 134, 125-130. doi: 10.1016/j.paid.2018.06.011.
Kumar, M. S., & Woo J. (2015). Public debt and growth. Economica, 82(328), 705-739. doi:org/10.1111/ecca.12138.
Leray, E., Camara, A., Drapier, D., Rlou, F., Bougeant, N., Pelissolo, A., & Millet, B. (2011). Prevalence, characteristics and comorbidities of anxiety disorders in France: Mental Health in General Population survey (MHGP). European Psychiatry, 26(6), 339-345.
Martens, R. (1977). Sport competition anxiety test. Champaign: IL: Human Kinetics
Martens, R., Vealey, R. S., & Burton, D. (1990). Competitive Anxiety in Sport. Champaign, Illinois: Human Kinetics.
Miller, S.R. (2012). I don't want to get involved: Shyness, Psychological Control, and Youth Activities: Journal of Social and Personal Relationships, 29(7), 908-929. doi: 10.1177/0265407512448266.
Modroño, C. & Guillén, F. (2012). Anxiety Characteristics of Competitive Windsurfers: Age, Gender, and Performance Outcome: Journal of Sport Behavior, 34(3), 281-294.
Morrow, J. R., Mood, D. P., Disch, J. G., & Kang, M. (2016). Psychological Measurements in Sports and Exercise: Measurement and Evaluation in Human Performance with Web Study Guide (5th Edition), 330-331.
Nideffer, R. M., & Sagal, M. S. (2006). Concentration and Attention Control Training: Applied Sport Psychology: Personal Growth to Peak Performance, 5, 382–403.
Nunnally, J. C. (1978). Psychometric Theory (2nd ed.). New York: McGraw-Hill.
O'Donoghue, P., & Neil, R. (2015). Relative Age Effect on Behavioral Regulation, Burnout Potential and Anxiety of Sports Students: European Journal of Human Movement, 35, 1-11.
Pedhazur, E. J., & Schmelkin, L. P. (1991). Measurement, Design, and Analysis: An Integrated Approach (Student ed.). Lawrence Erlbaum Associates, Inc.
Perry, J. (2020). Dealing with Stress as A College Athlete: Athlete Network.
Perry, J. D., & Williams, J. M. (1998). Relationship of Intensity and Direction of Competitive Trait Anxiety to Skill Level and Gender in Tennis: The Sport Psychologist, 12(2), 169-179. doi: 10.1123/tsp.12.2.169.
Ponseti, F. J., Sese, A., & Garcia-Mas, A. (2016). The Impact of Competitive Anxiety And Parental Influence On The Performance of Young Swimmers: Revista Iberoamericana de Psicología del Ejercicio y el Deporte, 11(2), 229-237.
Ramis, Y., Viladrich, C., Sousa, C., & Jannes, C. (2015). Exploring The Factorial Structure of The Sport Anxiety Scale-2: Invariance Across Language, Gender, Age and Type of Sport: Psicothema, 27(2), 174-181. doi: 10.7334/psicothema2014.263
Robinson, E., & Smith, E. (2015). Biblical Researches in Palestine and the adjacent regions 2.
Sarason, I. G. (1984). Stress, Anxiety, and Cognitive Interference: Reactions To Tests: Journal of Personality and Social Psychology, 46(4), 929–938. doi: org/10.1037/0022-3514.46.4.929.
Smith, R. E., & Smoll, F. (1990). Sport Performance Anxiety. Handbook of social and evaluation anxiety, 417–454.
Smith, R. E., Smoll, F. L., Cumming, S. P., & Grossbard, J. R. (2006). Measurement of Multidimensional Sport Performance Anxiety in Children and Adults: The Sport Anxiety Scale-2: Journal of Sport & Exercise Psychology, 28(4), 479-501. doi: 10.1123/jsep.28.4.479.
Smith, R.E., Smoll, F.L., & Schutz, R.W. (1990). Measurement and correlates of Sport- specific Cognitive and Somatic Trait Anxiety: The Sport Anxiety Scale. Anxiety Research, 2, 263-280. doi: 10.1080/08917779008248733.
Spielberger, C.D. (1966). Theory and Research on Anxiety: In C.D. Spielberger (Ed.), Anxiety and Behaviour, 3-20.
Spielberger, C. D., & Gorsuch, R. L. (1985). Mediatting Processes in Verbal Conditioning: Public Health Service on Grants, MH 722, MH 7446, and HD 47.
Spielberger, C. D., & Rickman, L. R. (1991). Assessment of State and Trait Anxiety: Anxiety: Psychological and Clinical Perspectives, 69-83.
Steel, Z., Marnane, C., Iranpour, C., Chey, T., Jackson, J. W., Patel, V., & Silove, D. (2014). The Global Prevalence of Common Mental Disorders: A Systematic Review and Meta-Analysis 1980-2013: Int J Epidemiol, 43(2), 476-493
Stefánsson, J. G., & Líndal, E. (2009). Algengi geðraskana á Stór-Reykjavíkursvæðinu. Læknablaðið, 95, 559-564.
Stenling, A., Hassmen, P., & Holmstrom, S. (2014). Implicit Beliefs of Ability, Approach-Avoidance Goals and Cognitive Anxiety among Team Sport Athletes: European Journal of Sport Science, 14(7), 720-729. doi: 10.1080/17461391.2014.901419.
Sutcliffe, J. H., & Greenberger, P. A. (2020). Identifying Psychological Difficulties in College Athletes: Journal of Allergy and Clinical Immunology: In Practice, 8(7), 2216-2219.
Thatcher, J., Thatcher, R., & Dorling, D. (2004). Gender Differences in the Pre-Competition Temporal Patterning of Anxiety and Hormonal Responses: Journal of Sports Medicine and Physical Fitness, 44(3), 300-308.
Woodman, T., & Hardy, L. (2003). The Relative Impact of Cognitive Anxiety and Self- confidence upon Sport Performance: A Meta-analysis: Journal of Sports Sciences, 21(6), 443-457. doi:10.1080/0264041031000101809.
Worchel, S., & Goethals, J. D. (1989). Adjustment: Pathways to Personal Growth: Englewood Cliffs, NJ: Prentice-Hall.
Yago, R., Carme, V., Catarina, S., & Caroline, J. (2015). Exploring the Factorial Structure of the Sport Anxiety Scale-2: Invariance across Language, Gender, Age and Type of Sport: Psicothema, 27(2), 174-81. doi: 10.7334/psicothema2014.263.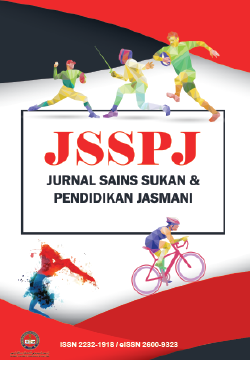 How to Cite
Hasni, R. A., Kram, S., & Mohamad Chan, E. W. (2021). Competitive anxiety among University Student-Athlete of Uitm Sarawak. Jurnal Sains Sukan & Pendidikan Jasmani, 10(1), 7-14. https://doi.org/10.37134/jsspj.vol10.1.2.2021
Copyright (c) 2021 Redha Afifi Hasni, Suhardi Kram, Ebby Waqqash Mohamad Chan
This work is licensed under a Creative Commons Attribution-NonCommercial-ShareAlike 4.0 International License.