The Effect of Outdoor Education Programme on Environmental Attitudes Among Secondary School Students in Sabak Bernam district
Keywords:
Outdoor education, student awareness, attitude to environment, model comparison
Abstract
This study was conducted to determine the effect of Outdoor Education program on environmental attitudes among secondary school students in Sabak Bernam district. This study is a quantitative study which uses quasi -experimental pre -test and post -test design. The study population consisted of secondary school students from 17 secondary schools in Sabak Bernam district). A total of 160 students were systematically randomly selected and divided into two groups, namely the treatment group of 80 students following the PPLU program and the control group of 80 students following the Uniformed Unit Prime Camp (PPUB) program. The main instrument of this study is the Enviromental Attitudes Knowledge & Scale (EAKS) questionnaire which has 36 items of Attitudes Towards the Environment question. The findings of the study were analyzed using several analysis of the study, namely percentage, independent t test and paired t test. Multiple regression analysis was also used to find factors influencing the relevance of individual attitude changes. The findings of the study stated that students living in the city were seen to have a significant change in attitude towards the environment after completing the PPLU camp program.
Downloads
Download data is not yet available.
References
Finn, K. E., Yan, Z., & McInnis, K. J. (2018). Promoting physical activity and science learning in an outdoor education program. Journal of Physical Education, Recreation & Dance, 89(1), 35-39.
Harris, S. (Ed.). (2022). The Nature, Causes, Effects and Mitigation of Climate Change on the Environment. BoD–Books on Demand.
Hanna, G. (1995). Wilderness related environmental outcomes of adventure and ecology education programming. Journal of Environmental Education, 27(1), 21-32.
Md Amin, M.T. (2010). Effects of residential outdoor education camp on environmental knowledge and attitudes of first year undergraduate students from selected Malaysian universities.Universiti Putra Malaysia, Malaysia.
Omar F. M. S. (2016). Kesan Program Perkhemahan Pendidikan Luar Terhadap Sikap Alam Sekitar. Disertasi Tesis Master, Universiti Pendidikan Sultan Idris, Tanjung Malim Malaysia
Tecer, S. (2007). Çevre için eğitim: Balıkesir ili ilköğretim öğrencilerinin çevresel tutum, bilgi, duyarlılık ve aktif katılım düzeylerinin belirlenmesi üzerine bir çalışma. Fen Bilimleri Enstitüsü, Zonguldak.
Thiengkamol, N. (2011). Enviroment and Development Book 1(4thed.). Chulalongkorn University Press, Bangkok, Thailand.
Tussyadiah, I. P., Wang, D., Jung, T. H., & Tom Dieck, M. C. (2018). Virtual reality, presence, and attitude change: Empirical evidence from tourism. Tourism Management, 66, 140-154.
Zandalinas, S. I., Fritschi, F. B., & Mittler, R. (2021). Global warming, climate change, and environmental pollution: recipe for a multifactorial stress combination disaster. Trends in Plant Science, 26(6), 588-599.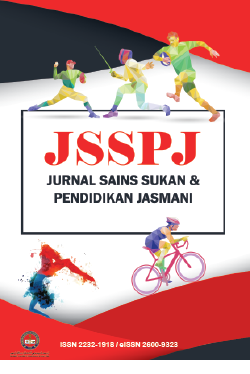 Downloads
How to Cite
Mohd Said, O. F., Md Taff, M. A., Zakaria, J., Mohd Yasim, M., Mohd Ramli, F. A., & Abd Hamid, A. R. (2022). The Effect of Outdoor Education Programme on Environmental Attitudes Among Secondary School Students in Sabak Bernam district. Jurnal Sains Sukan & Pendidikan Jasmani, 11(2), 48–54. https://doi.org/10.37134/jsspj.vol11.2.5.2022
License
Copyright (c) 2022 Omar Firdaus Mohd Said, Md Amin Md Taff, Jaffry Zakaria, Mazuki Mohd Yasim, Farizul Athir Mohd Ramli, Abd Rashid Abd Hamid
This work is licensed under a Creative Commons Attribution-NonCommercial-ShareAlike 4.0 International License.