Validity and reliability of Timbuild Instrument for Team Building Program Among Universiti Pendidikan Sultan Idris Staffs
Kesahan dan Kebolehpercayaan Timbuild Instrument bagi program Pembentukan Pasukan dalam kalangan kakitangan Universiti Pendidikan Sultan Idris
Keywords:
instrument development, TimBuild Instrument, team building, university staff
Abstract
Every year, team building programs are conducted in various government or private sectors. Despite the frequency of running the program, it is important to evaluate the extent to which the program actually works. In an effort to see the success of the program, there needs to be a standard or validated instrument. Therefore, this study was conducted to assess the validity and reliability of the TimBuild Instrument, which is a self-assessment instrument for the team building program among the staff of Universiti Pendidikan Sultan Idris. Five field experts and two language experts were involved in the process of finding the validity of the constructed instrument. The results of the validity evaluation show that the validity value of field experts as a whole is .87, while the validity of language experts recorded a value of .85. The reliability process of TimBuild Instrument items was carried out to a pilot study group of 40 people. The results of the Cronbach Alpha (α) coefficient analysis recorded a value of r=.85. The results of this study as a whole show that the TimBuild Instrument is an instrument with high validity and reliability, which can be used in team building programs. The development of TimBuild instrument is very significant with the needs and performance improvement of university staff after the Covid-19 pandemic which to some extent has an impact on the relationship between staff.
Downloads
Download data is not yet available.
References
Awang, Z. (2014). Research Methodology And Data Analysis (2nd Ed.). Universiti Teknologi Mara, Malaysia: Uitm Press.
Bonett, D. G., & Wright, T. A. (2015). Cronbach's Alpha Reliability: Interval Estimation, Hypothesis Testing, And Sample Size Planning. Journal Of Organizational Behavior, 36(1), 3-15.
Bostan, S., Erdem, R., Ozturk, Y. E., Kilic, T., & Yilmaz, A. (2020). The effect of COVID-19 pandemic on the Turkish society. Electron J Gen Med. 2020; 17 (6): em237.
Chua, Y. P. (2012). Mastering Research Methods. Mcgraw-Hill Education.
Drost, E. A. (2011). Validity and reliability in social science research. Education Research and perspectives, 38(1), 105-123.
Hashim, A. (2014). Panduan Analisis Data Secara Efisien. Bandar Baru Bangi: Dubook Press Sdn. Bhd.
Hashim, A., & Raj, A. A. (2018). Construct Validity And Reliability Of Outdoor Education Evaluation Instrument. International Journal of Scientific Research and Management, 6(05).
Karasneh, R., Al-Azzam, S., Muflih, S., Soudah, O., Hawamdeh, S., & Khader, Y. (2021). Media's effect on shaping knowledge, awareness risk perceptions and communication practices of pandemic COVID-19 among pharmacists. Research in Social and Administrative Pharmacy, 17(1), 1897-1902.
Khan, M. R., & Wajidi, A. (2019). Role of leadership and team building in employee motivation at workplace. GMJACS, 9(1), 11-11.
Mohd Said, O. F., Md Taff, M. A., & Hashim, A. (2020). Self-Assesment Instrument Model Competency Level of Outdoor Education Coaches Co-Curriculum Center In Malaysia. European Journal of Molecular & Clinical Medicine, 7(2), 5997-6007.
Osgood, C. E. (1964). Semantic Differential Technique In The Comparative Study of Cultures. Journal of American Anthropologist, 66(3), 171-200.
Riggio, R. E. (2014). Introduction to Industrial/ Organizational Psychology. Upper Saddle River, NJ: Prentice Hall.
Sidek, M. N., & Jamaludin, A. (2005). Pembinaan Modul: Bagaimana Membina Modul Latihan dan Modul Akademik. Serdang, Selangor: Penerbit Universiti Putra Malaysia.
Stoklasa, J., Talášek, T., & Stoklasová, J. (2019). Semantic Differential for the Twenty-First Century: Scale Relevance and Uncertainty Entering The Semantic Space. Quality & Quantity, 53(1), 435-448.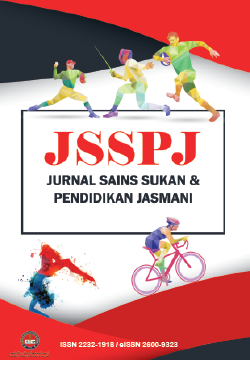 Downloads
How to Cite
Mohd Said, O. F., Zakaria, J., Muszali, R., Mohd Ramli, F. A., & Abd Hamid, A. R. (2023). Validity and reliability of Timbuild Instrument for Team Building Program Among Universiti Pendidikan Sultan Idris Staffs: Kesahan dan Kebolehpercayaan Timbuild Instrument bagi program Pembentukan Pasukan dalam kalangan kakitangan Universiti Pendidikan Sultan Idris. Jurnal Sains Sukan & Pendidikan Jasmani, 12(1), 27–33. https://doi.org/10.37134/jsspj.vol12.1.4.2023
License
Copyright (c) 2023 Omar Firdaus Mohd Said, Jaffry Zakaria, Rozaireen Muszali, Farizul Athir Mohd Ramli, Abd Rashid Abd Hamid
This work is licensed under a Creative Commons Attribution-NonCommercial-ShareAlike 4.0 International License.