Pengaruh peletakan pasaran institusi pengajian tinggi terhadap wakaf pendidikan
The influence of higher education institutions market Positioning to educational waqf
Keywords:
peletakan pasaran, imej, kuantiti, personaliti, wakaf
Abstract
Wakaf pendidikan ditubuhkan sebagai alternatif untuk mengurangkan beban pembiayaan kerajaan bagi tujuan pembangunan institusi pendidikan. Kajian ini bertujuan untuk mengkaji pengaruh peletakan pasaran institusi pengajian tinggi terhadap wakaf pendidikan. Kajian ini menggunakan pendekatan kuantitatif. Sampel terdiri daripada 381 orang responden Muslim yang berumur 18 tahun ke atas di sekitar kawasan penempatan Universiti Teknologi Mara Seri Iskandar, Perak. Teknik persampelan rawak sistematik digunakan bagi proses pengumpulan data kajian. Data dianalisis menggunakan dua kaedah analisis statistik iaitu deskriptif dan inferens. Statistik deskriptif terdiri daripada analisis kekerapan, peratus, min dan sisihan piawai dengan menggunakan perisian Statistical Packages for Social Science (SPSS). Statistik inferens pula melibatkan analisis Structural Equation Modeling (SEM) menerusi perisian Analysis of Moment Structures (AMOS). Dapatan analisis hubungan langsung mendapati atribut peletakan pasaran iaitu imej dan personaliti mempunyai pengaruh yang signifikan terhadap kecenderungan berwakaf kepada IPT. Justeru, peningkatan dan penurunan imej dan personaliti IPT mampu mempengaruhi peningkatan dan penurunan wakaf pengajian tinggi. Kajian ini mendapati bahawa imej dan personaliti IPT yang unggul dapat meletakkan institusi pengajian tinggi berada di tempat yang lebih baik dalam persaingan pasaran pendidikan. Implikasi kajian ini dapat membantu institusi pengajian tinggi mengenalpasti strategi peletakan pasaran yang tepat dalam mempromosikan wakaf pendidikan kepada masyarakat dan pemegang taruh.  
Downloads
Download data is not yet available.
References
Abdul Wahab, M. A., Shahiri, H. I., Mansur, M., & Shah Zaidi, M. A. (2018). Kos Sara Hidup Tinggi di Malaysia: Pertumbuhan Pendapatan Isi Rumah yang Perlahan atau Taraf Hidup yang Meningkat?. Jurnal Ekonomi Malaysia, 52(1), 117-133.

Ahmad, A. R., Baharudin, A., Yusoff, W. Z. W., Abdullah, S. M. D. S., & Soon, N. K. (2016). Transformation of Waqf Implementation at Malaysian Public Universities. Advanced Science Letters, 22(9), 2184-2186.

Albekov, A., Romanova, T., Vovchenko, N., & Epifanova, T. (2017). Study of factors which facilitate increase of effectiveness of university education. International Journal of Educational Management, 31(1), 12-20.

Ali, S. Z. & Wahid, H. (2014). Peranan dan Kepentingan Dana Wakaf Institusi Pendidikan Tinggi di Malaysia. Kertas kerja dibentangkan di Persidangan Kebangsaan Ekonomi Malaysia ke-9 (PERKEM ke-9), Kuala Terengganu, Terengganu, 17-19 Oktober 2014.

Ali Hamdan, S. U., & Mahamood, S. M. (2017). Aplikasi Prinsip Berkekalan Wakaf Di Institusi Pengajian Tinggi Terpilih: PERSPEKTIF PERUNDANGAN. Journal of Shariah Law Research, 1(2).

Ab. Aziz, M. R., Johari, F., & Yusof, M. A. (2013). Cash Waqf models for financing in education. In The 5th Islamic Economic System Conference (iECONS2013) (pp. 835-842).

Awang, A. H., Ramli, Z., & Ibrahim, I. (2012). Faktor tarikan pelajar siswazah antarabangsa ke universiti penyelidikan di Malaysia. Geografia: Malaysian Journal of Society and Space, 8(6), 32-41.

Awang, A. H., Ramli, Z., & Ibrahim, I. (2017). Faktor tarikan pelajar siswazah antarabangsa ke universiti penyelidikan di Malaysia (Attraction factors of international graduate students to research universities in Malaysia). Geografia-Malaysian Journal of Society and Space, 8(6).

Bahari, Z., & Shukor, A. S. (2017). Pemerkasaan Tadbir Urus Wakaf Pendidikan Tinggi Malaysia. Prosiding Strengthening Local Communities Facing the Global Era, 1(1).

Berita Harian (2017, Oktober 28). Baget 2018 bersifat positif pendidikan. Diambil daripada www.bharian.com.my/.

Borham, A. S. (2011). "Pelaksanaan Pembangunan Wakaf Korporat Johor Corporation Berhad (JCorp): Satu Tinjauan". International Conference on Humanities 2011.

Chua, Y. P. (2006). Kaedah dan Statistik Penyelidikan. Malaysia: Mc. Graw Hill Sdn Bhd.

David, F. R., & David, F. R. (2016). Strategic management: A competitive advantage approach, concepts and cases. Pearson.

Delice, A. (2010). The Sampling Issues in Quantitative Research. Educational Sciences: Theory and Practice, 10(4), 2001-2018.

Dennis, C., Papagiannidis, S., Alamanos, E., & Bourlakis, M. (2017). The Role of Brand Attachment and Its Antecedents in Brand Equity in Higher Education. In Creating Marketing Magic and Innovative Future Marketing Trends (pp. 287-292). Springer, Cham.

Field, A. (2011). Discovering statistics using SPSS. SAGE Publications Ltd. Third Edition.

Fumasoli, T., & Huisman, J. (2013). Strategic agency and system diversity: Conceptualizing institutional positioning in higher education. Minerva, 51(2), 155-169.

Gao, S., Mokhtarian, P., & Johnston, R. (2008). Nonnormality of data in structural equation models. Transportation Research Record: Journal of the Transportation Research Board, (2082), 116-124.

Gorodnichenko, Y., & Roland, G. (2016). Culture, institutions and the wealth of nations. Review of Economics and Statistics, (0).

Gutman, J. (1982). A means-end chain model based on consumer categorization processes. Journal of Marketing, 46(2), 60-72.

Hair, J.F., Black, W.C., Babin, B.J., & Anderson, R.E. (2010). Multivariate Data Analysis. Seventh Edition. Prentice Hall, Upper Saddle River, New Jersey.

Hasbullah, N. A., Khairi, K. F., & Aziz, M. R. A. (2016). Intention to Contribute in Corporate Waqf: Applying the Theory of Planned Behaviour. Umran-International Journal of Islamic and Civilizational Studies (EISSN: 2289-8204), 3(1).

Herrmann, A., & Huber, F. (2000). Value-oriented brand positioning. The International Review of Retail, Distribution and Consumer Research, 10(1), 95-112.

Ibn Manzur, Muhammad Ibn. Mukarram (1990), Lisan al-'Arab, jld. 9. Beirut: Dar Sadr, hal. 359.

Isamail, M. Z., Rosele, M. I., & Ramli, M. A. (2015). Pemerkasaan wakaf di Malaysia: satu sorotan. Labuan E-Journal of Muamalat and Society, 9, 1-13.

Ismail, M. A., Nik Ab Malik, N. M. A., & Mohd Shafiai, M. H. (2015). Empowering the peripheral ummah through waqf. The Journal of Muamalat and Islamic Finance Research, 12(1), 29-43.

Ivy, J. (2001). Higher education institution image: acorrespondence analysis approach. International Journal of Educational Management, 15(6), 276-282.

Kahf, M. (2011). Waqf and its sociopolitical aspects. dalam Monzer Kahf & Siti Mashitoh Mahamood. (Eds.). (2011). Essential readings in contemporary waqf issues (pp.399416). Kuala Lumpur: CERT Publications.
Kementerian Pengajian Tinggi, (2016). Pelan Pembangunan Pendidikan Malaysia 2015-2025 (Pendidikan Tinggi). Diambil daripada https://www.moe.gov.my/.

Kementerian Pengajian Tinggi (2018). Bajet 2018: Kementerian Pendidikan Terima Peruntukan Terbesar. Diambil daripada https://www.moe.gov.my/.

Kementerian Pendidikan Malaysia (2019). Bajet 2019: Kementerian Pendidikan Terima Peruntukan Terbesar. Diambil daripada https://www.moe.gov.my/.

Mahamood, S. M. (2013). Wanita dan Undang-Undang (Perspektif Undang-Undang Harta dan Muamalat di Malaysia). AL-IHKAM: Jurnal Hukum & Pranata Sosial, 5(1), 63-80.

Mahamood, S. M., Ab Rahman, A., & Che Seman, A. (2018). Pembentukan Institusi Pengajian Tinggi Berteraskan Wakaf di Malaysia: Cadangan Model Pelaksanaannya. Jurnal Syariah, 26(1), 1-22.

Mahat, M., & Goedegebuure, L. (2016). Strategic Positioning in Higher Education: Reshaping Perspectives. In Theory and Method in Higher Education Research (pp. 223-244). Emerald Group Publishing Limited.

Mazzarol, T., & Soutar, G. N. (2002). "Push-pull" factors influencing international student destination choice. International Journal of Educational Management, 16(2), 82-90.

Md Nawi, N. H., & Ismail, M. (2018). Falsafah Wakaf Pendidikan Tinggi; Satu Semakan Semula. Journal of Techno Social, 10(2).

Mohamad Don, M. A. (2016). Peranan Wakaf untuk Pembangunan Pendidikan Tinggi: Sejarah Silam dan Pelaksanaan di Malaysia. E-Proceeding of the 3rd International Conference on Arabic Studies and Islamic Civilization ICASIC2016. 14-15 March 2016 Kuala Lumpur, Malaysia.

Mohd Ramli, A. & Omar, M. (2016). Cabaran pembiayaan sektor pengajian tinggi awam di Malaysia; potensi instrumen wakaf tunai. dlm. Mohd Solahuddin Shahruddin. (pnyt). Sinergisme wakaf pendidikan tinggi di Malaysia, hlm. 57-74. Shah Alam. UiTM.

Mohd Taib, M. S., Mujani, W. K., Rozali, E. A., & Talib, K. A. (2017). Perkembangan Wakaf Pendidikan Tinggi di Malaysia. International Journal of West Asian Studies, 9(1).

Mok, K. H., & Cheung, A. B. (2011). Global aspirations and strategising for world-class status: New form of politics in higher education governance in Hong Kong. Journal of Higher Education Policy and Management, 33(3), 231-251.

Mustaffa, N., & Muda, M. Z. (2014). Pengurusan Wakaf Pendidikan di Institusi Pengajian Tinggi Malaysia: Satu Sorotan Literatur. UMRAN-International Journal of Islamic and Civilizational Studies (EISSN: 2289-8204), 1(1).

Ramli, A. M., & Jalil, A. (2014). Model Perbankan Wakaf Korporat: Analisis Wakaf Selangor Muamalat. Jurnal Pengurusan, 42, 159-167.

Rauschnabel, P. A., Krey, N., Babin, B. J., & Ivens, B. S. (2016). Brand management in higher education: the university brand personality scale.Journal of Business Research, 69(8), 3077-3086.

Reynolds, T. J., & Olson, J. C. (Eds.). (2001). Understanding consumer decision making: The means-end approach to marketing and advertising strategy. Psychology Press.

Rutter, R., Lettice, F., & Nadeau, J. (2016). Brand personality in higher education: anthropomorphized university marketing communications. Journal of Marketing for Higher Education, 1-21.

Salleh, M. & Abdul Rahman, N. S. (2014). Wakaf Pendidikan Di Malaysia: Satu Tinjauan, International Research Management and Innovation Conference 2014 (IRMIC2014) KL, 17 – 18 November 2014.

Shamsudin, A. F., Hashim, J., Yusof, W. S. W., Yusof, A., Mohamad, S., Yusof, A. M., & Abidin, I. Z. (2015). A Conceptual Model for Inter-State Corporate Waqf Financing for Higher Learning. Global Journal Al-Thaqafah, 5(1), 51-58.

Sirat, M., Ahmad, A. R., & Azman, N. (2012). University leadership in crisis: The need for effective leadership positioning in Malaysia. Higher Education Policy, 25(4), 511-529.

Sulaiman, S., & Hasan, A. (2017). Strategi Pembangunan dan Pelaburan Wakaf Secara Lestari Menurut Perspektif Syariah. Jurnal Syariah, 24(2).

Syed Adwam Wafa, S. M. G. W. (2010). "Pembangunan Wakaf Pendidikan di Malaysia". Kertas kerja Seventh International Conference-The Tawhidi Epistemology: Zakat and Waqf Economy. Bangi 2010.

Veludo-de-Oliveira, T. M., Ikeda, A. A., & Campomar, M. C. (2006). Discussing laddering application by the means-end chain theory. The Qualitative Report, 11(4), 626-642.

Wahid, H., Abu Bakar, A.H., & Ahmad, S. (2017). Hubungan antara Imej Korporat Usahawan Muslim dan Pembayaran Zakat Perniagaan Di Daerah Sepang, Selangor. Jurnal Syariah, 24(1).

Zainol, Z. (2018). Structural Equation Modeling Using AMOS: A Step by Step Approach.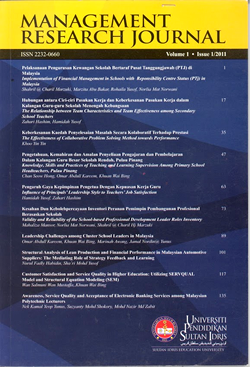 Downloads
How to Cite
Zainudin, N. H., Heriranto, P., Zainol, Z., & Osman @ Zainal Abidin, J. (2020). Pengaruh peletakan pasaran institusi pengajian tinggi terhadap wakaf pendidikan: The influence of higher education institutions market Positioning to educational waqf. Management Research Journal, 9(1), 28–39. Retrieved from https://ejournal.upsi.edu.my/index.php/MRJ/article/view/2894