المغامرة الجديدة في رواية النجدي لطالب الرفاعي
The new adventure in Najdi's novel by Talib Al-Rifai
Ishraq Same Al-Rubaie

Basra and Arabian Gulf Studies Center, Head of the Linguistics and Literary Studies Department, University of Basra, IRAQ
Keywords:
المغامرة, الرواية, التقليدية, الجديدة, السرد
Abstract
يناقش البحث رواية النجدي لطالب الرفاعي مقترحا لها تسمية "المغامرة الروائية الجديدة". وهو يتابعها في علاقتها بمصطلح المغامرة الروائية القديمة التي تنهض على سرد ارتحالي، هو الجامع بين النوعين السرديين، مع إحداث تطوير عليهما، يتمثل في جوانب الاختيار، وغياب الاستكشاف. وكلاهما يفسحان مجالا لأهم مزايا الشكل في هذا النوع من السرد، المتمثلة بخصوصية الموضوع، وطبيعة المنظور، وما يترتب عليهما من دلالة، ومن سمة سردية، تجعل من هذا النوع من السرد مغامرة كتابة، شأنه شأن أنواع التخييل المختلفة، من ذاتي وتاريخي
The research discusses Al-Najdi's novel by Talib Al-Rifai, suggesting it be called "the new narrative adventure." He follows it in its relation to the term of the old fictional adventure that revolves around a nomadic narrative, which combines the two types of narrative, with the development of them, represented in aspects of choice and the absence of exploration. And both of them give room for the most important features of the form in this type of narration, represented by the specificity of the subject, the nature of the perspective, and the significance they entail, and the narrative characteristic that makes this type of narration a writing adventure, just like the different types of fiction, both subjective and historical.
Keywords: Adventure, novel, traditional, new, narrative.
Downloads
Download data is not yet available.
References
• ادريس الخضراوي، الرواية العربية وأسئلة ما بعد الاستعمار، رؤية، القاهرة، 2012.
• اوسبنسكي، شعرية التأليف، ترجمة: سعيد الغانمي وناصر حلاوي، المجلس الأعلى للثقافة، مصر.
• جابر عصفور، الرواية العربية ممكنات السرد، سلسلة عالم المعرفة، المجلس الوطني للثقافة والفنون والآداب، الكويت، عدد 357، نوفمبر2008.
• سيزا قاسم، بناء الرواية "دراسة مقارنة في ثلاثية نجيب محفوظ"، وزارة الثقافة، مصر، 2004.
• طالب الرفاعي، النجدي (رواية)، منشورات ذات السلاسل، الكويت، 2017.
• عبد العزيز شرف، أدب السيرة الذاتية، مكتبة لبنان، 1992.
دوريات
• عبد الله إبراهيم علي بدر والمغامرة السردية، جريدة الرياض، 12 اكتوبر 2006 ع 13989.
• عبد الله شطاح، التخييل الذاتي "محاولة تأصيل"، مجلة الآداب العالمية المحكمة، مجلة اتحاد الكتاب العرب، دمشق-سوريا، س39، ع161-162، 2015.
• محمد العباس، طالب الرفاعي في النجدي يدرس الوثيقة التاريخية داخل بنية روائية، صحيفة القدس، عدد 9يناير، 2017.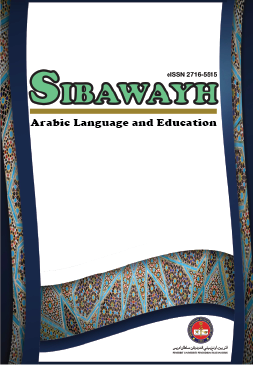 How to Cite
Al-Rubaie, I. S. (2021). المغامرة الجديدة في رواية النجدي لطالب الرفاعي. SIBAWAYH Arabic Language and Education, 2(1), 109-116. https://doi.org/10.37134/sibawayh.vol2.1.8.2021
Copyright (c) 2021 Ishraq Same Al-Rubaie
This work is licensed under a Creative Commons Attribution-NonCommercial-ShareAlike 4.0 International License.