Mastery Learning as Learning Model to Meet the Passing Grade of Al-Qur'an Hadith Subject at Madrasah Ibtidaiyah Negeri 4 Padang Pariaman
Nurdani Nurdani

Muhammadiyah University of West Sumatera, INDONESIA

Mahyudin Ritonga

Muhammadiyah University of West Sumatra, INDONESIA

Mursal Mursal

Muhammadiyah University of West Sumatra, INDONESIA
Keywords:
mastery learning, learning outcomes, al-Qur'an Hadith
Abstract
Al-Qur'an Hadith learning activities at Madrasah Ibtidaiyah are faced with the difficulty of meeting the passing grade because there are those who have not studied the Qur'an before being accepted at the madrasa so they do not know the hijaiyah letters. To overcome this problem, certain learning models are needed, so as to produce quality learning. Therefore, this study aimed to reveal the implementation of mastery learning in meeting the passing grade on al-Qur'an Hadith subject. The study was carried out by implementing the PAR (Participatory Action Research) method. This approach was used so that researchers not only took data for study needs but also contributed to the object under study along with the completion of the study. Based on the results, al-Qur'an Hadith learning outcomes could meet the passing grade by implementing mastery learning and in line with increasing motivation after the mastery learning implementation.
Downloads
Download data is not yet available.
References
Ar Rasikh, A. R. (2019). Pembelajaran Al-Qur'an Hadits di Madrasah Ibtidaiyah: Studi Multisitus pada Madrasah Ibtidaiyah Negeri Model Sesela dan Madrasah Ibtidaiyah At Tahzib Kekait Lombok Barat. Jurnal Penelitian Keislaman, 15(1), 14–28. https://doi.org/10.20414/jpk.v15i1.1107
Ayllón, S., Alsina, Á., & Colomer, J. (2019). Teachers' involvement and students' selfefficacy: Keys to achievement in higher education. PLoS ONE, 14(5), 1–11. https://doi.org/10.1371/journal.pone.0216865
Azizahwati, A., Sutono, S. B., & Alfarisi, S. (2017). Penerapan Strategi Mastery Learning Untuk Meningkatkan Hasil Belajar Mahasiswa Pada Mata Kuliah Fisika Dasar II. Jurnal Geliga Sains: Jurnal Pendidikan Fisika, 5(2), 104–109. https://doi.org/10.31258/jgs.5.2.104-109
Barnawi. (2020). Meningkatkan Kemampuan Guru dalam Menetapkan Kriteria Ketuntasan Minimal Melalui Workshop di Madrasah Binaan. Jurnal Manajemen Pendidikan Jurnal Eduvis, 1(1), 1–18.
Baum, F., MacDougall, C., & Smith, D. (2006). Participatory action research. Journal of Epidemiology and Community Health, 60(10), 854–857. https://doi.org/10.1136/jech.2004.028662
Benjamin-Thomas, T. E., Corrado, A. M., McGrath, C., Rudman, D. L., & Hand, C. (2018). Working Towards the Promise of Participatory Action Research: Learning From Ageing Research Exemplars. International Journal of Qualitative Methods, 17(1), 1–13. https://doi.org/10.1177/1609406918817953
Carpenter, M., Rentschler, J., & Zee, S. (2019). Mastery Learning in Action: One District's Journey Toward the Continuous Improvement of Assessment Practices to Positively Impact Student Learning. Purdue Journal of Service Learning and International Engagement, 6(1). https://doi.org/10.5703/1288284316988
Cundiff, P. R., McLaughlin, O., Brown, K., & Grace, K. (2020). In Search of Greater Understanding: The Impact of Mastery Learning on Social Science Education. Teaching Sociology, 48(2), 107–119. https://doi.org/10.1177/0092055X20907979
Damavandi, M. E., & Kashani, Z. S. (2010). Effect of mastery learning method on performance and attitude of the weak students in chemistry. Procedia - Social and Behavioral Sciences, 5, 1574–1579. https://doi.org/10.1016/j.sbspro.2010.07.327
Emery, A., Sanders, M., Anderman, L. H., & Yu, S. L. (2018). When Mastery Goals Meet Mastery Learning: Administrator, Teacher, and Student Perceptions. Journal of Experimental Education, 86(3), 419–441. https://doi.org/10.1080/00220973.2017.1341863
FAO. (2021). E-learning methodologies and good practices: A guide for designing and delivering e-learning solutions from the FAO elearning Academy. In E-learning methodologies and good practices (Second). https://doi.org/https://doi.org/10.4060/i2516e
Fauzi, K. (2021). Peningkatan Hasil Belajar Al-Qur'an Hadis Materi Hukum Bacaan Qalqalah Menggunakan Metode Depa Berjenjang. CENDEKIA : Jurnal Ilmu Pengetahuan, 1(2), 8–14.
Giasiranis, S., & Sofos, L. (2020). The Influence of Instructional Design and Instructional Material on Learners' Motivation and Completion Rates of a MOOC Course. Open Journal of Social Sciences, 08(11), 190–206. https://doi.org/10.4236/jss.2020.811018
Guskey, T. R. (2015). International Encyclopedia of the Social & Behavioral Sciences. International Encyclopedia of the Social & Behavioral Sciences, 14, 752–759. http://www.sciencedirect.com/science/article/pii/B978008097086826039X
Halwing. (2021). Meningkatkan Prestasi Belajar Al-Qur'an-Hadis Melalui Metode Demonstrasi pada Siswa Madrasah Aliyah. AL-TA'DIB: Jurnal Kajian Ilmu Kependidikan, 14(1), 42–52.
Harianto, Ritonga, M., & Saputra, R. (2021). How is the Ability of Islamic Religious Education Teachers in Designing and Using ICT Media ? Proceedings of the 1st International Conference on Education, Humanities, Health and Agriculture, ICEHHA 2021. https://doi.org/10.4108/eai.3-6-2021.2310749
Hayat, B. (2018). The Effect of Mastery Learning on Affective Characteristics of Students a Quantitative Research Synthesis. Indonesian Journal of Educational Assessment, 1(1), 45–53.
Jannah, M., & Muslimah. (2021). Minimum Completeness Criteria for Islamic Education Subjects. Bulletin of Science Education, 1(1), 60–67. https://www.attractivejournal.com/index.php/bse/
Janssen, J., Hale, L., Mirfin-Veitch, B., & Harland, T. (2013). Building the research capacity of clinical physical therapists using a participatory action research approach. Physical Therapy, 93(7), 923–934. https://doi.org/10.2522/ptj.20120030
Kelley-Quon, L. I. (2018). Surveys: Merging qualitative and quantitative research methods. Seminars in Pediatric Surgery, 27(6), 361–366. https://doi.org/10.1053/j.sempedsurg.2018.10.007
Khaira, M., Ritonga, M., & Halim, S. (2021). The Effectiveness of Scrabble Game Media in Improving Learning Outcomes. Journal of Physics: Conference Series, 1933(1), 012128. https://doi.org/10.1088/1742-6596/1933/1/012128
Mesrawati Mesrawati. (2017). Meningkatkan Kemampuan Guru Dalam Menetapkan Kriteria Ketuntasan Minimal (Kkm) Di SD Negeri 018 Rambah Melalui Kelompok Kerja Guru Sekolah (Kkgs). Jurnal Pendidikan Rokania, 6(2), 31–43. https://e-jurnal.stkiprokania.ac.id/index.php/jpr/article/view/66
Mitee, T. L., & Obaitan, G. N. (2015). Effect of Mastery Learning on Senior Secondary School Students Cognitive Learning Outcome in Quantitative Chemistry. Journal of Education and Practice, 6(5), 34–38.
Montebello, M., Cope, B., Kalantzis, M., Haniya, S., Amina, T., Tzirides, A. O., Searsmith, D., Zhao, N., & Chen, M. (2019). Multimodal Mastery Learning. International Journal of Learning, 5(1), 19–23. https://doi.org/10.18178/IJLT.5.1.19-23
Morales, M. P. E. (2016). Participatory action research (PAR) cum action research (AR) in teacher professional development: A literature review. International Journal of Research in Education and Science, 2(1), 156–165. https://doi.org/10.21890/ijres.01395
OECD. (2012). Equity and Quality in Education: Supporting Disadvantaged Students and Schools. In Computer-Supported Collaborative Learning Conference, CSCL (Issue PART 2). OECD Publishing. https://doi.org/http://dx.doi.org/10.1787/9789264130852-en
Opfer, V. D., & Pedder, D. (2011). Conceptualizing Teacher Professional Learning. Review of Educational Research, 81(3), 376–407. https://doi.org/10.3102/0034654311413609
Putri, M. D., & Marpaung, J. (2018). Studi Deskripsi Tentang Kesulitan Belajar Siswa Kelas VIII di SMP Negri 50 Batam. Cahaya Pendidikan, 4(1), 34–43.
Ratna Pangastuti, & Munfa`Ati, K. (2018). Penilaian Acuan Norma, Penilaian Acuan Patokan, Kriteria Ketuntasan Minimal Di Madrasah Ibtidaiah an-Nur Plus Junwangi Krian Sidorajo Jawa Timur. Jurnal Pendidikan Islam Tingkat Dasar (Al-Awlad), 8(2), 202–217. https://ejournal.uinib.ac.id/jurnal/index.php/alawlad/article/view/1606
Sahronih, S., Purwanto, A., & Sumantri, M. S. (2019). The effect of interactive learning media on students' science learning outcomes. ACM International Conference Proceeding Series, Part F1483, 20–24. https://doi.org/10.1145/3323771.3323797
Sidiq, N. M., Tukidi, & Ginanjar, A. (2019). Implementasi Pengaran Remedial dalam Mengatasi Kesulitan Belajar IPS Siswa di SMP Negeri 2 Batang. SOSIOLIUM, 1(1), 60–71. https://journal.unnes.ac.id/sju/index.php/sosiolium/article/view/30449
Sinaga, A. R. (2020). Upaya Meningkatkan Kemampuan Guru Menetapkan KKM Melalui Supervisi Pengawasan Sekolah di SMP Swasta PGRI 1 Medan Pada Semester 1 T.P. 2019/2020. ASAS: Jurnal Sastra, 9(2), 92–93. https://doi.org/https://doi.org/10.24114/ajs.v9i2.21013
Susanti, E., Ritonga, M., & Bambang, B. (2020). Pengaruh Penggunaan Media Powerpoint Terhadap Minat Belajar Bahasa Arab Siswa. Arabiyatuna: Jurnal Bahasa Arab, 4(1), 179–191. https://doi.org/10.29240/jba.v4i1.1406
Timperley, H., Wilson, A., Barrar, H., & Fung, I. (2007). Teacher Professional Development and ICT: Strategies and Models. In Teachers College Record (Vol. 109, Issue 14). Teachers College Record. https://doi.org/10.1111/j.1744-7984.2007.00116.x
Tondeur, J., van Braak, J., Ertmer, P. A., & Ottenbreit-Leftwich, A. (2017). Understanding the relationship between teachers' pedagogical beliefs and technology use in education: a systematic review of qualitative evidence. Educational Technology Research and Development, 65(3), 555–575. https://doi.org/10.1007/s11423-016-9481-2
Utami, L. H. P., & Subroto, W. T. (2013). Penerapan Pendekatan Mastery Learning untuk Meningkatkan Hasil Belajar Siswa dalam Pembelajaran IPS Kelas IV SDN Gresik. Jurnal Penelitian Pendidikan Guru Sekolah Dasar, 1(2), 1–11. https://media.neliti.com/media/publications/250661-penerapan-pendekatan-mastery-learning-un-94cf2422.pdf
Young, M. R., Klemz, B. R., & Murphy, J. W. (2003). Enhancing Learning Outcomes: The Effects of Instructional Technology, Learning Styles, Instructional Methods, and Student Behavior. Journal of Marketing Education, 25(2), 130–142. https://doi.org/10.1177/0273475303254004
Yuliansih, E., YasirArafat, & Wahidy, A. (2021). The influence of learning media and learning interests on student learning outcomes. JPGI (Jurnal Penelitian Guru Indonesia), 6(2), 411–417. https://doi.org/10.2139/ssrn.3767953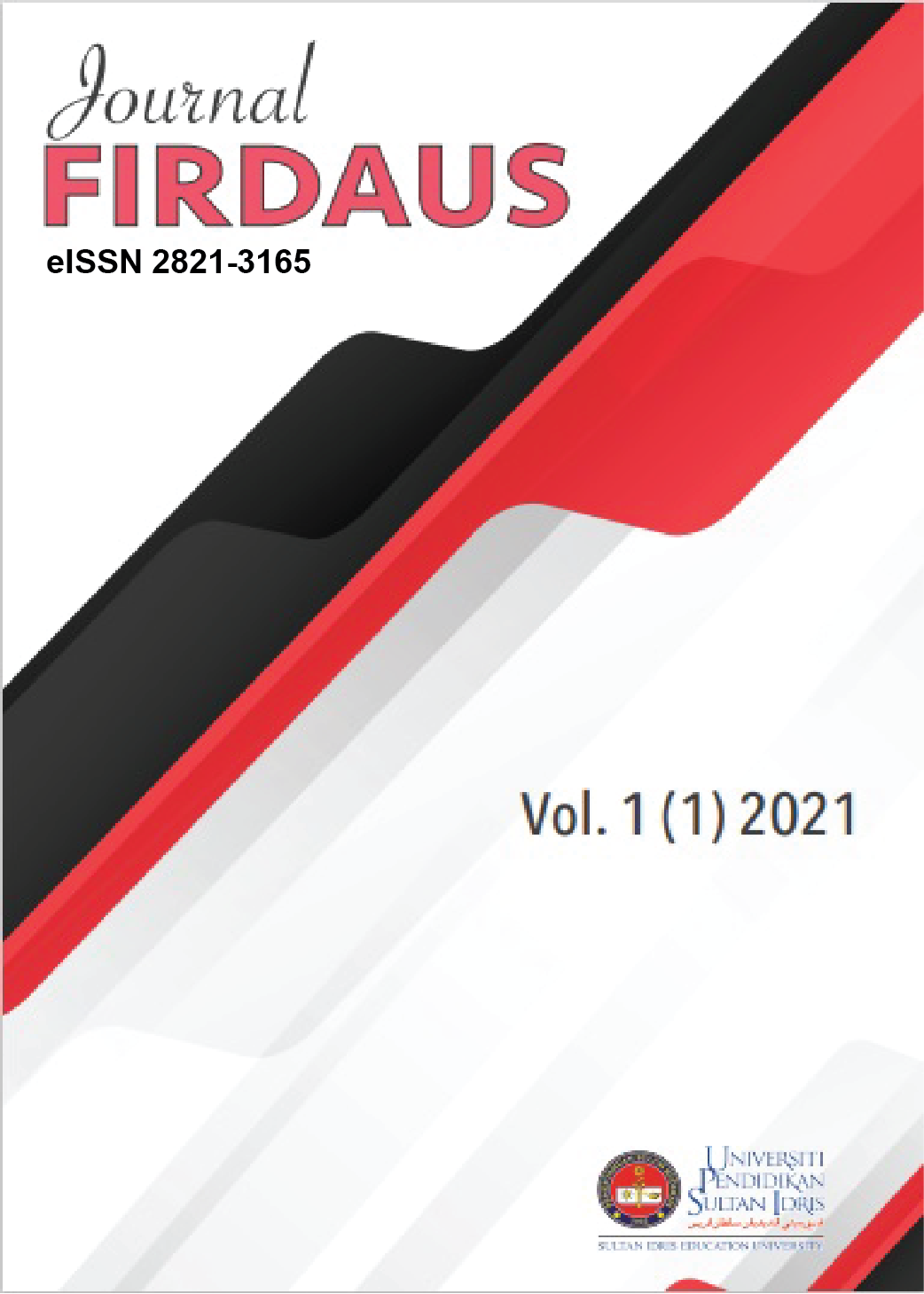 How to Cite
Nurdani, N., Ritonga, M., & Mursal, M. (2021). Mastery Learning as Learning Model to Meet the Passing Grade of Al-Qur'an Hadith Subject at Madrasah Ibtidaiyah Negeri 4 Padang Pariaman. Firdaus Journal, 1(1), 1-11. https://doi.org/10.37134/firdaus.vol1.1.1.2021
Copyright (c) 2021 . Nurdani, Mahyudin Ritonga, . Mursal
This work is licensed under a Creative Commons Attribution-NonCommercial-ShareAlike 4.0 International License.