Peranan Wanita Dalam Persembahan Ritual Pengubatan Tradisional Magbuaya
Patta Ariffin Husin

Fakulti Sains Sosial dan Kemanusiaan, Universiti Malaysia Sabah

Sharifuddin Zainal

Fakulti Sains Sosial dan Kemanusiaan, Universiti Malaysia Sabah

Sim Chea Cheang

Fakulti Sains Sosial dan Kemanusiaan, Universiti Malaysia Sabah
Keywords:
Bajau, dayang-dayang, kalamat, magbuaya, ritual pengubatan, medical rituals
Abstract
Etnik Bajau yang menduduki Kampung Seloka Empat, Pulau Bum-Bum, Semporna masih mengekalkan dan mengamalkan adat istiadat tradisional amalan nenek moyang yang berpaksikan kepada amalan ritual pengubatan berbentuk tradisional. Amalan nenek moyang yang diamalkan sehingga kini menerapkan nilai-nilai penghormatan kepada kaum wanita kerana mereka dianggap sebagai satu identiti gender yang berwibawa dan suci. Permasalahan kajian yang didapati adalah berkaitan dengan peranan penting kaum wanita dalam persembahan ritual pengubatan tradisional seperti ritual pengubatan magbuaya. Selain itu, wanita memainkan peranan yang sangat penting dalam pelaksanaan persembahan ritual pengubatan tersebut. Ini disebabkan, persembahan ritual pengubatan tradisional magbuaya ini penting bagi wanita untuk menjadi tumpuan dalam keseluruhan proses pelaksanaan serta kelancaran persembahan ritual pengubatan tradisional magbuaya ini. Hal ini kerana, waris kalamat (bomoh) adalah seorang wanita yang akan meneruskan persembahan ritual pengubatan tradisional magbuaya ini. Selain itu, para pembantu utama kalamat adalah wanita dan para pembantu atau dikenali sebagai dayang ini akan dibantu oleh para wanita terpilih yang terdiri daripada ibu tunggal, janda atau balu sahaja. Selain itu, kertas kerja ini mengaplikasikan kaedah kajian etnografi bagi mendapatkan data yang lebih kukuh. Salah satu syarat yang paling penting dalam persembahan ritual pengubatan tradisional magbuaya adalah peranan tujuh orang wanita yang masih dara sebagai dayang-dayang. Dapatan kajian menemukan bahawa wanita sangat memainkan peranan penting dalam ritual pengubatan magbuaya kerana kemenjadian sesuatu proses pengubatan adalah ditentukan oleh kewujudan peranan wanita.
Abstract
The Bajau people who reside in Kampung Seloka Empat, Bum-Bum island, Semporna still adhere to their ancestors' ways of performing traditional healing rituals. The ways of their ancestors that are still in use till these days are steep with maternal respect as women are regarded as a gender of honour and purity. The research problem that can be found is on the important roles of women in the traditional medicine ritual such as the performance of magbuaya medicine ritual. Other than that, women play important roles in performing the said medicine ritual. This is because the magbuaya traditional medicine ritual performance is important for the women to become the attraction in the overall process of the performance as well as the smooth going of the performance medicine ritual. The reason is that the kalamat inheritor is a woman that will continue the performance of the traditional magbuaya medicine ritual. Apart from that, the main assistants of the kalamat are women and the helpers or called 'dayang' will be assisted by women chosen from single mothers, divorcees and widows only. Other than that, this paper applies ethnographical study to get a more solid data. Furthermore, one of the most important rules in the magbuaya ritual is that the seven virgin women, will become dayang for three days until the end of the said ritual. The women hace their crucial duties to expedite the process of the performance in Kampung Seloka, Bum-Bum island. As a result, women really do play a vital role in performing magbuaya. Without women, the ritual will never be completed because they are the main pillars behind the traditional performance.
References
Abdullah, I. , Udasmoro, W. & Hasse, J. (2009). Dinamika masyarakat dan kebudayaan kontemporer. TICI Publications & Pustaka Pelajar.

Aranyosi, E. (2010). A Buryat Shaman woman and her rituals in the 21st Century [Doctoral dissertation, Eötvös Loránd University]. http://doktori.btk.elte.hu/lingv/aranyosieva/thesis.pdf

Butler, J. (1990). Gender trouble: Feminism and the subversion of identity. Routledge, Chapman & Hall, Inc.

Hall, S. (1990). Cultural identity and diaspora. In Rutherford, J. (ed.), Identity: Community, culture and difference (pp.222-237). Lawrence & Wishart.

Kabeer, N. (2010). Gender equality and women empowerment: A critical analysis of the third millennium development goal. Gender & Development, 13(1), 13-24. https://doi.org/10.1080/13552070512331332273

Mosedale, S. (2005). Assessing women's empowerment: Towards a conceptual framework. Journal of International Development, 17(2), 243-257. https://doi.org/10.1002/jid.1212

OH, K.- geun. (2016). Korean shamanism - The religion of women. International Journal of Korean Humanities and Social Sciences, 2, 71-86. https://doi.org/10.14746/kr.2016.02.05

Pisali, A. (2017). Fungsi dan struktur persembahan tari ritual Panansang di daerah Semporna Sabah [Master's Dissertation, Universiti Malaysia Sabah]

Rostiyati, A. (2017). The role of women in traditional ceremony of Rahengan in Citatah Village, West Bandung Regency. Patanjala: Jurnal Penelitian Sejarah dan Budaya, 9(3), 359-374.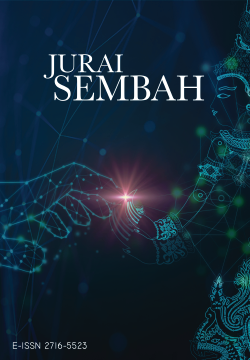 How to Cite
Husin, P. A., Zainal, S., & Cheang, S. C. (2020). Peranan Wanita Dalam Persembahan Ritual Pengubatan Tradisional Magbuaya. Jurai Sembah, 1(1), 46-51. https://doi.org/10.37134/10.37134/juraisembah.vol1.1.5.2020