Kajian terhadap Potensi Program Busking oleh Pelajar UPSI di Gerbang Seni, Lorong Mural, Tanjung Malim sebagai Aktiviti Pengayaan bagi Mengembangkan Kemahiran Persembahan Muzik Berdasarkan Pendekatan
Husnil Amin Zakaria

Universiti Pendidikan Sultan Idris, Tanjong Malim, Perak, MALAYSIA

Zaharul Lailiddin Saidon

Universiti Pendidikan Sultan Idris, Tanjong Malim, Perak, MALAYSIA
Keywords:
busking, kemahiran persembahan muzik, kemahiran muzikal, kemahiran bukan muzikal
Abstract
Busking merupakan persembahan jalanan yang berfungsi sebagai sumber menjana pendapatan dengan menghiburkan orang awam di sesuatu tempat. Disebalik pelbagai kajian yang dijalankan terhadap busking, terlalu sedikit yang meninjau fungsinya sebagai medium dalam pendidikan. Artikel ini adalah berdasarkan kepada satu kajian yang telah dijalankan dengan tujuan untuk mengkaji potensi busking sebagai aktiviti pengayaan bagi mengembangkan kemahiran persembahan muzik berdasarkan pendekatan kontekstual. Pendekatan kualitatif digunakan dengan kaedah pengumpulan data melalui pemerhatian, temu bual pra dan pasca-busking, temu bual kumpulan fokus serta nota lapangan. Artikel ini berfokus kepada mengenal pasti kemahiran persembahan muzik yang dapat diperkembangkan melalui aktiviti busking. Untuk tujuan ini, data dipungut dengan membuat menemu bual subjek dan informan serta membuat pemerhatian terhadap sekumpulan buskers. Subjek kajian terdiri daripada empat orang pelajar diploma Kursus Aplikasi Muzik manakala empat orang informan pula terdiri daripada tenaga pengajar Kursus Aplikasi Muzik. Analisis terhadap data yang diperoleh menunjukkan bahawa aktiviti busking dapat memperkembang pelbagai kemahiran persembahan merangkumi aspek muzikal dan bukan muzikal. Kemahiran persembahan muzik dalam aspek muzikal yang dapat diperkembang ialah kemahiran bermain, penguasaan kualiti ton, penguasaan genre lagu, penguasaan stail lagu, ekspresi, kreativiti, adaptasi dan interpretasi. Manakala perkembangan kemahiran persembahan muzik dari aspek bukan muzikal pula ialah pengurusan persembahan, komunikasi, persona diri, kerjasama dan kawalan mental.
Downloads
Download data is not yet available.
References
Baker, E. D., Hope, L., & Karandjeff, K. (2009). Contextualized teaching & learning: A faculty primer. A review of literature and faculty practices with implications for California community college practitioners. Academic Senate for California Community Colleges.
Creech, A., Papageorgi, I., Duffy, C., Morton, F., Haddon, E., Potter, J., & Welch, G. (2008). From music student to professional: The process of transition. British Journal of Music Education, 25(3), 315-331.
Dewan Bahasa dan Pustaka. (2005). Kamus Dewan (Edisi keempat). Dewan Bahasa dan Pustaka.
Garnett, J. (2013). Beyond a constructivist curriculum: A critique of competing paradigms in music education. British Journal of Music Education, 30(2), 161-175.
Gordon, S. (2005). Mastering the art of performance: A primer for musicians. Oxford University Press.
Jorgenson, H. (2004). Strategies for individual practice. In A. Williamon (Ed.), Musical excellence: Strategies and techniques to enhance performance. Oxford University Press.
Kelly, S. N. (2015). Teaching music in American society: A social and cultural understanding of music education. Routledge.
Klickstein, G. (2009). The musician's way: A guide to practice, performance, and wellness. Oxford University Press.
Kostka, M. J. (2002). Practice expectations and attitudes: A survey of college-level music teachers and students. Journal of Research in Music Education, 50(2), 145–154.
Md Shah, S., & Saidon, Z. L. (2016). Malaysian high school students' perceived musical and non musical benefits of participating in marching band competitions. In F. David & G. Louise (Eds.), International Society for Music Education 32nd World Conference on Music Education, (pp. 199-206). International Society for Music Education.
Meor, A. Y. (2014, September 7). Langkawi buskers festival 2014 datang lagi. Malay Mail. https://www.malaymail.com/news/opinion/2014/09/07/langkawi-buskers-festival-2014-datang-lagi/741439
Meor, A. Y. (2019, July 27). Sejarah budaya busking di Malaysia. The Citymaker. https://thecitymaker.com.my/sejarah-budaya-busking-di-malaysia/
Nickols, F. (2011). Manage your own performance: No one else can. Performance Improvement, 50(2), 31-35. https://doi.org/10.1002/pfi.20198
Lebar, O. (2014). Penyelidikan kualitatif: Pengenalan kepada teori dan metod. Penerbit Universiti Pendidikan Sultan Idris.
Ramnarine, T. K. (2013). Musical performance in the diaspora. Routledge.
Simpson, P. (2011). Street performance and the city: Public space, sociality, and intervening in the everyday. Space and Culture, 14(4), 415–430.
Thomas, J. P., Carr, B. A., & Foss, L. (2011, August 8). Musical performance. Encyclopedia Britannica. https://www.britannica.com/art/musical-performance
Thompson, W. F. (Ed.). (2014). Music in the social and behavioural sciences: An encyclopaedia. SAGE Publications.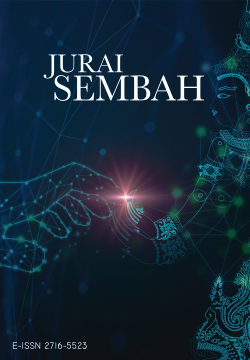 How to Cite
Zakaria, H. A., & Saidon, Z. L. (2021). Kajian terhadap Potensi Program Busking oleh Pelajar UPSI di Gerbang Seni, Lorong Mural, Tanjung Malim sebagai Aktiviti Pengayaan bagi Mengembangkan Kemahiran Persembahan Muzik Berdasarkan Pendekatan. Jurai Sembah, 2(1), 28-39. https://doi.org/10.37134/juraisembah.vol2.1.4.2021