Assessing CEFR-Readiness Test in Malaysian ESL Classroom: An Insight from English Language Teachers in Pulau Pinang
Anwar Farhan Bin Mohamad Marzaini

Faculty of Education, Universiti Teknologi MARA, UiTM Puncak Alam Campus, Puncak Alam, Selangor, MALAYSIA

Shahazwan Bin Mat Yusoff

Faculty of Education, University of Malaya, 50603, Kuala Lumpur, MALAYSIA
Keywords:
Common European Framework of References, CEFR-Readiness Test, Language proficiency
Abstract
Malaysian education has undergone several changes since the implementation of Malaysia Education Blueprint (MEB) 2013-2025. The reformation of MEB has brought Common European Framework of References (CEFR) in Malaysian English Language Teaching (ELT). The implementation of CEFR was perceived as a great platform that can improve the standard of ELT in the country to be at the global standard. Realising this aspiration, the government proposed to relook and redevelop the proficiency among English language teachers. Hence, CEFR-Readiness Test was administered to measure the language proficiency level among the English language teachers in accordance with CEFR level descriptors. This paper will be looking into the awareness and the views of teachers towards the implementation of CEFR-Readiness Test. In addition, this study also will delve into looking at the Continuous Quality Improvement (CQI) measures that can be taken to improve the CEFR-Readiness Test based on the perspectives of secondary school teachers. The data was collected through mixed method approach by using the questionnaires and open-ended questions in the questionnaire to address the research objectives of the study. This study concluded that ESL teachers have a high level of awareness towards the implementation of CEFR-Readiness Test. However, they posited a negative view towards CEFR-Readiness initiative in measuring their language proficiency. Hence, several improvement measures like facilities improvement, task redesign, teachers' training and time allocation have been proposed in the findings of the research. The findings of the research will be useful in upgrading the quality control of assessment tools pertaining to CEFR in Malaysian education context.
Downloads
Download data is not yet available.
References
Alih, N. A., Yusoff, M. M., & Abdul Rauf, A. (2020). Teachers' Knowledge and Belief on the CEFR Implementation in Malaysian ESL Classroom. International Journal of Multidisciplinary and Current, 2(5), 126-134.
Boudersa, N. (2016). The Importance of Teachers' Training Programs and Professional Development in the Algerian Educational Context: Toward Informed and Effective Teaching Practices. Expériences Pédagogiques. 01.
Brown, G. (2021). Responding to Assessment for Learning. The New Zealand Annual Review of Education, 26, 18–28. doi: 10.26686/nzaroe.v26.6854
Cheng, L., Yunus, M. M., & Mohamad, M. (2016). ISSUES contributing to low performance of English in a national school In SONG, SARAWAK. Proceedings of the ICECRS, 1(1). doi: 10.21070/picecrs.v1i1.519
Council of Europe (2003): Relating Language Examinations to the Common European Framework of Reference for Languages: Learning, teaching, assessment ("CEFR" DGIV/EDU/LANG (2003) 5. Strasbourg: Council of Europe.
English Language Teaching Center (2020, June 1). Information on CEFR-Readiness. Retrieved January 15, 2021, from http://www.eltc.edu.my/index.php
Fadahunsi, J. O., Utom, J. A., Ochim, M. R., Ayedun, C. A., & Oloke, O. C. (2019). Benefits of the Adoption of Facilities Management Practices in Tertiary Institutions: A Case Study of Covenant University. IOP Conference Series: Materials Science and Engineering, 640, 012032. doi:10.1088/1757-899x/640/1/012032
Hazita, A. (2016). Implementation and challenges of English Language Education Reform in Malaysian Primary Schools. 3L: The Southeast Asian Journal of English Language Studies. 22(3), 65-78.
Kepol, N. (2017). Quality Malaysian English Language Teachers: Examining a policy strategy. Malaysian Journal of Learning and Instruction, 14(1), 187–209. doi: 10.32890/mjli2017.14.1.8
Lange, F. & Soderlund, M. (2004). Response format in questionnaires: Itemized rating scales versus continuous rating scales. SSE/ EFI Working Paper Series in Business Administration. 1-16. Retrieved July 14, 2017
Lowie, W. (2013). The CEFR and the dynamics of second language learning: trends and challenges. Language Learning in Higher Education, 2(1), 17-34. doi.: 10.1515/cercles-2012-0002
Ministry of Education (2013). Malaysia Education Blueprint 2013-2025((Preschool to Post-Secondary Education). (2013). Putrajaya: Kementerian Pendidikan Malaysia.
Norasmah, H. O., & Salmah, I. (2011). Kecenderungan terhadap pemilihan kerjaya keusahawanan mengikut persepsi peserta skim usahawan siswa. Jurnal Teknologi, 56, 47-63
Nurul Farehah, M.U. & Mohd Sallehhudin, A.A. (2018). Implementation of CEFR in Malaysia: Teacher's awareness and the challenges. 3L: The Southeast Asian Journal of English Language Studies, 24(3), 168-183. doi: 10.17576-2018-2403-13
O'Dwyer, F. (2014). Toward critical, constructive assessments of CEFR based language teaching in Japan and beyond. Osaka University Knowledge Archive (OUKA), Osaka University. 4, 191 – 204. Retrieved from http://hdl.handle.net/11094/51427
Piaw, C. Y. (2016). Mastering Research Methods (2nd ed.). Shah Alam, Selangor: Mc-Graw Hill Education.
Richardson, B. G., & Shupe, M. J. (2003). The importance of teacher self-awareness in working with students with emotional and behavioral disorders. Teaching Exceptional Children, 36(2), 8-13. doi:10.1177/004005990303600201
Van Canh, L., & Renandya, W. A. (2017). Teachers' English proficiency and Classroom LANGUAGE use: A Conversation Analysis Study. RELC Journal, 48(1), 67-81. doi:10.1177/0033688217690935
Zamnah, H., Shireena, B., Maizura, M.N., & Marina, M.A. (2017). Investigating UiTM's EET Initiative: A Quadripartite Perspective Involving the Main Stakeholders. (2017). Research Gate, 3(3), 5-13.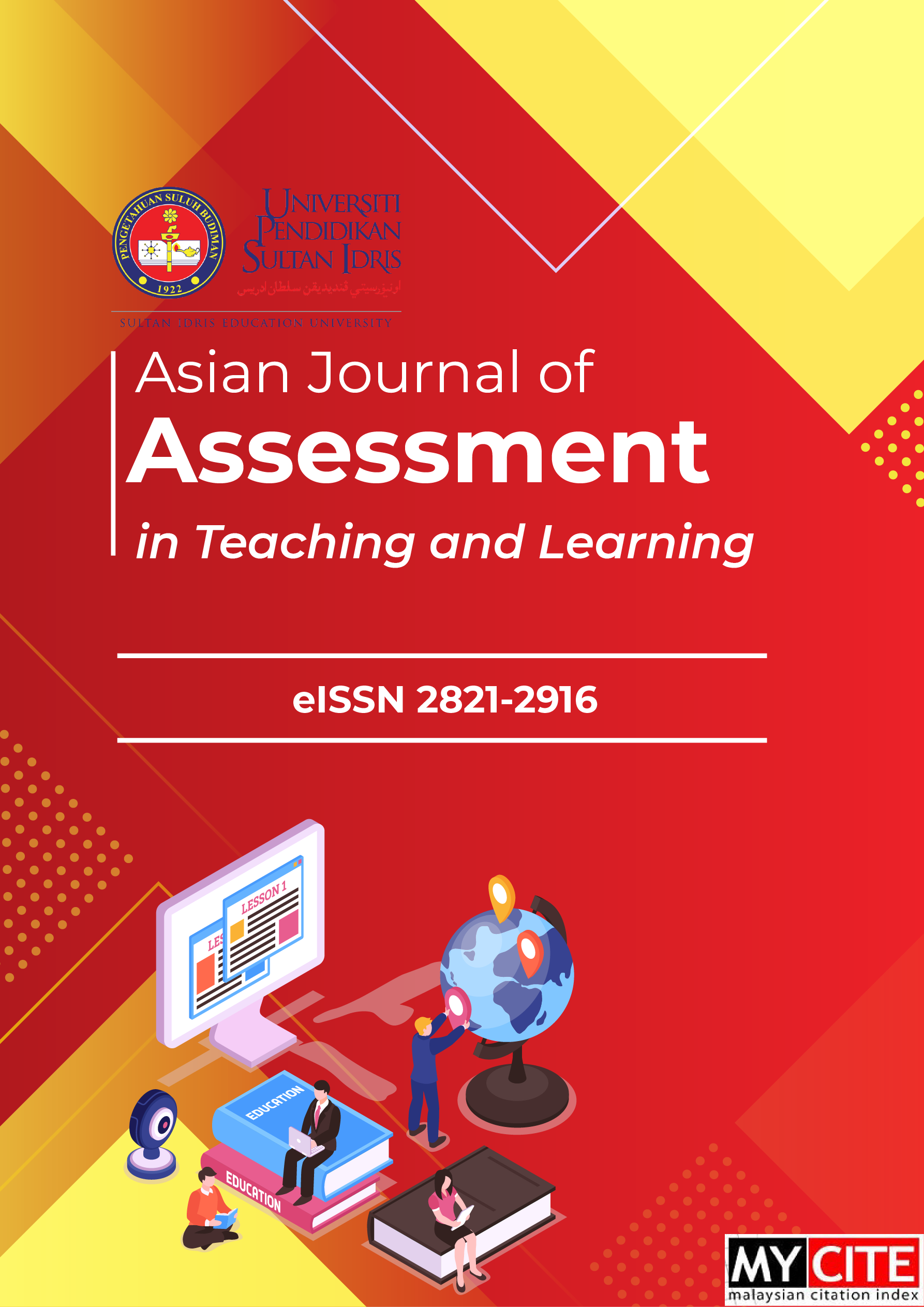 How to Cite
Mohamad Marzaini, A. F., & Mat Yusoff, S. (2022). Assessing CEFR-Readiness Test in Malaysian ESL Classroom: An Insight from English Language Teachers in Pulau Pinang. Asian Journal of Assessment in Teaching and Learning, 12(1), 1-9. https://doi.org/10.37134/ajatel.vol12.1.1.2022
Copyright (c) 2022 Anwar Farhan Bin Mohamad Marzaini, Shahazwan Bin Mat Yusoff
This work is licensed under a Creative Commons Attribution-NonCommercial-ShareAlike 4.0 International License.