Pre-Service Teachers' Experiences in Science Teaching
Input to Curriculum Enhancement
Jereline Diosana De Pablo

Teacher Education Faculty of Capiz State University, PHILIPPINES

Ainne Delfin Dordas

Master of Arts in General Science Student of Capiz State University, PHILIPPINES
Keywords:
Beliefs, Experiences, Pre-service Teachers, Science Teaching
Abstract
This qualitative research study was conducted to determine the pre-service teachers' experiences in science teaching as bases for curriculum enhancement. The participants of this study were the 8 pre-service science teachers of Capiz State University-Roxas City Campus as well as Capiz State University-Pontevedra Campus during their pre-service teaching journey in S.Y. 2018-2019. The sample was determined purposively based on criteria set by the researchers. The study found out that the pre-service science teachers experienced troubles with regards to the complexity of science topics, have difficulties in preparing a lesson plan, and have misconceptions in employing teaching strategies and facilitating classroom activities. Moreover, they are challenged with the advent of the spiral curriculum. It was evident that the informants' beliefs and attitudes in teaching science were observable in all folks of science teaching especially when it comes to their precept in teaching the subject. It showed that the informants' suggestions regarding the ways in order to mold a competent science teacher which is centered on in-depth preparation and training of teacher education students specializing in science should be considered in curriculum enhancement. The suggestions gathered during the focus group discussion with the course facilitators teaching science disciplines as discussants were considered in developing an output which is a course syllabus in the new subject in college curriculum which is the "Teaching of Science". This developed syllabus will serve as a road map in molding a future competent science teacher in the academy.
Downloads
Download data is not yet available.
References
Adanza, J. A & Resurrection, J.A. (2015). Spiral Progression Approach in teaching science in selected private and public schools in Cavite". Journal of Educational Research., 5(1), 7-74.
Alwardt, R. K. (2013). Investigating the transition process when moving from a spiral curriculum into afield-focus science curriculum alignment in middle high school (dissertation). UMI Dissertation Publishing, Saint Charles, Missouri.
Aquino, A.M. (2015). Facilitating Human Learning (2nd ed.). Rex Book Store, Inc.
Argote, A. (2016). Spiral Progression approach: A Phenomenological Plight of Science Teachers [Unpublished master's thesis]. St. Mary's College of Tagum, Inc.
Berry, R. (2008). Assessment for learning. Hong Kong: Hong Kong University Press.
Cabansag, M. S. (2014). Impact statements on the K-12 science program in the enhanced basic education curriculum in provincial schools. Journal of Arts, Science & Commerce, 5(2), 29-39.
Clark, I. (2012). Formative assessment: assessment is for self-regulated learning. Educational Psychology Review, 24(2), 205-249.
Corpuz, B. & Salandanan, G. (2011). Principles of Teaching. Philippines: Lorimar Publishing Inc.
Creswell, J. (2014). Research Design: Qualitative, quantitative, and mixed methods researches (4th ed.). Thousand Oaks, CA: Sage.
Ferrer, F.P. (2018). Reforms in the Philippine Secondary Education Mathematics Curriculum. International Journal of Multidisciplinary Research and Modern Education, (4)2, 15-18.
Ferro, M. (2016). The Importance of Learning Science: Teaching Strategies. Walden University Press.
Given, L. M. (2012). The SAGE encyclopedia of qualitative research methods (Vols. 1-0). Thousand Oaks, CA: Sage Publications. doi: 10.4135/9781412963909
Hobbs, L. (2015). Too many teachers teaching outside their area of expertise. https://theconversation.com/too-many-teachers-teaching-outside-their-area-of-expertise-39688
Miles-Keogh, R. (2015). Complexity, representation and practice: Case study as method and methodology. Issues in Educational Research, 25(3), 309-318.
Montebon, D. (2015). K12 Science Program in the Philippines: Student Perception on its Implementation. International Journal of Education and Research, 2(12), 153-164.
Montebon, D.R.T., & Orleans, A.V. (2019). A thematic instructional model for a junior high school science curriculum [Unpublished doctoral dissertation]. Philippine Normal University, Manila
Merza, L. L. M., Orge, N. B. A., Agatep, J. L. E. & Edaño, D. C. (2018). Factors affecting the implementation of spiral progression approach in relation to students' academic performance in mathematics. International Journal of Social Science and Humanities Research, 6(4), 490-495.
Nguyen N., Williams J. & Nguyen, T. (2012). The use of ICT in teaching tertiary physics: Technology and pedagogy. Asia-Pacific Forum on Science Learning and Teaching, 13 (2), 1-19.
Orale, R.L. & Uy, M. E. A. (2018). When the spiral is broken: problem analysis in the implementation of spiral approach in teaching Mathematics. Journal of Academic Research, 3(3), 14-24.
Panadero, E., Jonsson, A., & Strijbos, J. (2016). Scaffolding self-regulated learning through selfassessment and peer assessment: guidelines for classroom implementation. In D. Laveault & L.Allal (eds.), Assessment for learning: meeting the challenge of implementation (pp. 311-326). Cham,Switzerland: Springer.
Parsonson, B. (2012). Evidence-based Classroom Behaviour Management Strategies. KAIRARANGA. 47(1), 39-44.
Samala, H. (2018). Spiral Progression Approach in Teaching Science: A Case Study. Paper presented at 4th International Research Conference in Higher Education, Bali, Indonesia. Bali: KnE Publishing.
Scheuch, M., Amon, H. A., Scheibstock, J. & Bauer, H. (2017). Cumulative learning of evolution – evaluation of a spiral curriculum with students' conceptions. Paper presented at ESERA 2017 Conference, Dublin City University, Dublin.
Straessle, J. (2014). Teachers' perspectives of effective lesson planning: A comparative analysis. Dissertations, Theses, and Masters Projects. Paper 1550154173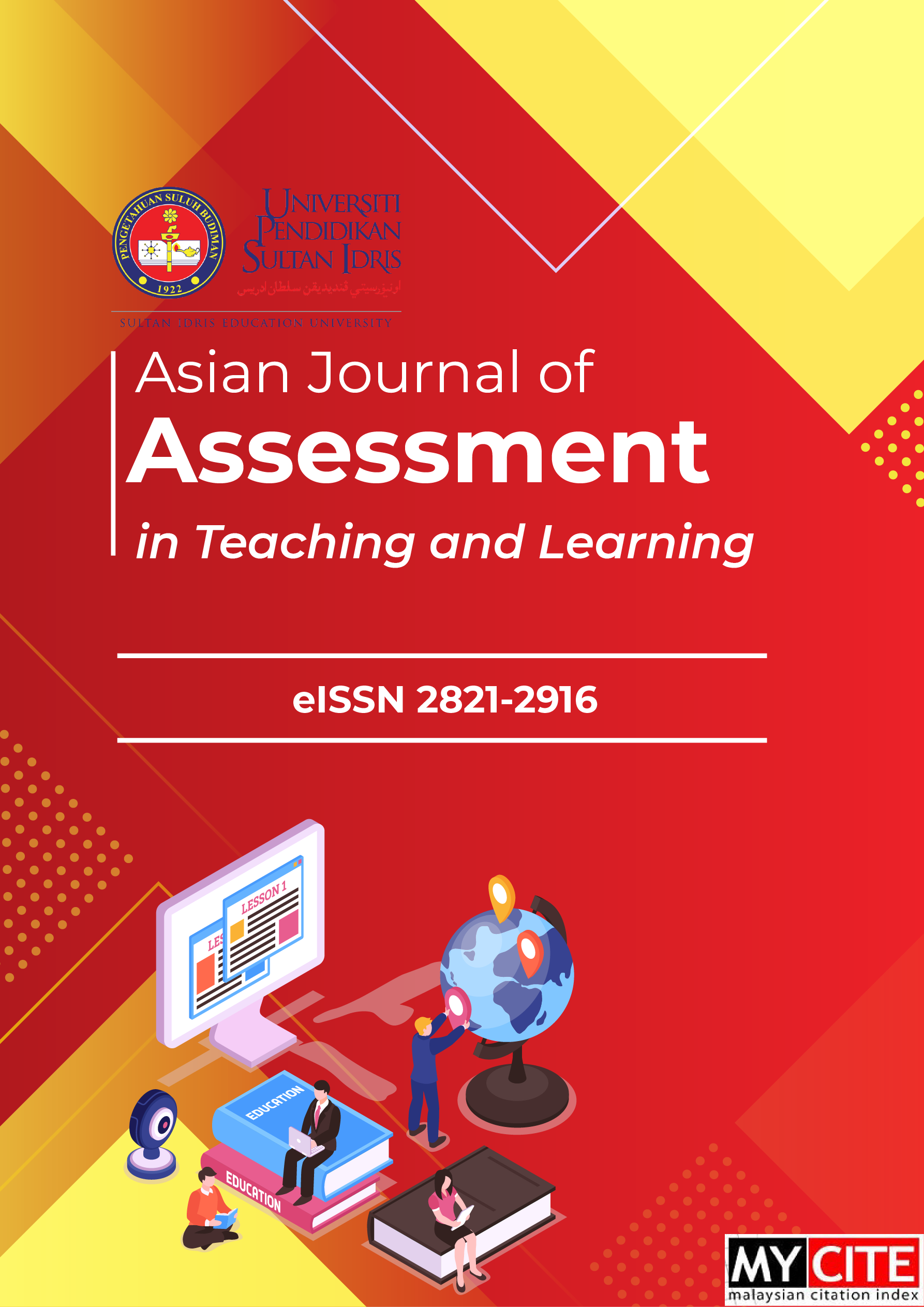 How to Cite
De Pablo, J. D., & Dordas, A. D. (2022). Pre-Service Teachers' Experiences in Science Teaching. Asian Journal of Assessment in Teaching and Learning, 12(1), 33-43. https://doi.org/10.37134/ajatel.vol12.1.4.2022
Copyright (c) 2022 Jereline Diosana De Pablo, Ainne Delfin Dordas
This work is licensed under a Creative Commons Attribution-NonCommercial-ShareAlike 4.0 International License.