The Role of Inner Speech Instruction in Fostering Visual and Auditory Learners' Reading Ability and Perception
Karim Shabani

English Language Department Allameh Mohaddes Nouri University Iran

Ghazaleh Khasrei

English Language Department Allameh Mohaddes Nouri University Iran

Iman Bakhoda

English Language Department Allameh Mohaddes Nouri University Iran
Keywords:
Inner speech instruction, visual style, auditory style, reading comprehension
Abstract
The purpose of this study was to investigate whether inner speech instruction had any significant effect on upper-intermediate EFL learners' reading comprehension. To this end, 60 female subjects participated in this study and were assigned to the experimental and control groups each consisting of 30 participants. The same teaching materials comprising twelve reading texts were taught to both groups through a 10-session treatment with a difference in the procedure during which the experimental group underwent an inner speech instruction while the control group did not receive such an instruction. Results of paired samples t-test indicated the effectiveness of inner speech instruction in the experimental group. Moreover, the interview analysis revealed that the visual and auditory learners preferred to visualize and hear voices while completing the task and developing a positive perception towards the use of inner speech as a tool to enhance their reading ability. It is assumed that applying inner mental self-speech instruction in a social context of classroom leads learners to move from inter-psychological to intrapsychological functioning in order to modify their current developed ability to higher cognitive performance.


Downloads
Download data is not yet available.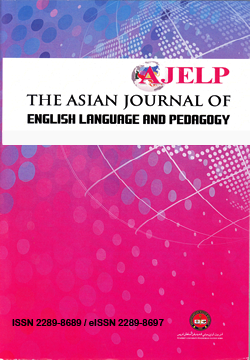 How to Cite
Shabani, K., Khasrei, G., & Bakhoda, I. (2018). The Role of Inner Speech Instruction in Fostering Visual and Auditory Learners' Reading Ability and Perception. AJELP: Asian Journal of English Language and Pedagogy, 6, 37-55. https://doi.org/10.37134/ajelp.vol6.4.2018