An Analysis of Lexical Negative Transfer in English Writing of Malay Students
Ha Ming Hui

Faculty of Educational Studies Universiti Putra Malaysia Malaysia

Aryantie Ariffin

Faculty of Educational Studies Universiti Putra Malaysia Malaysia

Aini Marina Ma'rof

Faculty of Educational Studies Universiti Putra Malaysia Malaysia
Keywords:
Negative transfer, lexical errors, English writing, Malay students
Abstract
This is an exploratory research examining written work in English of Malay college students, analysing lexical errors that occurred in their work, which were caused by the negative transfer from the students' mother tongue. The study also categorized the errors and gave some pedagogical suggestions on reducing the lexical errors to improve students' English writing. Students involved were Malays at foundation level, with an age range from 17 years to 19 years old. Out of 40 participants, 15 of them were males and 25 were females. The categorical analysis and findings of this study aim to gain educators' understandings on Malay-based lexical negative transfer problems in learning English and trigger educators to take note on the problems in order to improve students' language learning strategy.


Downloads
Download data is not yet available.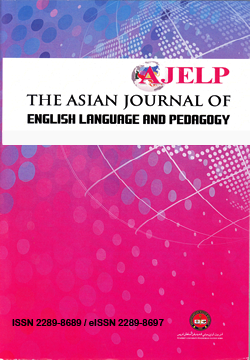 How to Cite
Hui, H. M., Ariffin, A., & Ma'rof, A. M. (2018). An Analysis of Lexical Negative Transfer in English Writing of Malay Students. AJELP: Asian Journal of English Language and Pedagogy, 6, 56-64. https://doi.org/10.37134/ajelp.vol6.5.2018